Charlize Theron Shows That Motherhood Isn't All It's Cracked Up to Be in First Trailer for Diablo Cody's Tully
Theron is at her peak sleep-deprived.
---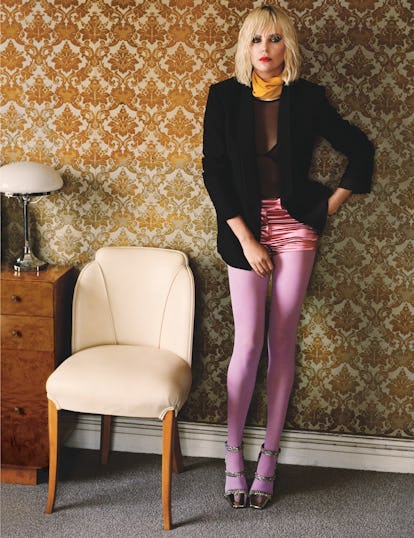 Photo by Alasdair McLellan, styled by Edward Enninful.
Charlize Theron is almost unrecognizable in the first look at her latest film Tully — only it's not because she's dyed her hair or radically altered her appearance in any other way. Theron underwent a different kind of transformation for the upcoming movie, helmed by Juno's Diablo Cody: The actress is at her peak sleep-deprived. In the clip, Theron's character Marlo looks like she's struggling just to get through the day to dinnertime, as she's been tasked with taking care of a baby and household with seemingly little to no help. That is, until she's sent a surprise by her brother.
There's almost no talking in the trailer — just the sound of a baby's cry and an exhausted mother's sigh, until Ron Livingston walks into the dining room where Theron has just slid dinner onto the table and says, "Hey, frozen pizza. Awesome." Theron simply responds with a glare. Then, Theron's saving grace arrives: a nanny sent by her brother played by Mackenzie Davis. "I'm here to take care of you," says Tully, for whom the movie is named after.
Theron recently opened up about her role in the film, which is out April 20, telling People, "Marlo is a woman who tries her best to keep up with the demands of being an attentive mother, a loving wife, and maintaining at least some self-identity through it all. But at the end of the day, she's human, and she drops the ball a little. Or a lot."
But is having Tully around actually helpful? "Tully watches her newborn overnight so that Marlo can get some sleep, and she becomes a surprising source of therapy and friendship for Marlo and she shows her what life can be like outside the mom bubble," says Theron. "But Marlo starts to realize Tully is not all that she seems."
Theron, who has also played some unsettling characters, recently explained to W what she loves so much about subversive films: "I've always been fascinated by abhorrent behavior," she said. "I have a real interest in why people do horrible things. I read a lot of books and am fascinated by whether deviant behavior is caused by nature or nurture. There's a part of me that wants to understand that darkness, but I can't really understand it. So, it is cathartic to play a character who is evil. It's a free pass for your soul: Nothing bad is going to happen, and you can explore what it would be like to be in that skin."