Charlotte Olympia Steps Out in New York
While the fashion world often defaults to black, Charlotte Dellal is not afraid of color. The London-based shoe designer cites the energy and vitality of Brazil, where she has spent much of her life, as...
---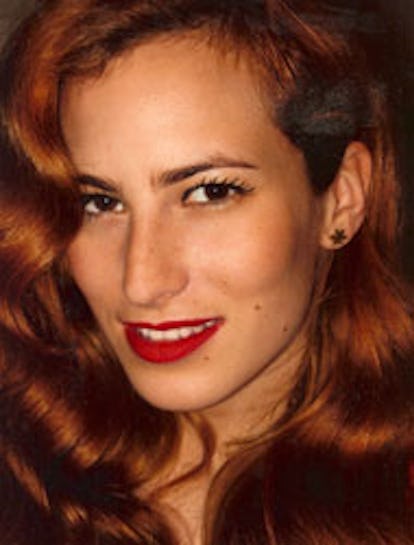 What Charlotte Olympia treats have you got in store for 2011? I will continue to collaborate with Peter Som in New York and some London-based designers for their catwalk shows. I will also be launching a bridal collection later this year because I don't believe that wedding shoes should only be available in different shades of white.
As a high-heel fan, you must get a kick out of wearing your own — any personal favorites from your current Spring/Summer collection? My personal favorites are the 'Rio', the 'Miranda' and of course the 'Bananas is My Business' fruit shoe in python!
And your collection for Fall 2011, what can we expect? I always use color throughout my collections, and I love to work with a mix of different textures and prints. I am quite nostalgic and tend to reference a by-gone era. My shoes are always classic and feminine with a modern silhouette. I also believe that accessories should sometimes have a sense of humor.
You're in NY for a special project with Bergdorf Goodman— Yes! I am very excited to be launching in Bergdorf's during New York Fashion Week. I have always wanted to see my shoes sold there – they have the most beautiful shoe salon.
Describe your perfect shoe. Definitely high, colorful and confident. I believe the smallest touches make all the difference. In my own designs, I can't let any imperfection slip by – I'm an absolute pain when it comes to that. My attention to detail is so great because I want to create shoes that women can really appreciate, and that are broad in their appeal. I like to think that ideally there's a Charlotte Olympia shoe for everyone.
Do your mother and sister, both gorgeous women but with vastly different styles, wear your shoes? Yes, they both have different styles but actually sometimes wear the same shoes from my collections. It's great to see the same shoes worn with an evening dress or teamed with a leather jacket – I love to see them work in very different ways.
Is there anyone in particular you would like to see in your heels? My grandmother!