Tea with Charlotte Rampling
At the Plaza Athenée with "45 Years" director Andrew Haigh.
---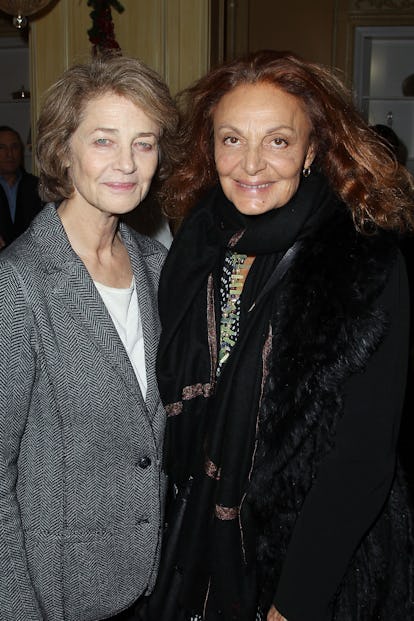 On a rainy Tuesday afternoon at the Plaza Athenée, fashion designer Diane Von Furstenberg hosted actor Robert Redford, director Julie Taymor, and numerous New York film and theatre icons for tea with the ravishing actress Charlotte Rampling. The occasion was a panel discussion with Scott Feinberg regarding "45 Years," a new film from director Andrew Haigh co-starring Rampling and Tom Courtenay as a married couple. The film follows Rampling and Courtenay in the weeks leading up to their 45th wedding anniversary, when—even after all those years—old flames come back to haunt them.
"They're not dinosaurs!" Rampling joked after a bewildered audience member asked if she knew anyone married for that long. "There are a lot of people who've been in relationships longer than 45 years." Rampling herself is twice-divorced. She was married to actor Jean Michel Jarre for 19 years and then Bryan Southcombe for four. "I'm good at what I do and can make people believe almost anything," she said of her long-lasting on screen-relationship.
Haigh, who isn't even 45-years-old, admitted he's "borderline obsessed with relationships" and related to this married couple, regardless. "You don't suddenly stop having jealousies, fears, and doubts when you get passed 40," he said.
Despite the lighthearted teatime conversation, the film is far from a rom-com. When asked about the powerful last scene, Rampling admitted: "Each time I did it, my heart broke."