The Cheer Girls Provided Mat Talk to Models at Brandon Maxwell's NYFW Show
Gabi Butler and Lexi Brumback had some "mat talk" for Bella Hadid and other models who walked at Brandon Maxwell's show on Saturday night.
---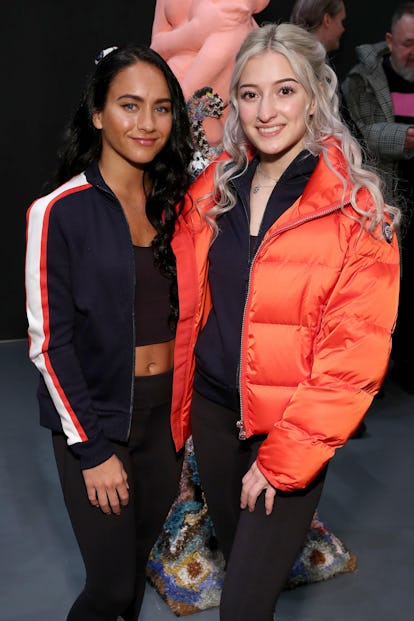 The American fashion industry is fretting over the state of New York Fashion, but only at New York Fashion Week could things as genuinely fun as Gabi Butler and Lexi Brumback, two stars from Netflix's breakout docu-series Cheer, providing "mat talk" from the front row at Brandon Maxwell's show to a host of super models including Bella Hadid and James Turlington happen.
While models are experts at remaining professional steely while walking their designer's wares down the runway, from our count at least a third of the Maxwell cast, always amongst the most star-studded at NYFW, couldn't help but crack a smile while walking past the duo.
The scene for the night was the Bernard Family Hall of North American Mammals at the Upper West Side's Natural History Museum. It was the first fashion show the museum had ever hosted during fashion week (a gown from the collection will feature in a future exhibit), but the 151-year-old building proved a natural host for such a shindig. Guests mingled over cocktails in the lobby before filing into the exhibition halls. Paparazzi originally zeroed in on Maxwell's Project Runway cohort Karlie Kloss, who was seated next to activist Noor Tagouri. But when the Cheer girls entered, Butler in a white minidress and Brumback in a black jumpsuit with a sparkly belt, the mood shifted. After the crowd realized that, yes, indeed, they were two of the stars of the Navarro cheer team, they swarmed them for selfies.
During the show, Butler took the lead with the "mat talk," shouting out "you're beautiful," amongst other compliments as the models walked past.
Backstage, the pair was greeted by an exuberant Maxwell, and had a powwow with Kloss, who appeared to be a fan.
Of course, the girls had good reason to cheer. During a New York Fashion Week during which neither Calvin Klein or Ralph Lauren is showing, Maxwell stepped up to provide his take on classic Americana (cowboy boots and beanies were abound) while still retaining his theatrical twists that have made him such a favorite of Lady Gaga.
Sure, some stars have fallen from the top of the NYFW pyramid, but perhaps all the week needs is ambitious up-and-comers like Maxwell and a bit of encouragement from some Texas cheerleaders to pull through.