Chef Mario Batali Has Been Accused of Sexual Misconduct by Four Women
The Chew star has taken a leave of absence.
---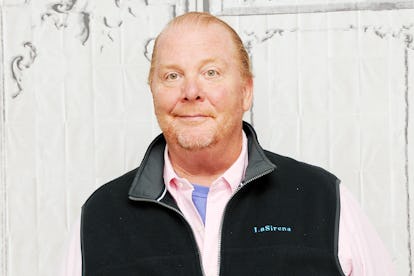 Desiree Navarro/Getty Images
Four women have accused the celebrity chef Mario Batali, former Food Network star and restaurateur, of sexual misconduct, according to an investigation by Eater. The four women, all of whom have opted to remain anonymous for fear of retribution from the influential Batali, described instances of workplace sexual harassment that took place over the span of at least 20 years. In a statement to Eater, Batali announced that he is stepping away from his businesses (which include more than 20 restaurants that he co-owns, including New York City staples like Eataly and Del Posto). Eater also reported that ABC has asked the chef to step away from The Chew, a show that Batali had co-hosted since 2011.
Three of the women who spoke to Eater worked for Batali at some point throughout their careers. One alleged that, after she was no longer working for him, the chef "grabbed her breasts at a party." Another accused Batali of grabbing her from behind and holding her against his body, "like a disgusting bear hug," multiple times over the course of two years, while the third woman recounted alleged instances of Batali's groping her and forcing her to straddle him, experiences that she called "disappointing" and "humiliating." The fourth woman never worked for Batali, but says she met him at a party in New Orleans about 10 years ago. She said that he had been drinking and gave her a "provocative, icky feeling"; a few minutes later, she spilled wine on her shirt and, under the guise of helping her clean up the mess, Batali allegedly groped her chest. "He just went to town, and I was so shocked," she said.
One of the women explained her decision to remain anonymous: "He has clear intent on being threatening when he is wronged. And the level of vindictiveness is very chilling. So, it never occurred to me to share tales out of school," she told Eater, who verified all four women's stories with friends, family members, coworkers, and public information.
Eater's investigation comes shortly after an employee of Batali's restaurant group, Batali & Bastianich Hospitality Group, reported Batali's inappropriate behavior to the company in October 2017—the first ever formal complaint about Batali. Eater reports that Batali was "reprimanded and required to undergo training."
In his statement to Eater, Batali didn't deny the allegations. "I apologize to the people I have mistreated and hurt. Although the identities of most of the individuals mentioned in these stories have not been revealed to me, much of the behavior described does, in fact, match up with ways I have acted. That behavior was wrong and there are no excuses. I take full responsibility and am deeply sorry for any pain, humiliation or discomfort I have caused to my peers, employees, customers, friends and family," he said. "I have work to do to try to regain the trust of those I have hurt and disappointed. For this reason, I am going to step away from day-to-day operations of my businesses. We built these restaurants so that our guests could have fun and indulge, but I took that too far in my own behavior. I won't make that mistake again. I want any place I am associated with to feel comfortable and safe for the people who work or dine there." He continued, "I know my actions have disappointed many people. The successes I have enjoyed are owned by everyone on my team. The failures are mine alone. To the people who have been at my side during this time — my family, my partners, my employees, my friends, my fans — I am grateful for your support and hopeful that I can regain your respect and trust. I will spend the next period of time trying to do that."
An ABC spokesperson told Eater that they have asked Batali to step away from The Chew "while we review the allegations that have just recently come to our attention." The B&B restaurant group also told Eater that although Batali is currently still an owner of his individual restaurants, he is stepping away from day-to-day operations with the company. "We take these allegations very seriously. We pride ourselves on being a workplace for our employees where they can grow and deliver great service with equal opportunity and free from any discrimination. We have strong policies and practices in place that address sexual harassment. We train employees in these policies and we enforce them, up to and including termination," the company's statement read.
After Eater's investigation broke on Monday morning, two of his fellow celebrity chefs reacted to the news on Twitter. "It's Batali. And it's bad," wrote Anthony Bourdain, who has been outspoken about the sexual misconduct allegations against other powerful men. "And no one should be surprised," Top Chef host Tom Colicchio added to Bourdain's tweet, telling another Twitter user that the accusations against Batali were "well documented in Bill Buford's book Heat."
Update: In addition to Batali's stepping away from The Chew and his restaurant group, Grub Street reports that Food Network is halting a planned reboot of Molto Mario, the cooking show that first brought Batali to national prominence.
"I will not be silent": Hollywood's biggest names pledge to speak their minds: