Chelsea Leyland Never Leaves the House Without her Selenite Crystal
The DJ teams up with wellness brand Live the Process and e-commerce site Farfetch to design a bodysuit in support of the Epilepsy Society.
---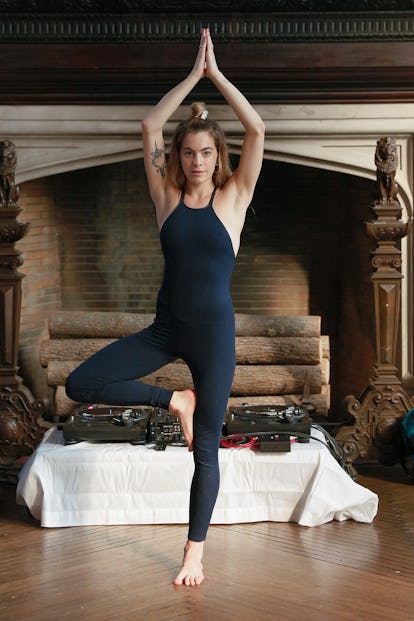 DJ Chelsea Leyland spends her night spinning music for ritzy clients like Burberry, the Edition Hotel and Dior, but during the day, you can find her practicing yoga or mixing her own essential oils. Health and fitness is part of her life for many reasons, one of which is the fact that she was diagnosed with epilepsy at the age of 15. Now, she's teamed up with wellness brand Live the Process and e-commerce site Farfetch to design a bodysuit in support of the Epilepsy Society. The bodysuit, which features embroidery work from the artist Zoë Buckman, will be available starting tomorrow, July 12th, along with Leyland's shoppable edit of Bandier activewear. But before that, she shares her health and beauty secrets, here.
Your look in three words: Bipolar, boyish and frilly.
Never leave the house without: My selenite crystal.
How you practise beauty from the inside out: By practising gratitude, working on my self confidence, trying not to judge others, and to always try and be compassionate. When you make others feel good you feel better on the inside, and when the inside feels good we shine from the outside.
Exercise regime: Since being diagnosed with Epilepsy at the age of 15, I've found that practicing yoga helps me to cope with my condition. Im also a huge fan of pilates to strengthen the body. Before injuring my knee last year I was a big runner and also loved to box.
Drink of choice: Golden milk – a mixture of almond milk and turmeric.
Go-to snack: Hummus and falafel.
Beauty essentials: I mix a lot of my own essential oils, so one of my beauty essentials is my homemade relaxation oil and Lucas Papaw ointment.
Skincare splurge: Linné Botanicals – they do the best facial oils that are 100 percent organic and natural.
Pharmacy find: European pharmacies have the best cough pastilles.
In-tub must-read: Anything to do with awakening your soul.
Spa-cation at: Tulum, Mexico is a great place to have spa treatments, but if you want to try something a little different I'd say Berlin.
Always in your suitcase: Lots of oils and creams.
Go-to music for getting ready: That's the hardest question to ask a DJ because it changes daily depending on my mood!
Go-to spot for a night out: Member's Only in Bushwick.
Favorite way to relax/unwind: Going upstate alone.
Fragrance of choice: The essential oils that I make; I try to stay away from perfume.
Beauty icons: My friend Fernanda De La Puente (who led the practice at my yoga event in collaboration with Farfetch) is my beauty icon right now because she epitomizes what beauty is to me–someone that's not only physically beautiful, but also beautiful on the inside as a kind person that radiates a humble confidence….that to me is what makes someone truly beautiful.
Watch W's most popular videos here:
Namaste: 10 Essentials for Every Kind of Yogi