Cher Joins Kim and Kourtney Kardashian at Premiere of Film About the Armenian Genocide
A meeting of Armenian-American icons at Cher's return to the red carpet.
---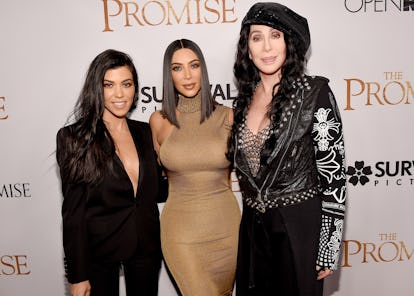 Kevork Djansezian/Getty Images
It was a meeting of Armenian-American icons. On Wednesday, Cher joined Kim Kardashian and Kourtney Kardashian were at the premiere of The Promise, a new film about the Armenian genocide, starring Christian Bale and Oscar Isaac. The three proud Armenian women posed together on the red carpet outside the TCL Chinese Theatre in Hollywood. Cher, who was born Cherilyn Sarkisian, and the Kardashian sisters have all vocally spoken out about the genocide in the past.
The singer shared a video on Twitter several hours before the premiere of herself talking about the film's importance. "Hitler said if they don't remember the Armenians, they won't remember the Jews," Cher says to the camera in the video. "We cannot let this happen to another group of people. I vow to keep the promise." (This is probably the most tame thing she has ever tweeted, considering her usual frantic, all-caps, emoji-ridden tweets, which are honestly a delight.)
"People don't know about the genocide, and the Turks have never admitted it, and it's very important," Cher told Access Hollywood on the red carpet at the film's premiere. "I think that this is so important. Also, my grandparents, they escaped, and my friend's grandmother, she escaped, but many people didn't." While Cher has made several public appearances recently, notably while campaigning for Hillary Clinton and at the Women's March, this seems to have been her first photographed red-carpet appearance since May 2015.
Back in 2015, Kim, Kourtney, and their sister Khloé visited Armenia and paid their respects to the victims of the Armenian genocide. According to Us Weekly, Kim and Kourtney spoke about the film's importance at the premiere, as well. "We are so proud of this film. We are so excited to be here," said Kim. "We learned so much when we journeyed to Armenia and learned about what happened to our family."
Kourtney added, "We heard about it growing up our entire lives too."
"We're so honored to be here. This message and this story is so important to tell. We just want to really keep the premise alive and keep the whole story alive," Kim continued. "Like Kourtney said, we grew up knowing this story and hearing so much about it. So we're excited to see it come to life on film."
Other celebrities at the premiere included Orlando Bloom, Christian Bale, Nina Dobrev, and Sylvester Stallone. Check out a few photos from the event, below.
Related: Step Aside, Rihanna: Kim Kardashian Is Pat McGrath's Newest Muse
Watch Kim Kardashian Take W's Screen Test:
Cher's Style: From Sonny to Marc
In the early '60s, Cher and her husband and musical partner Sonny Bono were instant hits, and their fashion sense reflected their success. Here in 1967, the singer shows off her long black hair and signature bangs in a loose-fitting lace dress, accessorized by chunky rings and bare feet.
Photo by Arnaud de Rosnay / Courtesy of CNP Montrose.
Cher sports a white halter-top, bell-bottoms, and feathered hat while promoting her CBS variety show "The Sonny & Cher Comedy Show" in 1972. Photo by CBS Photo Archive / Getty Images.
In this now-iconic 1974 photo, Cher steals the show at an L.A. event with a wide felt hat and purple eye shadow, nails, and lips.
Photo by Michael Ochs Archives / Getty Images.
Having grown out her iconic bangs, Cher takes to a 1975 party at L.A.'s Greenhouse in a beaded halter-top, loose wide-leg pants, and long metallic nails.
Photo by Frye Vincent / Courtesy of CNP Montrose.
Marc Jacobs is not Cher's first designer romance. Beginning in 1967, Bob Mackie created some of the performer's most memorable looks (including a sheer dress at the 1974 Met Gala that Kim Kardashian cited as inspiration this year). Here, the singer and actress shows off one of his metallic designs in a 1978 photo shoot.
Photo by Harry Langdon / Getty Images.
Cher dons another Mackie creation at the 1986 Academy Awards.
Photo by Julian Wasser / Liason.
Even Cher's off-duty styles—like this glitzy jean-and-t-shirt combo in 1987—deserve applause.
Photo by Anthony Barboza / Getty Images.
The singer ups the ante for her 1999-2000 "Do You Believe?" tour, which coincided with her 22nd album, "Believe."
Photo by Peter Still / Redferns.
Though longtime collaborator Mackie was unable to design the costumes for the first leg of Cher's 2014 "Dressed to Kill" tour, that didn't stop the star from going over the top. Working with designer Hugh Durrant, the star created 14 looks, including this beaded jumpsuit, moto jacket, and oversized hair ensemble.
Photo by Kevin Mazur / WireImage.
Just as he did with Jessica Lange in 2014, Marc Jacobs courts his soon-to-be-campaign star at the 2015 Met Gala. And the rest, as they say, is history.
Photo by Sherly Rabbani and Josephine Solimene.