RIP Chester Bennington: Rihanna, Chance the Rapper and More Musicians Mourn Link Park Singer's Death
Bennington's fellow musicians are among the many reaching out with messages of heartbreak.
---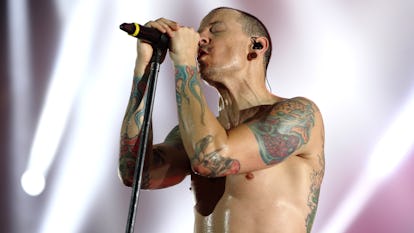 Burak Cingi/Redferns/Getty Images
News broke Thursday that Chester Bennington, lead singer of rock band Linkin Park, had died at age 41, reportedly as a result of a suicide. He is survived by his six children and wife Talinda Bentley.
Although fans of Bennington and the band mourn, other musicians and celebrities have taken to social media to post messages of heartbreak, as well as condolences and messages of support for his family. Bennington's Linkin Park bandmate Mike Shinoda tweeted, "Shocked and heartbroken, but it's true. An official statement will come out as soon as we have one," confirming the tragic news.
"Literally the most impressive talent I've ever seen live! Vocal beast!" wrote Rihanna on Instagram. "Sending so much luv, strength & light to his family, kids & @linkinpark ohana," posted Dwayne Johnson ("The Rock") on Twitter.
The band's latest album—One More Light, released May 19—became its sixth to reach the No. 1 spot on the Billboard 200 and is in the Top 10 on the iTunes charts. The official music video for "Talking to Myself," off that album, was released on the same day as Bennington's death. According to People, Cameron Strang, head of Warner Brothers Records, said in a statement:
"Chester Bennington was an artist of extraordinary talent and charisma, and a human being with a huge heart and a caring soul. Our thoughts and prayers are with his beautiful family, his band-mates and his many friends. All of us at WBR join with millions of grieving fans around the world in saying: we love you Chester and you will be forever missed."
See below, for more comments from Bennington's many admirers and friends in the entertainment business.
See What's Trending in W Video: