From Sweatpants to Balenciaga, Chic French Stylist Camille Seydoux Reveals What She Actually Wears
Camille Seydoux dresses her sister, the actress Lea Seydoux, and more for the red carpet. But in her spare time, she loves boyfriend jeans, cashmere, and vintage Cartier jewelry.
---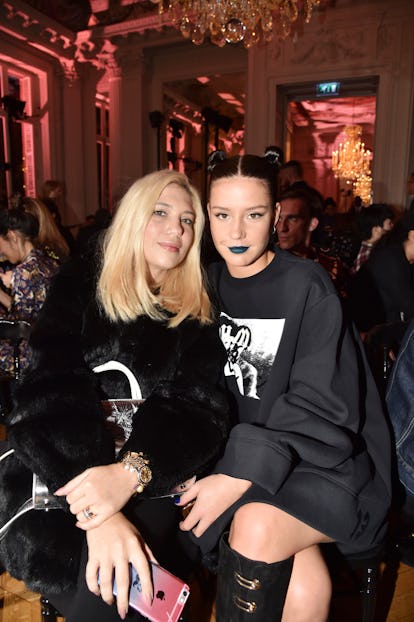 Getty Images for Fenty x Puma
It's been a busy year for the French stylist Camille Seydoux. While she's best known as the older sister, and stylist, of chic actress Lea Seydoux, she also became a designer this year, when she launched a capsule collection of denim accessories with Roger Vivier. The collaboration was a success. Now, she says, "One day I will love to have my own fashion line."
But for now, the focus is on the celebrating the holidays and spending time with friends and loved ones. And of course, a few raucous dinner parties to mark the new year. "I'm going to the countryside near Honfleur in Normandy," she says. and she does deserve a break. Occupation: Celebrity stylist.
Describe your style in 3 words: Casual, chic and colorful.
Daily uniform: Boyfriend jean, cashmere sweater and some killer boots.
Favorite Stores in Paris: Le printemps, Ami and Merci.
Favorite Vintage Stores in Paris: Pretty Box.
Style Icon: Brigitte Bardot.
Best recent discovery: You can look cool and trendy in sweatpants, plus it is very comfortable.
Last purchase: A Chanel t-shirt (Cuba Libre).
Lusting after: A cashmere coat by Celine.
Léa Seydoux: Red Carpet Chic
Something you always travel with: My moisturizer crème de la mer, perfect after a long flight.
Something you'd never wear: Real fur.
Favorite accessory you own: A vintage Kelly Hermes bag.
Most prized possession in your closet: A vintage Cartier bracelet.
Street style piece de resistance: My Balenciaga trench coat.
Music you're listening to right now: Anti. I love Rihanna
Cozy fire-side read: Belle du Seigneur. It is the ultimate love story.
Favorite film/recent film you loved: Julieta by Almodovar, he is one of my favorite movie directors.
Favorite museum: Le Louvre. I can never get bored.
Best party advice: Always have a great selection of wines and a great playlist, but you must also be very careful to the people you invite, the party is more fun with best buddies.
Watch a video interview with Camille's sister, the actress Lea Seydoux: