Chiharu Shiota, Gucci's New Favorite Artist, Is Spinning a Web to Entangle the World
With nearly 20 exhibitions opening all over in the next year, the Berlin-based Japanese artist's intricate, all-immersive webs of thread are gaining an international following, including Alessandro Michele.
---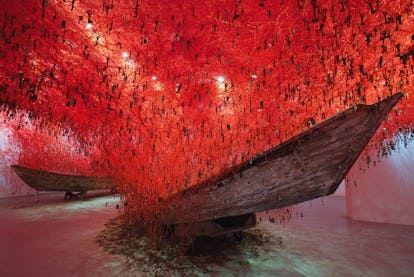 Courtesy of the artist; photo by Sunhi Mang
Since winning both himself and Gucci an ardent following, creative director Alessandro Michele has become a dependable art tastemaker, collaborating with emerging talents like the Chinese artist Cao Fei, who's since gone on to take over MoMA PS1, and GucciGhost, a former snowboarder whose playful, logo-borrowing designs ended up gracing Michele's catwalk.
In light of this, tapping the Osaka-born, Berlin-based artist Chiharu Shiota for "Gucci 4 Rooms," the brand's Tokyo-based installation-turned-interactive-game, might not sound like a farfetched choice until you consider the artist's practice. Shiota, who's never worked in anything related to fashion before, specializes in installations so immersive that they practically obscure their interiors — meaning that the fall 2016 Gucci items and prints meant to be at the center of her "Herbarium Room" in Tokyo, for example, are nearly completely obscured by her tangle of bright red, complexly intertwined thread.
Not that Michele would've been surprised. The installation is much in the vein of Shiota's 2015 Venice Biennale project, the one that originally caught his eye, along with the other all-immersive works the artist has been quietly making a name for herself with over the last two decades. "When I can no longer trace a yarn installation or art object with my eye, it begins to feel complete," Shiota said of her approach, which will become increasingly visible as she opens nearly 20 new projects and exhibitions around the world next year.
Born in Osaka in 1972, Japan, Shiota has spent the past 20 years living in Germany, beginning with two years studying under Marina Abramovic at the University of Fine Arts in Braunschweig. "She was more an artist than a teacher to me," Shiota said. "She changed my perception of time."
It was Abramovic who reintroduced Shiota to the idea of working within a Zen philosophy — an approach Shiota was already familiar with from Japan, but brought back to Berlin with renewed vigor. It was around that time, too, that Shiota decided to abandon her painting practice. Having set her mind to creating universes instead, a two-dimensional canvas started to feel a bit limited.
"So I started drawing lines in the air," Shiota said of how she eventually arrived at webs of thread. "I needed to extend my lines into a limitless space."
In her work, those threads are almost always red, symbolizing both blood and the connection of human relationships, both interpersonally and, more recently, our attachments to objects as well. Everyday items like keys, shoes, suitcases, and even beds now also populate Shiota's works — a web of memories, she said, that she hopes will connect visitors to their own memories and experiences.
It's a concept perhaps best illustrated by Michele's installation of choice, "The Key in the Hand," Shiota's Venice Biennale contribution composed of not only countless threads, but also 50,000 keys, which she collected from contributors around the world and dangled above two boats to evoke an ocean of memory.
"I always feel there is an important part of me missing, so I began collecting keys in order to fill that gap," Shiota said. "When I have a key in my hand, I'm holding an instrument which allows me to connect to that missing piece."