Exclusive: Kule Spring 2013
Children's clothing designer Nikki Kule applies her classic chic sensibility to her new line of ready-to-wear and accessories for grown-ups. Meet the designer and check out our exclusive on her spring 2013 collection.
---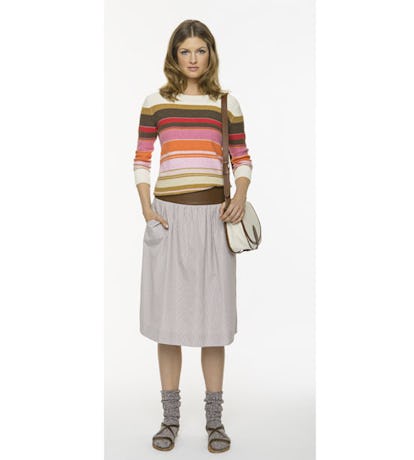 Designer children's clothing seems to be all the rage. The discerning tot with the means to spend can now select from Oscar de la Renta and Lanvin frocks, and Ralph Lauren has begun holding runway presentations for his kids line. And, of course, there's the micro-bag trend, including Balenciaga's Papier and Céline's Nano, which come toddler-sized but priced for adults.
It's interesting, then, that New York-based designer Nikki Kule is moving in the opposite direction, with successful kids collections under her belt and a just-launched women's collection, called Kule.
Kule opened her own children's business in 2001, and attracted a devoted following of moms from the Hollywood and the design set, including Gwyneth Paltrow, Reese Witherspoon, Stella McCartney, and Delphine Krakoff. Brooks Brothers approached Kule in 2008 to consult on their existing boys line and help develop a line for girls. Around that time, Kule decided to close her namesake business and devote all her energy working on the Brooks Brothers collections.
"I sort of do classic with a twist," Kule explains. "It was great taking that Brooks Brothers kind of classic, all-American, and bringing it to the modern ages."
Although Kule has no plans to depart Brooks Brothers, it had long been a desire to design women's again after many years in children's.
From these growing pains, Kule was launched for fall 2012, with a stellar lineup of chic separates—think cabled-cashmere fisherman sweaters and the perfect tailored wool t-shirt. Kule also debuted accessories for fall, including fur hats and scarves produced in collaboration with Pologeorgis.
"I'm not looking to sell super trendy clothes here," she says. "I want everything to be something they can keep in their closet for years to come."
For spring, this mandate translates into colorful Mexican stripe knits, short suits in the perfect shade of green, and tennis-inspired pieces made from silk crepe and knit rib.
Kule is also adding several other designers to her e-store, which currently stocks favorites like MiH denim and Woolrich parkas alongside her label. Coming for spring are Michael Kors ready-to-wear, Tabitha Simmons shoes, and K. Jacques sandals.
"It's like the store of a certain look…it's just little bits of things that I love," Kule says of her site. "I think that perspective is it's easy, it's chic, it's comfortable, and it's not complicated."
Based on the images from Kule's forthcoming collection, it seems like women will have no trouble relating (and buying) into that perspective.