Is Instagram Responsible for the Boom in Designer Clothes for Kids?
Instagram tykes, street style tots, and the littlest of celebrity scions have led to a boom in the kids' clothing market.
---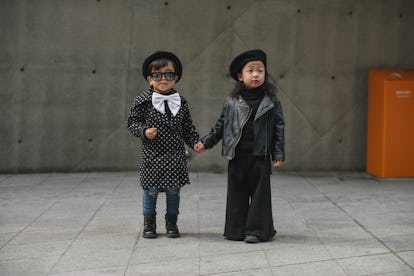 Personal style can certainly be a boon when it comes to catching eyeballs online, but the field is pretty crowded. Your Instagram outfit of the day really has to be something to get massive likes. Though, there is this one small trick, literally, to driving the internet wild with your style. It's simple: Just be a small child.
Instagram can't get enough of immaculately-styled tots. When kids show up amongst the street style throngs outside fashion shows, the photographers go wild. Even if you happen to be wearing Balenciaga straight off the runway, you're nothing if you're in the proximity of a child of fashion.
As it turns out, this all may have lead to a boom in sales of designer clothing for the playdate set. The Guardian points out that, overall, children's clothing sales are booming and growth in the sector is outpacing both men's and women's wear. Children's clothing is now a $135.6 billion dollar business. Sales specific to the luxury segment are a bit harder to parse, but there's certainly evidence to suggest that they're following the same trajectory. The newspaper points to ChildrenSalon.com, which started out in 1952 as a small business in Tunbridge Wells, Kent, and now is a global e-tailer that stocks pint-sized versions of clothing from the likes of Chloé, Kenzo, and Moschino amongst other luxury brands. FarFetch, the e-tailer best known for adult clothing, also launched its own children's division last year.
There's no single explanation for the boom, but the rise of online kiddie style stars certainly doesn't hurt. Take a little girl named Laerta, whose Instagram account, @Fashion_laerta, has amassed over 361,000 followers. Or seven-year-old Haily, aka @hails_world, who has 135,000.
At the most recent London Fashion Week: Mens, a six-year-old named Just Marcolino Claudio became a street style sensation after being spotted in head-to-toe Gucci. His look, as he explained to W, "makes me feel good and swag."
A rising interest in the style of celebrity offspring may also be part of the equation. The interest in Blue Ivy Knowles' Gucci-filled wardrobe rivals the interest in that of mom's. Kim Kardashian and Kanye West, in fact, have announced that they're launching their own children's clothing line to keep up with the trend.
Though, the true pioneer of pint-sized fashion might just be Suri Cruise. "Social media has had a huge impact on the childrenswear market," Honor Strachan of research firm Globaldata, told The Guardian. "It began with Suri Cruise, whose daily outings with Katie Holmes were scrutinized by style watchers, and it's exploded from there."
All that interest in kids fashion has obviously led to parents wanting to dress their own progeny with fashionable intent. Does it seem silly to shell out big bucks for clothing that a kid will grow out of almost immediately? Sure, but Instagram pictures are forever.
The Toddlers Dominating Seoul Fashion Week Street Style
Watch W's Most Popular Videos: