Inside Chillhouse, New York's Chillest New Hot Spot
Part day spa, part café, the new Chillhouse in the Lower East Side is just as cool in real life as it is on Instagram.
---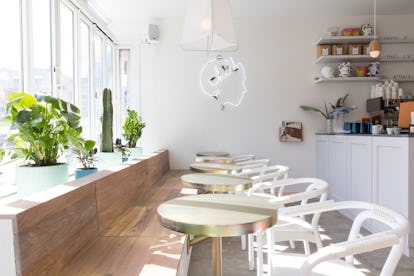 As you approach 149 Essex Street in NYC's Lower East Side, a sign outside says: "Walk in chill. Walk-ins are chill. Chill walk-ins." Enter the airy, white-washed space and there word 'chill' is spelled out in big, neon lighting on the wall. Just a few steps away, at the coffee bar, the sign advertises espresso and matcha drinks, and, of course, chill lattés.
Welcome to Chillhouse, the new day spa and coffee bar by Cyndi Ramirez of the lifestyle site Taste the Style and Den Hospitality (she's a partner in the group with her husband, also the team behind The Garret, The Lately, and Dinnertable). And in case you didn't pick up on this already, it's mad chill.
The multipurpose space, which just opened this month (but seems to already be all over Instagram), houses a nail salon, massage boutique and a full service café. The goal here is to help busy urbanites find a few minutes of total zen. It's not fussy and don't expect over-the-top luxe by any means, but it's certainly a welcome addition to the neighborhood.
At the ten seat marble nail bar, you can pick from an array of treatments (with polishes from brands like Jin Soon and Smith & Cult), ranging from a 15-minute nail quick fix to fancy gel designs, ranging from the popular "Matisse" style to the '70s-inspired "Discoteca."
As for spa treatments, Chillhouse has everything from 25-minute massage treatments where you can focus on one area that's really bothering you, to 50 or 80-minute treatments like "The Hangover Cure," to help flush the kidneys, and the "Chill Pill," to help quiet the stressed out mind and body. You can also add on extras like aromatherapy or heat packs to these treatments.
Before you treatment, try out one of the Wind Me Down drinks, like the Golden Latte and Beet-cha (beet root, horchata and Kava), or some wine. Or, if you are feeling a little too zen when you leave Chillhouse and need to head back to the office, go for a Turn Me On beverage, like an espresso, and grab one of the Maman pastries or a Ra Bliss Ball.
Chillhouse, 149 Essex Street, NY, NY, 10002. Book appointments at Chillhouse.com.
Related: For Ellie Bamber, Bedtime Snacks Are an Important Part of Any Nightly Beauty Routine