Chinese Actress Zhu Zhu's Guide to Hong Kong Does Not Skimp on Kobe-Fat Ice Cream
The actress shares her post-Art Basel Hong Kong tips, from ice cream to Chinese silk pajamas, here.
---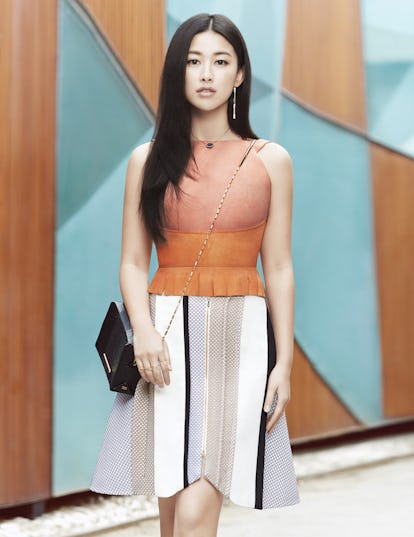 Photographer: Charles Guo Stylist: Karla Martinez de Salas
This year's Art Basel Hong Kong, which wrapped this past weekend, proved that the fair's five-year-old Asian edition is well worth the trek for anyone who loves parties, not to mention weird, freaky art. The Chinese actress Zhu Zhu, though, has always been in on Hong Kong's secrets, having made frequent trips there from Beijing for the local desserts and tax-free shopping since she was a kid. These days, her job has kept her from visiting as much as she would like: she just wrapped shooting a film, Tube Light, that had her speaking Hindi with the Bollywood star Salman Khan, plus a Chinese movie called Meido that she filmed in the Tibetan mountains and Lebanon. (Those aren't even Zhu's most far-flung gigs to date, if you count the Netflix series Marco Polo, which she shot in Malaysia and Kazakhstan.) Still, Zhu has no shortage of tips for traipsing through Hong Kong. From the police quarters-turned-hotspot in Sheung Wan to Kobe-fat ice cream, here is Zhu Zhu's travel guide.
What's your favorite neighborhood in Hong Kong?
There are many fun and charming areas in HK; you find amazing street-food stands and people waiting in line trying to get some desserts on almost every corner. Lots of renowned boutiques can be found along the street in Central, and bars and restaurants in Lan Kwai Fong. But my new discovery is this small and cute block called PMQ, located in Sheung Wan. It used to be an old police quarters, but has been revitalized as a creative hub for local designer shops, pop-up restaurants, bars and events. It's a great marketplace to hang out in on weekends.
Where are your favorite places to see art?
The best galleries in Hong Kong are in the Pedder Building, on floors three, four, six, and seven: Simon Lee, Lehmann Maupin, Hanart, Pearl Lam, Ben Brown, Massimo de Carlo, and Gagosian. There's also White Cube and Perrotin in the Agricultural Bank of China Building. There aren't many museums therel for now, the temporary M+ pavilion in Kowloon is interesting to visit, and the Liang Yi Museum on Hollywood Road for antique furniture.
Where are the best places to shop?
There are many Hong Kong-based shops and department stores with a great selection of most of the brands you can think of. I often go to Joyce, IT, and Lane Crawford; you can basically find anything there. Also, Hong Kong is a tax-free heaven, so shopping for any brand there is a pretty good deal.
What are your favorite restaurants?
Sushi Kuu is my favorite sushi restaurant there. It's small and cozy, with fresh fish; ask for the omakase. I like Island Tang for Cantonese food and dim sum brunch. Café Gray at the Upper House is always a chic choice, with a great view looking over the island, nice Mediterranean food selections, and good cocktails.
What are your favorite local foods?
Dim sum, Hong Kong-style steamed fish, and durian desserts. Sounds adventurous but highly addictive. I've also heard about a Kobe-fat ice cream place, but haven't tried it yet. It's on my list.
What's your favorite bar or nightclub for going out?
Café Gray at the Upper House, and the Pawn in Wan Chai—an English-style whiskey bar in a charming old building that has outdoor seating. There's also Tasmania Ballroom, a bar/club with a ping pong table and a fun dancing place.
What's your favorite spot off the beaten path?
It's always nice to walk up to the peak and watch over HK island at night. But I also like to hike through Dragon's Back to Shek O village on a weekend morning, then have lunch on the beach, at the French restaurant Cococabana.
What's the best souvenir you can get from Hong Kong?
I love the Chinese silk pajamas at Shanghai Tang and little travel bag kit at Tang Tang Tang Tang. Chinese tea sets are a good choice, too.
Where is your favorite place to stay?
I always stay at the Upper House, which is modern and chic, or the old Mandarin Oriental that is charming and classic, with a scent of old Hong Kong.
Any other honorable mentions or advice?
If you are in Hong Kong over the weekend, going to the water is a must! I would recommend taking a ferry or a boat to go to a beach to relax or do some water activities. And have some seafood and champagne by the ocean.
Golden Globes 2017: Amber Heard, Mandy Moore, Yara Shahidi and More Come Out to Toast Hollywood's It Girls
Elvy Yost, Anna Katerina Baryshnikov

Photo by Driely S.
Chanel Iman, Jourdan Dunn, Edward Enninful, Jurnee Smollett-Bell, Aja Naomi King

Photo by Driely S.
Edward Enninful, Amber Heard

Photo by Driely S.
View of W's It Girl Luncheon in L.A. hosted by Lynn Hirschberg.

Photo by Driely S.
Setting of W's It Girl Luncheon in L.A. hosted by Lynn Hirschberg.

Photo by Driely S.
Jurnee Smollett-Bell, Zhu Zhu, Anna Katerina Baryshnikov

Photo by Driely S.
Illustrator Jeanette Getrost at W's It Girl Luncheon in L.A.

Photo by Driely S.
Setting of W's It Girl Luncheon in L.A. hosted by Lynn Hirschberg.

Photo by Driely S.
Jurnee Smollett-Bell, Thandie Newton and Susan Kelechi Watson

Photo by Driely S.
See W's most popular videos: