Chloe and Halle Take New York Fashion Week
Chloe and Halle, the sisters signed to Beyoncé's label, Parkwood Entertainment, attended Tory Burch's Spring 2017 runway show and performed at the designer's after party inside her Pierre Hotel apartment.
---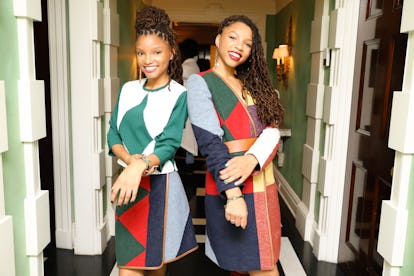 Neil Rasmus/BFA.com
Sitting front row at Tory Burch's spring show yesterday, sisters Chloe and Halle Bailey – the musical duo who are signed to Beyoncé's label, Parkwood Entertainment – were effervescent and girlish, gushing about the collection.
"I loved it. The clothes were poppin', they were cute and flirty and colorful and different. All the things we love, and the music was awesome," said 16-year-old Halle.
"It was just a great start to this day," echoed Chloe, the older sister at 18.
But when they took the makeshift stage at Burch's after party that night (in truth, a corner of the designer's living room inside the Pierre Hotel), all their youthful innocence dropped away, and the audience – Wendi Murdoch, Jessica Alba, Sara Sampaio – were left with a formidable pair of singer-songwriters.
They performed songs off their EP Sugar Symphony, which came out in April, including "Drop" and "Lazy Love," plus a medley of covers that culminated with Bey's "Sorry."
It wasn't their first appearance this fashion week. Last Wednesday, Chloe and Halle sang at Cartier's Fifth Avenue mansion reopening (wearing Kenzo) for a bigger crowd, though still smaller than the arenas they've played when opening for their mentor.
"Cartier still felt intimate to us, because touring around and trying to connect to people in stadiums is different. So we always love those cute little intimate settings, it always warms our heart because you can look everybody in their eye and really feel the music with them," said Halle.
Though the sisters have garnered a strong following on their YouTube channel, where they've been posting cover songs since 2008, this year they're making strides into the mainstream, thanks to the EP, an appearance in Lemonade, and a trip to the MTV Video Music Awards in August (they wore Rodarte).
"We walked the red carpet with Queen Bey and that was really fun," said Chloe.
It very likely won't be their last red carpet. As for any fashion advice the Queen has passed down for those moments? "Just to stay comfortable and stay ourselves," said Chloe.
Inside Tory Burch's Spring 2017 Fashion Show After Party
Chloe and Halle Bailey inside Tory Burch's apartment at The Pierre Hotel, where they performed for the designer's afterparty.

Neil Rasmus/BFA.com
Liya Kebede at Tory Burch's Spring 2017 after party at the designer's apartment inside The Pierre Hotel on September 13, 2016.

Neil Rasmus/BFA.com
Wendi Murdoch at Tory Burch's Spring 2017 after party at the designer's apartment inside The Pierre Hotel on September 13, 2016.

Neil Rasmus/BFA.com
Chloe Bailey, Tory Burch and Halle Hailey at Tory Burch's Spring 2017 after party at the designer's apartment inside The Pierre Hotel on September 13, 2016.

Neil Rasmus/BFA.com
Shala Monroque at Tory Burch's Spring 2017 after party at the designer's apartment inside The Pierre Hotel on September 13, 2016.

Neil Rasmus/BFA.com
Chloe Bailey, Jessica Alba and Halle Bailey at Tory Burch's Spring 2017 after party at the designer's apartment inside The Pierre Hotel on September 13, 2016.

Neil Rasmus/BFA.com
Sara Sampaio at Tory Burch's Spring 2017 after party at the designer's apartment inside The Pierre Hotel on September 13, 2016.

Neil Rasmus/BFA.com
Halle Bailey performing at Tory Burch's Spring 2017 after party at the designer's apartment inside The Pierre Hotel on September 13, 2016.

Neil Rasmus/BFA.com
Chloe and Halle Bailey performing at Tory Burch's Spring 2017 after party at the designer's apartment inside The Pierre Hotel on September 13, 2016.

Neil Rasmus/BFA.com
Jun Hasegawa at Tory Burch's Spring 2017 after party at the designer's apartment inside The Pierre Hotel on September 13, 2016.

Neil Rasmus/BFA.com
Irene Kim at Tory Burch's Spring 2017 after party at the designer's apartment inside The Pierre Hotel on September 13, 2016.

Neil Rasmus/BFA.com
Yvonne Force Villareal at Tory Burch's Spring 2017 after party at the designer's apartment inside The Pierre Hotel on September 13, 2016.

Neil Rasmus/BFA.com
Chloe Bailey performing at Tory Burch's Spring 2017 after party at the designer's apartment inside The Pierre Hotel on September 13, 2016.

Neil Rasmus/BFA.com
Fabiola Beracasa Beckman at Tory Burch's Spring 2017 after party at the designer's apartment inside The Pierre Hotel on September 13, 2016.

Neil Rasmus/BFA.com
Jessica Alba at Tory Burch's Spring 2017 after party at the designer's apartment inside The Pierre Hotel on September 13, 2016.

Neil Rasmus/BFA.com
Liu Wen at Tory Burch's Spring 2017 after party at the designer's apartment inside The Pierre Hotel on September 13, 2016.

Neil Rasmus/BFA.com
Liu Wen, Yu Yunpi, Fei Fei Sun, and Wendi Murdoch at Tory Burch's Spring 2017 after party at the designer's apartment inside The Pierre Hotel on September 13, 2016.

Neil Rasmus/BFA.com
Meet Priyanka Chopra: