Chloe Fineman's Britney Spears Impression Caps a Stellar SNL First Year
From Timothée Chalamet teaching "fashion" to Britney Spears teaching "something," these are the best celebrity impressions by Chloe Fineman on SNL.
---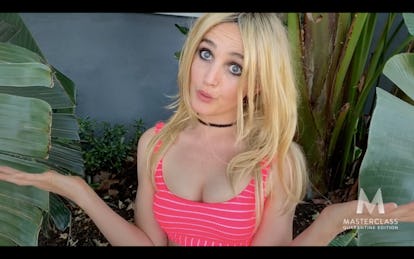 Image courtesy of Chloe Fineman/Instagram.
After a few weeks of SNL at Home—the socially distant version of Saturday Night Live, in which the cast congregates on Zoom instead of at 30 Rock—season 45 newcomer and master impressionist Chloe Fineman has landed on one final impression of the season: Britney Spears.
As part of her Master Class parody, Fineman has provided impressions of "viral loud child" Jojo Siwa teaching TikTok, Timothée Chalamet teaching fashion, and even Phoebe Waller-Bridge teaching journaling.
But it was her final impression of Spears teaching "something" in quarantine that takes the cake after a string of stellar celebrity mimicries Fineman has performed on SNL.
For those who have had the privilege of following the musician on Instagram for the past few years, you already know that the videos she shares of her exercise routine have clearly served as a source of unmitigated joy for Spears. You also should be able to recognize the sheer skill of Fineman being able to nail down every little head bob, twirl, and vocal inflection to a T.
In her impression of the singer, Fineman even made mention of the gym-burning incident that Spears revealed via Instagram last week. "I've been quarantined for five years now, and that's okay, because all my favorite stuff is here," she says in the spoof.
In addition to "Master Class: Quarantine Edition" for SNL, Fineman has been sharing her celebrity impressions on Instagram, taking on everyone from Tiger King's big cat rescuer Carole Baskin to Florence Pugh and her Instagram Story cooking demonstrations to Dame Judi Dench had she been invited to perform with Meryl Streep, Audra McDonald, and Christine Baranski at Stephen Sondheim's 90th birthday celebration on Zoom.
And though SNL aired its season finale, at least you have all of the impressions archived on Fineman's Instagram in case you need a little quarantine pick-me-up.
Related: Chloe Fineman, One of SNL's Newest Cast Members, Is a Master at Celebrity Impressions