Chloe Fineman's Early Years in NYC Involved "a Lot of Weeping"
The rising Saturday Night Live star tells the story of how she got into comedy and recalls the time she and Harry Styles wore the same necklace.
Photographs by Nolan Zangas
---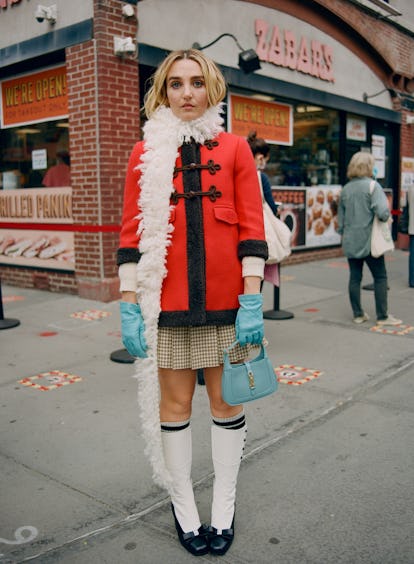 Hair by Valerie Vanessa; makeup by Cassandra Garcia for Bobbi Brown at the Wall Group.
For our annual "The Originals" portfolio, we asked creatives—pioneers in the fields of art, design, fashion, comedy, activism and more—to share their insights on staying true to themselves and pushing the creative envelope in a chaotic year. Read all the Q+As from this year's group here.
You're a rising star on Saturday Night Live. Have you always been funny?
I was a theatrical child. I grew up in Berkeley, California, with bohemian parents: My dad is a scientist, and my mom is a painter. My dad was also part of the improv scene in San Francisco. Even now, when I'm in town, he'll beg me to do improv with him. Initially, I wanted to be a serious, dramatic actress. I went to NYU with the idea of becoming Meryl Streep. My New York years were definitely not funny—I did a lot of weeping, a lot of wearing black. I was very pretentious, but I was miserable.
How did you find your way to comedy?
I decided to move to Los Angeles. My family was worried—if you go to L.A., you'll fix your nose and get a boob job. But I moved anyway. My mother said, "Go do some improv. You'll find a funny Jewish boy." For me, comedy is boys. It's my Tinder.
Did you stop wearing black?
Yes. I've always been obsessed with clothes. At SNL, prepandemic, there was always a party after the show, and I always got really dressed up. I loved that moment. I have a pair of platform loafers from Gucci that are not easy to walk in, but they look amazing when I stand and wave. It's a "Look at my dress! Look at my shoes!" moment.
You're known for your impressions of people like Greta Gerwig and Shia LaBeouf.
And Timothée Chalamet! I pick people that I'm obsessed with. I don't love mainstream people. While everyone else is trying to perfect their Trump impression, I'm working on Allison Mack, the actress who became a part of the Nxivm cult.
Did you enjoy doing the Saturday Night Live at Home shows during lockdown?
I loved those shows. I had a lot of wigs on deck, so I was ready. It was my dream to get on SNL, so it was fun to kind of stage part of the show in my own house.
Which television programs did you watch during quarantine?
I became obsessed with Alone, on the History Channel. It's about all these Shia LaBeouf type of people who are dropped in the middle of nowhere with four tools and have to survive. I watched eight seasons straight. It was the mix of suffering and strength that hooked me.
Whom do you view as a style icon? And an original?
Harry Styles is a fashion icon. And when he hosted SNL, I realized we had the same necklace! And I think Alessandro Michele, the designer of Gucci, is a genius. The most original person who comes to mind is Prince. I'm just a Bay Area girl at heart—I like people who are both feminine and masculine. Anyone who is unapologetically themselves is someone I would like to know. And admire. And probably do an impression of.