Chloë Grace Moretz to Star in Remake of "Suspiria," The Most Stylish Horror Movie of All Time
Chloë Grace Moretz has signed on to the remake. The film's roster already includes Tilda Swinton and director Luca Guadagnino.
---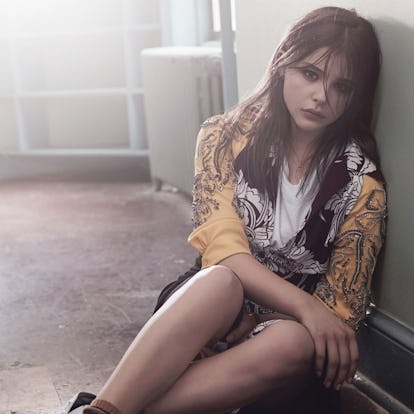 Photography by Craig McDean, Styled by Olivier Rizzo
The long-simmering remake of Italian horror classic Suspiria is most definitely happening, and it's rounded out its cast with Chloë Grace Moretz. Despite the actresses making headlines last month by declaring that she's put all her future film projects on hold, TheWrap reports that she'll join previously attached actresses Tilda Swinton and Dakota Johnson in the remake.
Luca Guadagnino, the Italian director behind I Am Love and A Bigger Splash, is charged with directing the film. It will be the director's third collaboration with Swinton and second with Johnson. Moretz is new to Guadagnino's fold.
Suspiria will surely prove to be a controversial pick to get the remake treatment. It's widely considered the masterpiece of Italian horror director Dario Argento ​and is prized for its intense stylish flourishes and the note-perfect soundtrack by the Italian rock band Goblin. It's death scenes look, to modern eyes, like particularly maudlin spreads straight out of a fashion magazine, likely because Argento's style has inspired many a fashion photographer.
Even fans of the film admit that the actual plot isn't its strongest asset; it gets a bit wacky at the end. The original concerns itself with an American ballet student who has come to study in Paris, only to find out that her new school holds dark secrets.
So Guadagnino will essentially be tasked with matching the stylishness and soundtrack of the original, while hopefully improving upon the narrative. As one of fashion's favorite filmmakers – he has a prolific side gig making short films for luxury companies, one of which you can watch below – he may very well be up to that task, consistently delivering work that prizes style over substance. Don't worry too much that he's never directed horror before. This might be one horror classic where that's beside the point.
Watch the trailer for the original:
American director David Gordon Green was originally attached to the remake before passing the project along to Guadagnino. Amazon Studios is both financing and distributing the film.
Guadagnino has previously stated he'll set his version in 1977 (the year the originally was released), and shift the location slightly from the original Munich to Berlin.
"The film… was a very indicative moment of growing up for me because I saw it when I was 14. I think it changed me forever," Guadagnino told HitFix. "I was obsessed… through my adolescence. [My version] is going to be set in Berlin in 1977. It's going to be about the mother and the concept of motherhood and about the uncompromising force of motherhood. It's going to be about finding your inner voice."
Johnson will play the American ballet student, while Swinton is believed to play the school's founder. Moretz's role hasn't been revealed yet, but, depending on how true to the original the remake is, it's likely that she'll play Johnson's character's roommate.
Watch Luca Guadagnino's short film "Here" made in collaboration with Tilda Swinton and Luxury Collection's Global Explorer Waris Ahluwalia, starring Agyness Deyn and featuring an original score by Jason Schwartzman: