Chloe Lonsdale Loves Wearing Her Dad's Old Jeans
The denim designer shares a page from her style notes.
---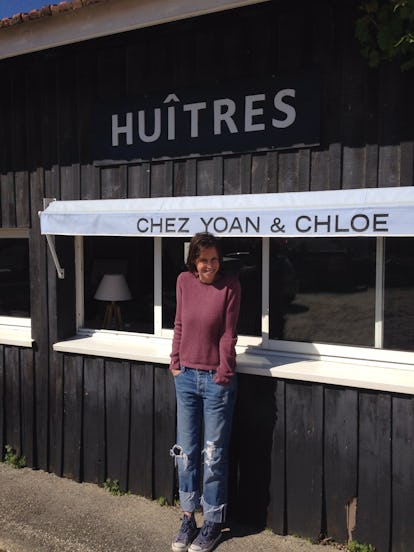 Over the past decade, Chloe Lonsdale has transformed the denim company Made in Heaven, which was founded by her godfather in 1969, into MiH Jeans, a trendy label known for It girl-worthy styles. Here, the London-based designer shares the secrets to her covetable personal style.
Define your style in three words: Blue-jean spirit.
Daily uniform: Jeans, shirt, Converse.
Greatest hits: My Dad's old jeans from Jean Machine, an oversized white shirt, brown Lockhart leather heeled ankle boots, and MiH's first ever leather biker jacket.
Preferred footwear: Converse All Star high tops in white or blue for day. For night, killer heels from great young British shoe designers like Sophia Webster, Nicholas Kirkwood and Rupert Sanderson.
Finishing touches: I really don't accessorize—I like to keep things simple. If anything, it would be one simple piece like a vintage bracelet from my husband or a 'Funny Face' necklace from jewelry brand Missoma – something that makes me smile and nothing too ornate.
Nighttime look: For evening I wear exactly what I wear for the day, but I switch my trainers for heels.
Best recent discovery: Cap Ferret in western France. It's an undiscovered holiday destination where you can drink rose for breakfast, lunch and supper whilst eating fresh oysters in an old Breton tee. It's holiday perfection.
Favorite stores: Net-a-Porter is my favorite shop for all emergency occasions such as parties, weddings and anywhere I can't wear jeans! I also love the boutique Otte in New York.
Style icons: Francoise Hardy, Jane Birkin, Lauren Hutton and my mum Chekkie, the original MiH model in the '70s.
Last purchase: I just bought vintage Eames DSW chairs for our dining room table at home.
Lusting after: A swimming pool. Last week we shot our AW15 look book in the most amazing '70s style house with a pool in the middle. It's got me thinking…
Favorite haunts: Granger on Westbourne Grove London is our local and it's always a place we seek out for lunch when we can. When I'm in NY, the brilliant Bar Gitane next to our offices; it's our reliable lunch spot. In LA, Axe in Venice Beach is one of my favorite cafes; it holds such lovely memories for me.
What's always in your bag: Only the basics: my phone, keys if I'm lucky, an old Comme des Garcons wallet from by husband, Johan, and lots of spare foreign change.
Favorite pair of jeans: Our vintage cut Halsy in an authentic, faded out wash.
Photos: Chloe Lonsdale Loves Wearing Her Dad's Old Jeans
Chloe Lonsdale in Cap Ferret. Courtesy photo.
"A stack of my favourite blue jeans." Courtesy of Chloe Lonsdale.
"My style muse and mum, Chekkie." Courtesy of Chloe Lonsdale.
Cap Ferret. Courtesy of Chloe Lonsdale.
"My favourite leather jacket." Courtesy of Chloe Lonsdale.
Oysters in Cap Ferret. Courtesy of Chloe Lonsdale.