Chloe Perrin's Parisian Haunts
The French brand director opens up her little black book.
---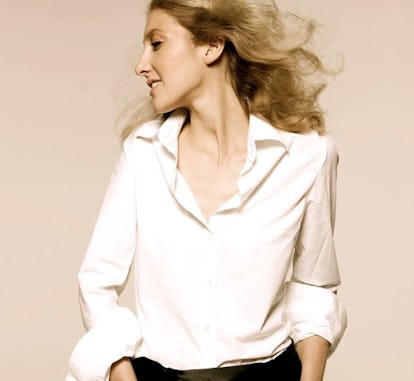 Chloe Perrin, Brand Director of Perrin Paris, represents the fifth generation of her family's leather goods brand—founded in Limoges, France in 1893. "We were very famous for our gloves in the 1920s," she says. "We were one of the only French brands at the time to have boutiques around the world – in America and even in Australia – which was a big deal in the 20s! But, sadly, people stopped wearing gloves." The family eventually closed the brand, but continued producing and tanning leather for other houses. Only six years ago did they decide to re-launch the Perrin Paris label, this time as a full-scale accessories line offering bags and sunglasses in addition to gloves. "It's definitely still a family affair," says Perrin. "My father is the CEO, my mother is the artistic director, and my uncle works with the factories." Her current mission, for which she moved to Manhattan a year ago, is keeping their fanciful designs on the forefront of the New York scene. Still, she says, she remains a Parisian at heart and makes a point of visiting these hometown haunts whenever she's in town.
Musée National Gustave Moreau "My favorite small museum in Paris, it allows visitors to share the intimate universe of the symbolist painter inside his former home. His magical paintings will leave you feeling dreamy." 14, rue de La Rochefoucauld, 75009
Izakaya Isse "This Japanese spot has only a couple of choices on the menu, but the food is clean, healthy and pas cher! They also play mellow jazz, which makes it a comfortable and soothing break on a busy day." 45, rue de Richelieu, 75001
Bistro Volnay "This chic bistro is run by two lovely women, on a quiet street near the Opéra Garnier. The decor is 1940s Art Deco, and the French cuisine is delicious. The menu is prix fixe with a couple of choices that vary according to the seasonal market." 8, rue Volney, 75002
Deyrolles "Housed in a beautiful 18th-century apartment, it's the world's chicest taxidermy shop. If you ever feel the urge to buy an exotic butterfly or an albino peacock, this is the place to go!" 46, rue du Bac, 75007
Perrin Paris "At our little gem of a shop, located inside a courtyard on the rue des Petits Champs in the 1st arrondissement, right next to the Palais Royal, you'll find hand-crafted leather accessories: gloves, handbags, and sunglasses." 35, rue des Petits Champs, 75001
Cafe de la Nouvelle Mairie "Nestled in a quiet spot behind the impressive Pantheon on the Left Bank, it is known for its unusual wine list that favors small organic producers. They also serve delicious cheese and saucisson!" 19, rue des Fossés Saint-Jacques, 75005
La Pagode "By far the most beautiful place to see a movie, this authentic Japanese pagoda was built in the 19th century by François-Emile Morin, the then-director of Le Bon Marché, as a gift to his wife, who loved Japan. It became a cinema in 1931 and Woody Allen's movies always debut here. You can enjoy tea in the private garden after the film." 57, Bis rue de Babylone, 75007
L'Hotel "The walls of Oscar Wilde's last home, L'Hotel, resonate with bohemian Parisian history. Located in the small rue des Beaux-Arts, it is also home to a Michelin star restaurant: Le Restaurant. The decor by interior designer Jacques Garcia is absolutely beautiful and every room is so unique. Go to stay the night, to have dinner, or simply to enjoy a drink." 13, rue des Beaux-Arts 75006
Bob's Juice Bar "I went to this place nearly every day when I was studying fashion design at Studio Berçot. It's a little hole in the wall that serves all kinds of fresh-pressed juices, organic dishes, and the best cookies I have ever had. Try the matcha green tea and white chocolate." 15, rue Lucien Sampaix Paris, 75010
La Palette "A classic outdoor neighborhood café/bar where the young and beautiful flock to drink rosé and be loud! I've had many funny conversations with total strangers here. It is great for an aperitif in the late afternoon or for a cocktail after 9 p.m." 43, rue de Seine, 75006