Chloë Sevigny Gets Candid About How Lizzie Isn't the Film She Envisioned
The actress developed the Lizzie Borden movie, but the result wasn't what she expected.
---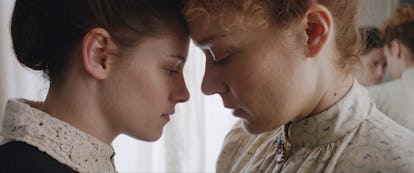 Chloë Sevigny is getting some of the best acting reviews of her career for her lead role in Lizzie, in which she plays the infamous murderer Lizzie Border opposite Kristen Stewart, but the resulting movie isn't what the actress had envisioned over the many, many years she has been trying to get it made. Though the film isn't exactly getting trashed at the festival (it holds a respectable 73 percent on Rotten Tomatoes so far with early reviews), but Sevigny gave a candid interview to *The Huffington Post* about the long road her passion project took through development, and the film she wished it would have become.
Sevigny first envisioned the movie in 2010, brought screenwriter Bryce Kass on board, and was setting the project up at HBO, where she was then starring in Big Love, on the condition it be strung out into a miniseries. Then it all got derailed when Lifetime put out their own Borden biopic starring Christina Ricci.
Borden, of course, is an American folk figure known for axing her parents to death in the 1892 only to be acquitted during a high profile trial (in a sense, she was the original O.J. Simpson). Sevigny latched on to speculation that Borden had carried on a lesbian affair with her family maid (here played by Stewart), and saw her as something of a tragic hero.
"So much has been said [about Borden]. But I think that we just really wanted to focus on how she went about finding [her freedom] and how important that was to her and what that meant to her," Sevigny told HuffPo. "Whether it was through the relationship with [her maid] or ultimately killing her parents for money―because money equaled freedom then. It still does. I wanted it to be this rousing, smash-the-patriarchy piece, and then she gets everything she wants monetarily—the capitalist dream. She gets the house on the hill, and Bridget leaves her. Her sister leaves her. She ends up alone."
After getting rights to the script back from HBO, Sevigny and Kass set out to do just that, turning the project back in a feature film, and eventually found a director in Craig William Macneill. Sevigny, however, tells HuffPo that during editing she was openly questioning some of the director's decisions.
"It was very hard," Sevigny said. "I was like, 'If you have another scene with Kristen Stewart and you don't put it in your movie, you're stupid. What's your problem?' But almost every movie goes through that. Almost everything that was on the page was filmed, and a lot of it didn't make it in the movie."
Sevigny called Macneill "a great filmmaker," but openly worried that he might have been too afraid about being too "camp" which may have lead to a certain restraint. "But we hired him," she said, "and this was his vision and this was his interpretation of what we gave him." Of course, she notes that she may have been a little too close to the material.
And there is at least one scene she thinks Macneill handled excellently: "I love the whole murder sequence."
The film still sounds intriguing as is, but maybe Sevigny can pioneer an actresses's cut with all the footage that was left on the floor, so we can see more of what she had in mind.
Related: At Sundance 2018, Chloë Sevigny Outshines Everyone as Lizzie Borden, Even Her Screen Lover Kristen Stewart