Chloë Sevigny Is Secretly Still a Deadhead
With new retrospective screening at Nitehawk Cinema in Brooklyn, the actress talks revisiting Kids, directing her own short films, and still going strong for the Grateful Dead.
---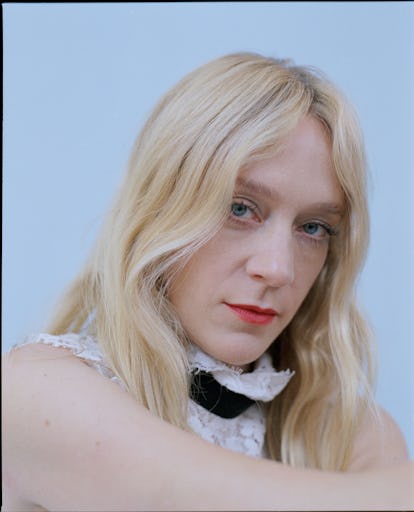 "I really am only 42 years old, so it seems like a strange thing, but…" said Chloë Sevigny on a recent afternoon. She trailed off while trying to wrap her head around the fact that there are already retrospectives of her oeuvre as an actress. The most recent, a series called "The Works: Chloë Sevigny," has a found a home at Brooklyn's Nitehawk Cinema through the month of April, with a stacked lineup that includes classics like The Last Days of Disco, Party Monster, and Kids, but also features some of Sevigny's lesser-known films, like her friends' Steve Buscemi and Tara Subkoff's directorial debuts (1996's Trees Lounge and 2015's #Horror, respectively). Lately, Sevigny's been known to step behind the camera, too: the series also showcases Carmen and Kitty, her new short films. Before moving onto her third, which is shaping up to be something of a ghost story, she shared her passion for the Grateful Dead (which definitely doesn't extend over to John Mayer), plus her new favorite nighttime accessory, in her culture diet, here.
What's the first thing you read in the morning?
I guess the New York Times on my phone. Probably more the headlines, and then I go back to them later in the day.
What books on your bedside table right now?
The Uses of Enchantment, a book on English fairy tales; some compilations of classic horror shorts and supernatural shorts; My Sister's Hand in Mine by Jane Bowles, and this Cookie Mueller biography by Chloé Griffin. I'm kind of skipping around and looking at stuff. My short film Kitty has a very fairytale quality, and I'm trying to think about my next short film. I want to center it around a young woman again, but I'm just trying to get inspiration, so I'm reading these fairy tales and Edgar Allen Poe and classic Edith Wharton short stories, just trying to jog something.
What TV shows have been keeping you up at night?
I've been watching Big Little Lies. [Laughs.] I wanted to watch one last night when I got home but I zonked out; I think I'm on episode four. It's heating up! It's fun, kind of a guilty pleasure. I love Reese [Witherspoon]. And I watch The Crown. But I don't really have a whole TV thing going right now. I need some tips.
What's the last movie you saw in theaters?
I saw Kedi, the cat thing at Metrograph, and I saw Get Out, of course, because everybody's seeing it. I should have seen them early on, because I have to say, I was kind of like, Meh. I mean I enjoyed both, which are obviously very different, but I think because I saw them so late and there was so much hype, I wasn't as blown away as I wanted to be. But the past couple of years, I just haven't really been going to the movies, because I've just been working and traveling so much. I've barely been to the Metrograph. So now that I have a kind of lull in work, I'm trying to really see more stuff on the big screen.
When was the last time you revisited some of your own movies in the Nitehawk series? Is that odd for you to do?
I guess I saw Kids a couple years ago when we had the 20-year anniversary, but other than that I don't really go back and intentionally watch things ever. I went to the Reykjavik Film Festival in Iceland with Kitty, my short film, and we did a special screening of Boys Don't Cry [Kimberly Peirce's 1999 film about the real-life assault and murder of Brandon Teena, a trans man] outside of the festival. I watched it and it was really emotional—it does seem very timely. It's a very powerful movie with a really strong message that needs to get out there, and I feel can affect people and change.
Did you have a sense of how important it would be for trans representation when you signed on for and were filming Boys Don't Cry?
Not really. I mean, I knew it was an important story for me and for the people who were telling it, and you hope that impacts what you make and in return how people see it. We knew the importance of it, of course, but we didn't know it would get as much attention. We're all so affected by what happened to Teena Brandon, and I was really immersed in that when we were making it. It just felt like something you had to do, to bring justice and awareness to what happened to her. I think there's this new generation of millennials that hasn't seen a lot of these movies, and a lot of them are really important and kind of touchstones, so I'm really thrilled that Nitehawk has made this incredible selection and people that haven't seen the movies before can come out and see them.
Are there any in particular you're excited to get a new audience?
American Psycho. I mean, I'm sure people will come out to see Kids again. #Horror, a film I did a couple of years ago with my friend Tara, didn't have a very long shelf life, since it only played at IFC for a little while, and hopefully more people will discover it. It's about bullying and teenagers, and I play kind of an absent mother, and I'm really proud of that. Anything that gets a little more attention or viewers, I think it's a good thing. And Whit Stillman's got two in there! [Laughs.] That's a strange thing, even when they approached me about doing it—I really am only 42 years old, so it seems like a strange thing. I feel a little young for that. But, you know, I think a lot of those movies are classics—whatever that means—in their own right, and people always love to see things projected. And they're letting me play my short films in front of them, too.
What's the last thing you saw at the theater?
I went to the opening night at the New Group of Evening at the Talk House, a Wallie Shawn play. Matthew Broderick's in it. And I want to go see The Price by Arthur Miller, with Mark Ruffalo. My friends and I are trying to figure out a night to get tickets.
What's the last piece of art you bought?
I buy art a lot—too much, I think. The last piece I bought was from Aurel Schmidt, who has a gallery called Romeo Gallery downtown. But it's usually kind of a mix. I bought a piece from Damien Echols—you know, one of the West Memphis Three. He was having a show in L.A. last year and there was a little sculpture of a bird he'd made on death row, with materials he found in prison. I bought that, so you know, it's a wide range of bigger artists and outsider artists and things like that.
What was the last museum exhibition that you loved?
I guess Raymond Pettibon at the New Museum. That works. [Laughs.] It was a lot to take in, but that's him. A lot of reading.
Inside Raymond Pettibon's Major Exhibition at the New Museum
Raymond Pettibon, "No Title (James Joyce Ulysses)," 1995.

Courtesy of David Zwirner, New York
Raymond Pettibon, "No Title (Lieutenant! There's our)," 2008.

Courtesy of the artist and Regen Projects, Los Angeles
Raymond Pettibon, "No Title (The paper cut…)," 2004.

Courtesy of David Zwirner, New York
Raymond Pettibon, "Captive Chains," 1978.

Courtesy of David Zwirner, New York
Raymond Pettibon, "No Title (Good prose is…)," 2013.

Courtesy of David Zwirner, New York
Raymond Pettibon, "Captive Chains," 1978.

Courtesy of David Zwirner, New York
Raymond Pettibon, "No Title (Do you really)," 2006.

Courtesy of Sadie Coles HQ, London
Raymond Pettibon, "No Title (Jesus)," 1979.

Courtesy of David Zwirner, New York
Raymond Pettibon, "No Title (Language most shewes…)," 2000.

Courtesy of Hauser & Wirth
Raymond Pettibon, "No Title (Rebellion… Rebellion against…)," 1983.

Courtesy of David Zwirner, New York
Raymond Pettibon, "No Title [Baby blanket toss]," 1981.

Courtesy of David Zwirner, New York
Raymond Pettibon, "No Title (The war, now…)," 2008.

Courtesy of David Zwirner, New York
Raymond Pettibon, "No Title (Easier to change…)," 1984.

Courtesy of David Zwirner, New York
Raymond Pettibon, "No Title (To make him…)," 2004.

Courtesy of the artist and Regen Projects, Los Angeles
Raymond Pettibon, "No Title (My purpose in life is to do this)," 1987.

Robert Berman Gallery, Santa Monica
Raymond Pettibon, "No Title (Many times she…)," ca. 1960s/2000s.

Courtesy of David Zwirner, New York
Raymond Pettibon, "No title (This feeling is)," 2011.

Courtesy of the artist and Regen Projects, Los Angeles
Raymond Pettibon, "No Title (They are innocent…)," ca. 1960s/2000s.

Courtesy of David Zwirner, New York
Have you made it to the Whitney Biennial?
Not yet, no. I was supposed to go on opening night but I couldn't pull it together. I had a photo-shoot that day and it went late. It's always better not to go to the opening anyways, but I'm looking forward to going and seeing it. I just got an email that I have to renew my membership.
What release is coming up that you're most excited about?
I'm really excited for my friend's band Gang Gang Dance's album to be released. They're still working on it right now, so I don't know when that'll be, but they're one of my favorite new bands, or newish modern bands.
What's the last song you had on repeat?
There's a song called "Heron Blue" by Sun Kil Moon, and I listen to that a lot. Too much. It's kind of a downer. [Laughs.] It's really long, so that's good.
What's the last concert you went to?
Maybe the Grateful Dead—Dead & Company—or the B-52's, in the fall. I haven't been to a concert since then, which is really embarrassing. I was supposed to go see Mira Billotte from White Magic last night, but I forgot. I flaked it.
Are you a Deadhead?
I am, yes. But not so crazy about John Mayer [who's on tour with Dead & Company]—I'm really torn, so that's hard for me.
So you've seen them a lot?
Yes. That last show was in Portland, but I went to Chicago for the Fare Thee Well tour all three nights. Going now, it's kind of sense memory of that reckless feeling being a teen—going under gates, all those kind of antics that surround getting to shows was part of the high. Like copping. [Laughs.] I don't cop, but you know what I mean.
What are your favorite social media accounts to follow?
On Twitter, I like Natasha Lyonne, because she's very funny. On Facebook, I like Winnie Wong—she works for the People for Bernie Sanders and is extremely politically active, but just has such a great sense of humor about everything and the way she presents material. She's probably my favorite. And on Instagram, I kind of vacillate between loving and hating all of Instagram. It gets a little tiresome—even mine is tiresome. It's like, oy, doing the same thing over. [Laughs.] But I like "You Must Remember This," which is probably my favorite podcast. [Creator Karina Longworth] has an account and puts up really nice images of old Hollywood and stuff.
Do you have any other favorite podcasts?
I mean, I like all those—"This American Life," "Serial," the regulars. I listened to a little of "S-town" yesterday, but I'm waiting till I'm on set somewhere.
Last thing: what's the last thing you do before you go to bed?
Make sure my boyfriend's asleep so I can put in my mouth guard. [Laughs.] I've been wearing it a year or so. I clench my jaw really hard, and it's really painful, and I do it whenever I'm reading or concentrating on cooking. It's just like a thing, so I'm trying to wear that at night to, you know, loosen the jaw a little. But I don't want him to see me in it.
Aw. Do you wake up before he does?
No. But I hide under the blankets. [Laughs.]
Chloe Sevigny Has Been the Coolest Girl in Town for 20 Years
At the 1998 premiere of Deceiver, the it girl looked cozy in a cream-colored fur jacket, grey sweater and black pin-striped skirt paired with black opaque tights and lace-up ballet flats.

WireImage
At the 52nd Annual Directors Guild Awards in 2000, Sevigny rocked a baby pink ensemble with a multi-colored silk scarf around her neck.

WireImage
Sevigny was simultaneously Hollywood glam and downtown cool at the 2002 Vanity Fair Oscar Party in a white Grecian-inspired gown with a gold pendant necklace and gold clutch bag.

WireImage
The actress looked darling in an '80s-inspired strapless dress and black velvet chocker at the Fashion Group International's 21st Annual Night of Stars in 2004.

FilmMagic
Fresh faced at ICP's 21st Annual Infinity Awards in 2005, Sevigny wore a sexy floral maxi dress with a low square-cut neckline and ruffled bodice.

FilmMagic
The actress wore a ruffled, belted LBD to a fundraiser in 2005.

FilmMagic
At the 2006 Cannes Film Festival, Chloe wore a flirty and fun look on the red carpet. Her black and cream graphic-print fringe dressed was paired with a pair of simple black peep-toe wedges and a gold link necklace.

WireImage
Chloe Sevigny arrived to the 2007 HBO Golden Globes After Party rocking another gorgeous graphic dress.

FilmMagic
In a cut-out white fringe midi dress, the actress looked chic on her way to the 2007 Vanity Fair Oscar Party.

Patrick McMullan via Getty Images
The actress celebrated her collaboration with Opening Ceremony in 2008 wearing a school girl-inspired look from the line.

WireImage
Sevigny turned heads on the red carpet of the 61st Annual Emmy Awards dressed in a gorgeous gown by Issac Mizrahi. The polka dot-covered sheer gown stayed true to the actress' quirky style, but was appropriately glamorous for the occasion.

WireImage
Ready to dance the night away, the actress wore a bold and edgy turquoise Proenza Schouler mini dress and black sky-high platform sandals to the 2010 Met Gala.

WireImage
Chloe Sevigny showed a little skin at HBO's Big Love premiere in 2011 in super chic blue floral Rodarte dress paired with red and gold cutout sandals and matching red lip.

FilmMagic
At the New York premiere of Orange is the New Black, the actress wore a sparkly navy crew-neck sweater, high-waisted printed shorts and white patent oxfords.

WireImage
Sevigny went matchy-matchy in an orange suede Chloe mini-dress paired with orange strappy sandals, at the Cartier 100th anniversary of their emblem La Panthere De Cartier in 2014.

Getty Images
At the LACMA 2015 Art+Film Gala, Sevigny was glowing in a lace bright yellow printed Gucci gown. She kept her accessories very minimal by only wearing baby blue teardrop earrings, a yellow crystal ring and burgundy clutch bag.

Getty Images for LACMA
The actress stunned on the red carpet at the New Yorkpremiere of her film #Horror in a pink and black Proenza Schouler dress. This dramatic number featured a high neck, thigh-high split and scandalous hip cutout.

FilmMagic
At a New York screening of her newest film Love & Friendship, the actress looked simply angelic in a Peach chiffon Prada gown. The gown featured a white embellished collar and cuffs and a multi-colored graphic on the the bodice.

BuzzFoto via Getty Images
At the 2017 Sundance Film Festival's premiere of ' Golden Exits, Chloe debuted her signature vintage style as she posed for pictures in a brown suede duster coat over a vintage print dress. She completed her look with black leggings, leather oxfords and handbag.

VALERIE MACON
The actress/director debuted a 60's inspired gold and green sequin Miu Miu mini dress at the Sundance "Beatriz At Dinner" premiere. She added a bit of edge to her look with a pair of black motto boots and black leather handbag.

George Pimentel
Chloe looked adorably hot in a red Miu Miu mini dress that featured bow-adorned shoulder detailing at the amfAR New York Gala 2017. She completed her look with a pair of black bejeweled mules, embellished black clutch bag and black chocker necklace.

Craig Barritt
While attending the Metrograph Theater 1st Year Anniversary Party, the actress donned a silver floor-length J.W. Anderson turtleneck dress. Keeping her accessory pairings simple she opted for a black leather chain strap bag and gold statement earring by the designer.

Nicholas Hunt
Chloe Sevigny attends The Hollywood Reporter 2018 Sundance Studio at Sky Strada, Park City on January 20, 2018 in Park City, Utah. Photo courtesy of Getty Images.

John Parra
Chloe Sevigny attends the 'Lizzie' Premiere during the 2018 Sundance Film Festival at Park City Library on January 19, 2018 in Park City, Utah. Photo courtesy of Getty Images.

C Flanigan
Chloe Sevigny arrives at the Gucci show during Milan Fashion Week Fall/Winter 2018/19 on February 21, 2018 in Milan, Italy. Photo courtesy of Getty Images.

Vittorio Zunino Celotto
Chloe Sevigny attends Metrograph 2nd Anniversary Party at Metrograph on March 22, 2018 in New York City. Photo courtesy of Getty Images.

Sean Zanni
Chloe Sevigny attends the "Last Days Of Disco" 20th anniversary screening at Walter Reade Theater on May 24, 2018 in New York City. Photo courtesy of Getty Images.

Monica Schipper
Chloe Sevigny attends the Gitano NYC preview celebration on June 21, 2018 in New York City. Photo courtesy of Getty Images.

Andrew Toth
Chloe Sevigny walks the red carpet ahead of the "L'Annee Derniere a Marienbad" screening during the 75th Venice Film Festival at Sala Giardino on September 5, 2018 in Venice, Italy. Photo courtesy of Getty Images.
Chloe Sevigny, wearing Fendi, attends Moet & Chandon and Virgil Abloh New Bottle Collaboration Launch at The New Museum on October 16, 2018 in New York City. Photo courtesy of Getty Images.

Mark Sagliocco
See W's most popular videos: