Chloë Sevigny on the Films and Filmmakers That Defined Her Style
As a new retrospective of her filmography opens at Nitehawk Cinema in Brooklyn, the style and screen icon looks back on her influences.
---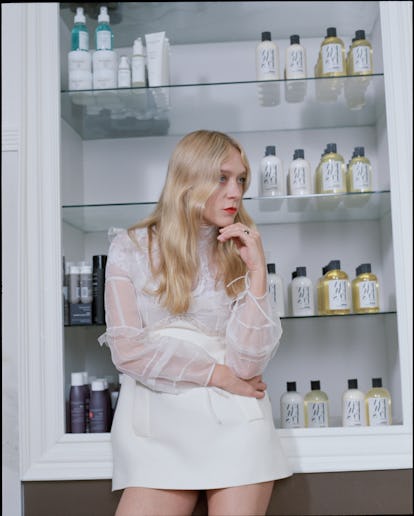 It should go without saying that Chloë Sevigny has been a fixture in both fashion and film for the past 20 years. Since her acting debut in the 1995 film Kids, Sevigny has appeared in over two dozen two dozen films and TV shows, from Boys Don't Cry to Big Love to The Dinner, which is premiering soon at the Tribeca Film Festival. And last year, Sevigny even made her directorial debut, a short film based on the Paul Bowles 1980 short story Kitty—a tale of a young girl that transforms into a cat—at the 2016 Cannes film festival. More recently, she directed another short for Miu Miu's Women's Tales, Carmen, about a 40-something standup comedienne musing on topics of dating, reproduction, and religion.
These shorts were shown at the kick-off to a retrospective of Sevigny's filmography at Brooklyn's Nitehawk Cinema last night, along with a screening of the seminal Boys Don't Cry and a conversation with Sevigny moderated by W's Senior Features Editor Karin Nelson. "The Works: Chloë Sevigny," featuring the likes of The Last Days of Disco and American Psycho, runs through May 6 at Nitehawk. Here, Sevigny recalls the films and filmmakers that have most influenced her style behind the camera and off screen.
What films have most influenced your fashion sense over the years?
Well, different ones at different times. When I was younger, one of my biggest fashion influences were the films of Rainer Werner Fassbinder, the German filmmaker, especially the characters that Hannah Schygulla played. I was so obsessed with her and the way that she looked in the movies that I got a perm in my early 20's in an attempt to look like her. It was really uncouth for a girl to get a perm back then, but I just wanted to look like Hannah Schygulla. I wanted to wear those little hats with veils, pumps, and 40's dresses. I was bowled over by the style and fashion in these movies, and they were these incredible art pictures. You can make a movie as beautiful as that, and it still can be powerful. Sometimes people are just like "Oh, it's just stylish", but these films are beyond style.
You seem to always take risks with your personal style. Are there any fashion choices you regret making?
Not like Björk, but you know! I always think it's weird when people say, "She's such a risk taker." And I'm like "Really? You're just saying that." It's not like I'm wearing totally insane outfits. I think it's less about the risks and more of the things where I tried to be more conventional. There was a period in my career when people were labeling me as a risk-taker, an outsider and indie, and I began to feel like I was trying to look more "conventional" on purpose. I felt like those kinds of labels were hurting me in the film industry. So when I would go to events I played it safe more. Now I see those outfits in that period and can tell that I'm not really myself, that I'm trying to play this part and dress like somebody who wasn't me. It's also a part of growing pains at different ages when you're trying to figure out who you are and the image you want to project, especially in the public eye. So often those red carpet images, especially in this day of internet, just never go away so I try to do something a little more classical. There are worse problems in the world to have, but those things can snowball in your mind and become more important than it really is.
What's currently your favorite piece in your closet?
I bought this leather Louis Vuitton jacket, one of Nicolas [Ghesquière]'s early collections, from this second-hand consignment store. I remember when I saw it on the runway and I really wanted it, but it was so expensive. [Laughs.] I was really lucky that I found it! It's a store called Ina on Prince Street; I walked in and they had it in plain sight. I said out loud, "Oh my god, I wanted this coat so bad," and then I got it for a fraction of the original price, so now I'm wearing it under my big coats and waiting for it to get warmer out so I can rock just the jacket. It's just going to be my spring look.
Who would you consider to be your style inspiration?
I don't really have one person that's my ultimate style inspiration. There are people that I admire just for doing their own thing, but I wouldn't say that I try to emulate them—Patti Smith for just doing her thing and going gray, having facial hair, and wearing her [Ann] Demeulemeester and making it look like she just rolled out of bed. She's just so consistently herself and doesn't compromise for anyone or any male ideal of beauty. For me, she's always a real touchstone as far as "sticking it to the man".
How has your style philosophy changed over the years?
I feel like when I was younger I was just into more bells and whistles in my own personal style and now I'm more comfortable with embracing more simplicity. Back then, I felt like I was a bit more boring so I was trying to do more things that made myself look more exciting or interesting. Now, I'm fine to just say I'm much more comfortable in my own skin and being thrown in a pair of jeans.
Tell me about your career turn as a director.
It's never a good time to do anything that you're frightened by, you're always thinking of excuses. It was something that I always wanted to do, but it seemed daunting and I wasn't sure if I would be good at it. I finally told myself that I just had to bite the bullet and try it! It was so fulfilling and I loved overseeing every aspect—I'm kind of a control freak on set to begin with, and being given that power felt very empowering. I was very good at the decision-making, and I believe that being a director is just a series of decision-making while being able to tell the stories that I want the way that I want to tell them. And sharing these different visions of beauty; for Kitty, I had Ione Skye and Lee Meriwether, an older actress, and just having these older women who are naturally beautiful. In Carmen, I had this 40-something comedian. I don't think any fashion film is probably centered around a woman over twenty-five.
Are there any film directors that you look to for inspiration?
No one in particular, but there are a lot of female directors who I am really inspired by, like the filmmakers Catherine Breillat, Jane Campion, and Claire Denis. I also think there is an emotion in female-directed films that I gravitate towards. There's an intimacy with the actors that you can see come across the screen.
Chloë Sevigny Is Still the Ultimate Cool Girl