Chloe Wise, Carb-Loving Artist, Is Now Also a Carb-Loving Author
The Canadian-born, New York-based artist launched her eponymous book at a bread store in Brooklyn in the company of Jeffrey Deitch and Aziz Ansari.
---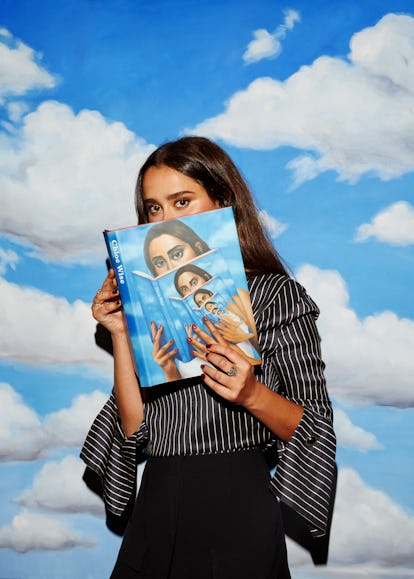 "I'm sorry to anybody who's gluten intolerant," said the artist Chloe Wise at the launch of her eponymous book on Monday night at Bushwick's Brooklyn Bread Lab, where she was surrounded not just by friends — among them Hari Nef, Aziz Ansari, Jeffrey Deitch, and Eric Wareheim — but all manner of carbs, including sweet potato rolls, beer, chocolate chip cookies, and miniature artisan pizzas.
There was more food, too, though not all of it was edible: sprinkled throughout the space was a variety of Wise's characteristic and eerily realistic urethane culinary sculptures, from towering piles of goopy lasagna to plates of pasta topped off with peach halves and lettuce. "All my work is about real versus fake, authentic versus inauthentic, consumerism and all these things, and I feel like that's really embodied here," Wise said.
Many of her concoctions also show up in the book, which first came to be at the suggestion of Wise's Swiss gallerist, Sébastien Bertrand, after her solo show in Geneva last year. Her Toronto gallery soon came on board, too, and once Wise finished up her latest batch of food sculptures and portraits, featuring everyone from herself to muses like India Salvor Menuez and Nef, they printed the 2,000 copies of the book's first edition, with a thousand apiece for Europe and North America. (The book also features an introduction by Deitch, an essay by her Canadian gallerist Loreta Lamargese, and an interview between Wise and Wareheim.)
So even though she just got back from Frieze London, where she showed her work alongside Jeff Koons and Richard Prince, the Canadian-born, New York-based artist is soon headed back on the road: she has another signing in Toronto on Friday, and a solo show opening in Montreal the week after, commitments she counted off in between hugging friends, accepting congratulations, smoking a cigarette, and even flawlessly applying lipstick. "Am I doing this right?" she asked in what turned out to be a mere formality. After receiving affirmation, she responded, as if by way of explanation, "I went to art school," and headed back to the carb fest.