Choupette, the Millionaire
In case you missed them, here are the top style stories of the week.
---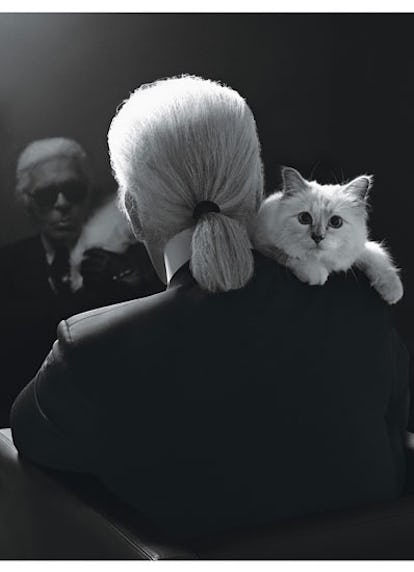 Bartley, Luella and Katie Hillier The former Marc by Marc Jacobs designer duo announced plans to launch a new line, Katie by Luella Bartley-Hillier. Now that is what we call solidarity.
Chanel The luxury brand finally has plans to launch e-commerce. It's about time.
Choupette Lagerfeld's cat apparently earned 3 million euros last year. Without e-commerce.
Corden, James The actor and new host of "The Late, Late Show" will emcee the 2015 CFDA awards. Hopefully, the show won't run too late, late.
Cotillard, Marion The actress revealed that she's designing a collection of jewelry. Because why should Choupette have all the fun?
Depp, Lily Rose Johnny Depp and Vanessa Paradis's 15-year-old daughter hit the red carpet—and proved she inherited the cool gene.
Dior Raf Simons will present the brand's resort collection on the French Riviera—not Los Angeles.
Duff, Hilary Dyed her hair blue, got a Burger King tattoo. What else is new?
Forde, Melissa Rihanna's bestie launched line of bucket hats, proving it never hurts to have friends in high places.
Kane, Christopher The fashion designer is launching a makeup collection with NARS. Sounds pretty perfect.
Kardashians Are planning to launch a new reality TV show that will focus on the employees who work at Dash. Because Kris Jenner didn't have enough to micro-manage already.
Jovovich, Milla The model/actress gave birth to her second child, a daughter named Dashiel Edan Jovovoch-Anderson.
Rocha, Coco Set up an Instragram account for her newborn. Because that's a thing now.
Saks Fifth Avenue Let president Marigay McKee go after 15 months.
Simpson, Jessica The singer-turned-designer sold her billion-dollar brand to Camuto. Marion, there's still hope!
Target Announced its next collaboration will be with indie site Of a Kind. Items sold will not be one of a kind.
Underwood, Claire The House of Cards character wears lipstick from Target. The actress Robin Wright, however, does not.
Versace Knocks off a graphic tee that was designed by L.A.-based artist Kesh for American Apparel. Tsk, tsk.
Wiig, Kristen Reveals her Zoolander 2 extreme makeover without the help of a Valentino runway.
Yoox The e-tailer bought luxury site Net-a-Porter. Now that's the ultimate online shopping spree.
Ziegler, Maddie The 12-year-old dancer stars in the newest Sia music video—fortunately with a wig, and without Shia LeBeouf.