Karl Lagerfeld Would Like You to Purchase a $545 Stuffed-Animal Version of His Cat, Choupette
For the ultimate Choupette fan.
---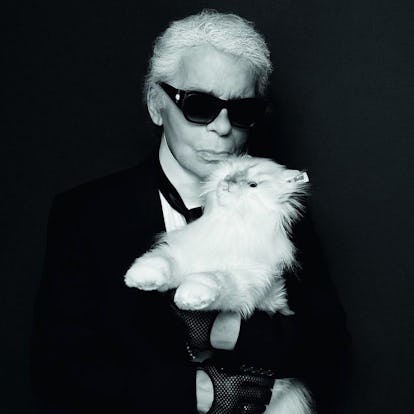 karllagerfeld/Instagram
Choupette, the white-haired feline companion to the white-haired Chanel creative director Karl Lagerfeld, has already taken the social media world by storm. So what's next for the celebrity cat? Naturally, a luxury plush toy in her likeness.
Lagerfeld first announced a collaboration with German-based toy company Steiff to create a stuffed version of Choupette back in February, and now, the limited-edition doll is finally available for pre-order on the designer's website. The replica of the famed Birman cat comes with Choupette's signature white fur (accented with touches of brown around her whiskers, paws, and tail) and striking blue eyes. But owning a Choupette of your very own comes with a price—$545 plus shipping, to be exact.
Of course, like any true fashionista, toy Choupette comes with her share of accessories, including her very own carry case, a certificate of authenticity, and a squad consisting of a tiny mouse.
"This playful collector's item comes with a magnetic mouse and is presented in a chic carry case," reads the item's description. "Every Steiff Choupette comes with a certificate of authenticity, which is numbered and matches the number on Choupette's ear tag."
No word yet on whether the real Choupette has met her cuddly counterpart, though she did post a preview of the plush toy to her 98,500 Instagram followers back in March. "If you haven't heard, Daddy #KarlLagerfeld has stuffed me and turned me into a plush toy (sort of)," she (presumably) purred.
Check out plush Choupette for yourself below:
This is actually not Lagerfeld's first collaboration Steiff. Back in 2008 he teamed with the high-end plus makers to create a teddy bear in his own image. For those who already own the Karl bear, well the Choupette plush makes the perfect toy chest mate.
Related: Inside the Glamorous, Extravagant, and Totally Over-the-Top World of Monaco High Society
Karl Lagerfeld: "Chanel Is About Ease"