Chow Yun-fat Will Leave Most of His $714 Million Fortune to Charity
The star doesn't need to spend his fortune to enjoy his life.
---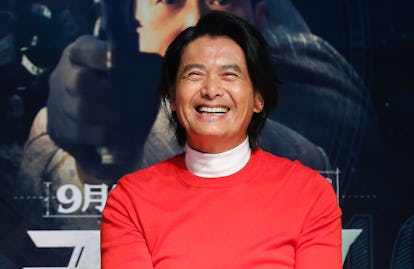 Photo by VCG/VCG via Getty Images
Chow Yun-fat, one of the biggest movie stars in Hong Kong, best known to Western audiences for his performances in films like Bulletproof Monk, Anna and the King, and Crouching Tiger, Hidden Dragon, recently revealed that he lives frugally and plans to leave the bulk of his fortune to charity.
Citing the Hong Kong movie site Jayne Stars, Indiewire reports that Chow (in Chinese names, the family name comes first) recently explained, "The hardest thing in life is not about how much money you earn, but how to keep a peaceful mindset and live the rest of your life in a simple and carefree manner." To that end, he apparently lives on the equivalent of a hundred American dollars a month and "plans to give his entire net worth, a whopping $5.6 billion HKD (that's $714 million USD) to charity."
The article claims that the star takes public transportation, shops at discount clothing stores, used a simple Nokia cellphone for almost two decades (until it broke and he had to get a smartphone, sign o' the times), and does charity work. Which is all super reasonable, but don't you have bills? Granted, the various costs of living are markedly different in other countries.
The prolific actor seems happy not to focus on the material things in life. "My dream is to be a happy and normal person," he said in the Jayne interview. He has a similarly unfussy fashion rule: "I don't wear clothes for other people. As long as I think it's comfortable, then it's good enough for me." The 63-year-old star has been married to Jasmine Tan since 1987.
Perhaps this humble act of generosity will inspire other stars—or, more importantly, other super-rich people—to live a little smaller and give a little more. In all seriousness: Chow Yun-fat for president? This is a super-cool move.
Related: Scarlett Johansson Is Being Paid $15 Million for Her Black Widow Film—the Same Salary as Her Male Counterparts