Did Chris Evans Just Spoil Avengers 4?
The actor is hanging up his shield as Captain America, for now.
---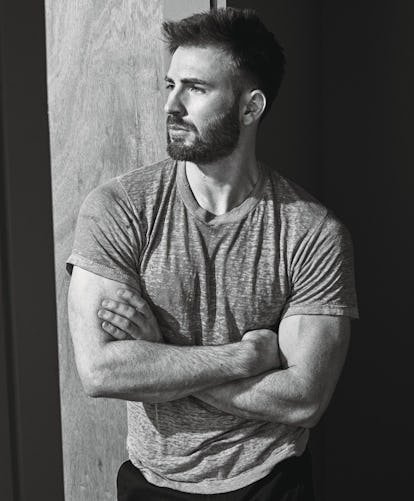 Photographs by Mario Sorrenti, Styled by Edward Enninful
Goodbyes are never easy, but Chris Evans is now signing off as the iconic character that catapulted him into superstardom in 2011, when he appeared for the first time as Captain America, in Captain America: The First Avenger.
According to Twitter, Evans has wrapped his final scene as Steve Rogers, and in response to the actor's farewell message, some fans of the the Marvel cinematic universe experienced mixed emotions, fighting back tears to tweet their favorite Captain America gifs in the reply thread, while also expressing concern that Evans may have just ruined a major plot point for the next chapter of the Avengers.
"Officially wrapped on Avengers 4. It was an emotional day to say the least," Evans tweeted. "Playing this role over the last 8 years has been an honor. To everyone in front of the camera, behind the camera, and in the audience, thank you for the memories! Eternally grateful," the actor continued.
Evans's tweet not only signifies that he finished filming his scenes for Avengers 4, but also that he has officially hung up his shield as the iconic superhero, potentially to never return onscreen. If Evans will no longer be playing Captain America in the Marvel universe, could that mean that his character dies in the upcoming installment of the Avengers franchise, and does this mean that Evans just spoiled the ending of Avengers 4?
Well, it all boils down to the details of his contract, and fans have actually been given plenty of time to come to terms with the fact that Evans would be leaving Captain America after Avengers 4. In fact, the actor has been quite open about having signed a contract for the franchise with a clear end date in sight. Four years ago, Evans admitted that he was "halfway through" with his contract as Captain America, when, in an interview with BuzzFeed, he stated that his contract would allow for him to appear in the Marvel cinematic universe three more times after Avengers: Age of Ultron. Those appearances included Captain America: Civil War, in 2016, and Avengers: Infinity War (the first half was released in 2018, and the second will hit theaters in 2019, as Avengers 4). All the way back in 2014, fans should have known that, at some point, they would have to let Evans go as their beloved Captain Steve Rogers.
Given the level of gratitude Evans has expressed for playing Captain America in the Avengers franchise, it is difficult to believe that he would refuse to return to the screen as Steve Rogers, if the price were right. "I mean, I'm going to miss these when they're done. I really will," he told BuzzFeed in 2014. "This has been a lot of fun, and they're only getting more fun. Especially because there's a trust in Marvel that you're going to make something good. It would really be lousy to be stuck in a contract knowing that you're making shit. And I just don't feel that way. It's really a blessing that this kind of fell in my lap. Sometimes you don't really feel deserving of it. But I'll take it," he went on.
As for the potential spoiler alert, there is no technical rule stating that Captain America—the fictional character, not the actor Chris Evans—will never return to the Marvel cinematic universe. In the current iteration of the comics, the superhero known as Falcon (played by Anthony Mackie in the Avengers movies) takes on the role of Captain America after Steve Rogers retires. So, maybe in Avengers 4, Steve Rogers just files for retirement (he is technically past retirement age, at over 100 years old), and Chris Evans goes free, while one of the pre-existing Avengers takes the reins to lead the pack of superheroes to victory. Anything could happen.
Related: Chris Evans Doesn't Think He's "Hot"