Chris Evans Isn't Hanging Up His Captain America Suit Just Yet Says Director Joe Russo
Despite his emotional sendoff.
---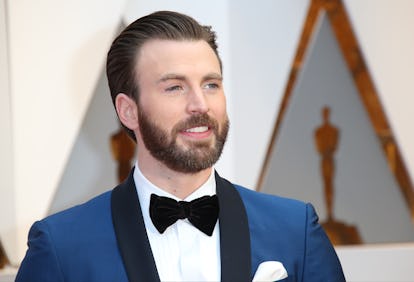 Dan MacMedan/Getty Images
In the Marvel universe, a movie's shelf-life is indefinite. That's why it was all the more surprising when Chris Evans seemingly gave an emotional sendoff to his Captain America role back in October. According to Avengers co-director Joe Russo, though, it's not time to say goodbye to Evans' part in the Marvel world just yet.
"I think it was more emotional for him than us only because he's not done yet," Russo tells ET Canada in a short clip posted to Twitter. "And I won't explain what that means but the audience will soon understand what I'm talking about." Hopefully it won't be long until we do, because some clarity on all of this would be great.
To backtrack, Evans first sparked speculation that he was leaving October 4 when he posted on Twitter that he was "emotional" after wrapping Avengers 4, which is due out May 3, 2019. "Officially wrapped on Avengers 4," he said of the currently untitled film. "It was an emotional day to say the least. Playing this role over the last 8 years has been an honor. To everyone in front of the camera, behind the camera and in the audience, thank you for the memories! Eternally grateful."
While he didn't explicitly reveal that he was hanging up his Captain America suit, the past tense he used in referring to the role he's played "over the last eight years" and the thank-you he finished with was eyebrow-raising in the least. A couple of weeks later Evans elaborated on his comments without giving much more away.
"I did tweet something that made a lot of people think it was in some way a spoiler," he said of the tweet at Chicago's Comic Con as The Hollywood Reporter noted at the time. "I should clarify that regardless of how Avengers 4 ends, I would have tweeted the exact same thing. That last day of filming was a very emotional day, and it was the culmination of almost 10 years of filming and 22 movies—this unbelievable tapestry… You feel a lot more emotions than I think even I thought I'd feel. I felt it was appropriate to share the gratitude. I know it had a ripple effect, but I am neither confirming nor denying anything." As the press tour ramps up behind Avengers 4, though, maybe someone finally will.