Watch Chris Evans, Scarlett Johansson and Willem Dafoe Perform Lizzo's Truth Hurts
Hearing Laura Dern give a dramatic reading of the lyric "It's okay, he already in my DMs," has a way of cleansing the soul.
---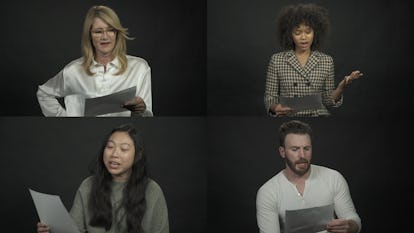 In this episode of Lyrical Improv, Lizzo's number-one charting hit Truth Hurts gets the remix treatment by a star-studded group of actors.
Scarlett Johansson, Chris Evans, Taylor Russell, Jodie Comer Smith and Zoey Deutch are just a handful of celebrities who sat down with W Magazine's Lynn Hirschberg to give their interpretations of the pop song.
While Awkwafina opts to belt out lyrics like "You're supposed to hold me down, but you're holding me back," as a karaoke tune, Willem Dafoe reads his words like lines from a movie: "I mean, who would want to hide this?" And Laura Dern, in true professional fashion, gets all the way into character when she says, "I put the sing in single."
Related: Avengers Star Chris Evans Reveals His AOL E-mail Address