Chris Pratt and Ryan Reynolds Are Obsessed With John Krasinski and Emily Blunt's A Quiet Place
Reynolds saw it twice in one week.
---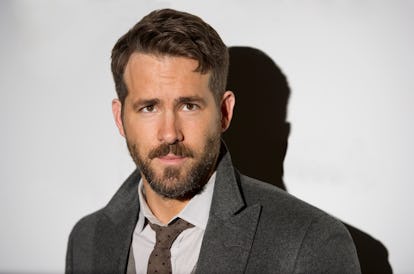 Stuart Wilson/Getty Images
Like the rest of people whose reviews are being factored into A Quiet Place's nearly perfect Rotten Tomatoes score, Chris Pratt and Ryan Reynolds couldn't be more into John Krasinski and Emily Blunt's first film together. The movie only officially came out last Friday, but it's already created a legion of loyal fans.
Reynolds, for one, has seen A Quiet Place not once but twice now, which might wear on anyone else's psyche considering how tense the drama thriller if not a horror film is. After his second go, Reynolds took to Twitter to rave about it, tweeting, "I've seen #AQuietPlace twice in one week. SEE THIS FILM!" Ever the jokester, Blake Lively's husband also shared, "@johnkrasinski and #EmilyBlunt are my new parents. Congratulations, Ryan."
In case you're wondering what exactly it would look like if Krasinski and Blunt, a 38-year-old and 35-year-old, respectively, were parents to a 41-year-old (an impossibility, clearly), a fan provided a glimpse. Reynolds responded to the photoshopped picture of the trio, tweeting, "So proud of mom and papa."
Meanwhile, Chris Pratt was more passionate than funny when giving his seal of approval to A Quiet Place. "HOLY CRAPPP!!!! Stop what you're doing right now … AND GO SEE A QUIET PLACE," he wrote on Instagram. "It's scary, moving, with amazing performances and a totally original idea. A+++ 97% on rotten tomatoes for a reason. Bring a friend."
In case those words weren't effusive enough, Pratt shared them with a video where he issued more praise. "Okay, I know that I'm not supposed to be driving and shooting a movie at the same time," Pratt says in his video selfie. "But I'm stuck in traffic. I just got out of A Quiet Place. You have to go see this movie. Just cancel your plans, stop what you're doing, and go to the movie theater. I cannot tell you how freaking dope that movie is. That will scare the crap out of you. It's moving, it's inventive, it's unlike anything you've ever seen… Wow! I cannot endorse this movie enough. John Krasinski, Emily Blunt, two kids, freaky f-ckin' monsters… you just gotta go see it. I'm really, really stoked about this movie. Go see A Quiet Place." Well, you heard him.