Shoot to Thrill
A new book spotlights the seminal photographer Chris von ­Wangenheim.
---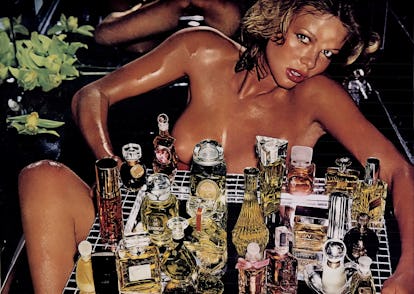 In the1970s, ____when fashion photography was focused on overtly sexual, and often disturbing, subject matter—a reflection of the women's liberation movement, as well as the fiscal crisis and the urban crime wave that followed—Chris von ­Wangenheim's dangerously seductive pictures stood out as some of the most extreme. A Christian Dior ad had Patti Hansen swathed in mink with a burning car in the background; a Harper's Bazaar spread featured Gia Carangi being taken from behind by a guy wielding a tattoo gun; in a Vogue story, a Doberman pinscher tore Christie Brinkley's Geoffrey Beene gown and then clamped down on her ankle. "Maybe the images were a bit shocking, but, my God, they were done so well!" recalls the legendary magazine editor Grace Mirabella in Gloss: The Work of Chris von Wangenheim (Rizzoli), a gorgeous new monograph on the late German photographer by Roger and Mauricio Padilha. In his heyday, von Wangenheim was as big as Guy Bourdin and Helmut Newton—insiders branded them "the terrible three." But after he died in a car crash in 1981, at the age of 39, his notoriety faded. Filled with unpublished images previously stored away by his ex-wife, Regine, and recollections by those who worked with him, the book sheds light on a meticulous, dedicated artist who helped define his era. "He wasn't just shooting a Krizia outfit," Mauricio says. "He was commenting on the glamour and violence that coexisted at the time, and creating iconic art in the process."
The cover of Gloss, featuring a 1976 Christian Dior ad. Courtesy of Chris von Wangenheim.
Courtesy of Chris von Wangenheim.
Courtesy of Chris von Wangenheim.
Courtesy of Chris von Wangenheim.
Courtesy of Chris von Wangenheim.