Chrissy Teigen's Anniversary Tribute to John Legend Was as Trolling as You'd Expect
She called out Legend for being an "a--hole" on their 5th anniversary.
---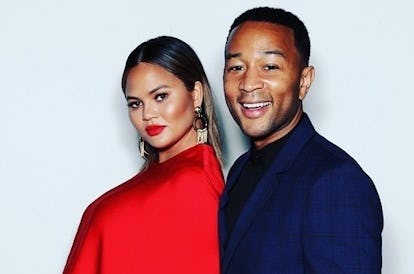 instagram.com/chrissyteigen
It may be Chrissy Teigen's wedding anniversary, but no day is a day off from trolling. Even while celebrating the momentous occasion, Teigen did so with the same sharp-tongued wit that's earned her 20 million and counting Instagram followers.
"12 years ago today, I met the man of my dreams. And 5 years ago today, we got married," Teigen wrote in the caption of a photo from their wedding she posted to Instagram. "We have two babies and some pups and a life I am grateful to have. My everything, I love you and am so proud of the story we've created. But you are an a–hole for releasing your @nbcthevoice news on my target launch day for real." Teigen is referring, of course, to yesterday's news that her cookware line is coming to Target, which broke at the same time as the announcement that her husband, John Legend, would be joining The Voice as a coach—a few days after he completed a rare EGOT, no less (having won an Emmy, Grammy, Oscar, and Tony award). No doubt Legend was laughing over her post as he continued to celebrate his milestone and their anniversary.
Teigen's stunning photo of their wedding ceremony offers a glimpse into their private ceremony. Few photos have surfaced of it, to this day, other than of Teigen in her Vera Wang wedding gown. The pair married overlooking Lake Como in Italy back in 2013, in an intimate celebration with their friends like Kanye West and Brooklyn Decker. Stevie Wonder was also in attendance, as he sang "Ribbon in the Sky"—providing the musical entertainment along with the groom, who reportedly sang his own song "All of Me."
The other known details about their wedding are food-related, to the surprise of no one who closely follows chef Teigen, the author of two cookbooks. Their wedding cake consisted of four tiers of carrot cake and cream cheese frosting, while the dinner was more reflective of the Italian location. "I remember we had to definitely work in some truffles for them, so they had a trofie pasta with lobster, and I know they had a really lovely risotto dish that we brought in the white truffle for," their wedding planner Lisa Vorce recently told E! News.
As for how they've reached their five-year anniversary, Teigen recently doled out marriage advice, telling Well + Good, "I think it's really important to be complete partners in crime. I love the mentality of 'us against the world.' Even when you have kids, never forget your relationship as partners and lovers—that's so important." It also helps, as evidenced by Teigen's anniversary post, to share the same sense of humor.