Chrissy Teigen's Battle of the Butts
In case you missed them, here are the top style news stories of the week.
---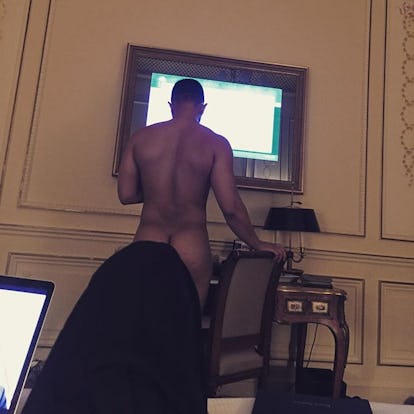 Alexander McQueen Cast a set of moody models in its fall 2015 campaign. Happy is so last season.
Bieber, Justin Posted a photo of his butt on the Instagram. Inspired Chrissy Teigen to post one of John Legend's rear in retaliation.
Burch, Tory The American fashion designer opened a Parisian flagship. Recruited French It girls to wear her designs for the occasion, bien sur.
Dads Are apparently learning how to "do hair." The New York Times is clearly on it.
de Ribes, Jacqueline The French aristocrat will be the subject of an exhibition at the Met Costume Institute this fall. Get prepared for informational #TBTs all summer long.
Gerber, Kaia Cindy Crawford's mini-me daughter signed with IMG. What a surprise.
Eldridge, Lisa The Youtube star is the new Creative Director of Lancôme. Oh, she's also actually a makeup artist. Should have mentioned that first.
Hadid, Gigi Is selling her New York City apartment. Was it something we said, Gigi?
Jenner, Kylie Launching a beauty website so you can learn the real secret to her lips. The #KylieJennerChallenge lives on.
Kardashian, Kim Is wearing her fave Balmain dress in her new selfie-taking Madame Tussauds wax figure.
Keys, Alicia The singer is the new face—and butt—of Levi's. This one Chrissy Teigen is okay with.
Kors, Michael Knocked off a Shrimps coat. Didn't think the blogosphere would notice.
Kurkova, Karolina The supermodel is pregnant with her second child. Stay tuned for more.
Louis Vuitton Opened second museum in Paris. Because one wasn't enough.
Maxwell, Brandon Lady Gaga's stylist to launch his own line at New York Fashion Week. Hopes to be the next Nicola Formichetti.
McGorry, Matt The "Orange Is the New Black" star joined the #FreeTheNipple campaign with a statement-making Facebook post. Starring, yes, Chrissy Teigen's banned bits.
Rihanna Found a woman on Instagram, cast her in her new music video, touched her life forever. Aw.
Roberts, Emma Is the photoshop-free face, body, and hair of Aerie. Don't worry, professional lighting was still very much a thing.
Shavitz, Burt The co-founder of Burt's Bees passed away at 80.
Sketchers Suing Steve Madden over knocking off its sneakers. Tsk tsk, Steve.
Smith, Lucky Blue The male model of the moment stars in Tom Ford's new campaign alongside Ondria Hardin. Proves that bleach blondes always have the most success, if not the most fun.
Stewart, Kristen Hit the casino with Julianne Moore for Chanel's Fall 2015 Couture show in Paris. Was finally able to distract the world from Kendall Jenner for a moment—until Jenner, herself, hit the runway in the Couture wedding gown.
Teller, Juergen Got in the middle of Kim Kardashian's intimate photo shoot with Kanye West, where the singer played stylist for System magazine—literally. The limited-edition project is titled Kanye, Juergen and Kim. Leave room for North next.
Trump, Donald Lost his men's wear line license partner. Well, that couldn't have come as much of a surprise.
Uniqlo Released a preview of its collaboration with Christophe Lemaire. It's not quite Hermès but we'll buy it.
Valentino Brought couture to Rome, much to the disdain of travel-weary editors and much to the delight of the Pope.
Wang, Alexander May be leaving Balenciaga after just two and a half years. Well, that was fast.
Waterhouse, Suki Has a new gig as the Redken professional hair muse. Not bad.
Zendaya Met the Dalai Lama, couldn't help but make a face. She's only 18, you guys.