In Paris, Christelle Kocher Capitalizes on Streetwear
The Koché designer is the toast of Paris, and shortlisted for the LVMH Prize, thanks to her mix of couture and streetwear.
---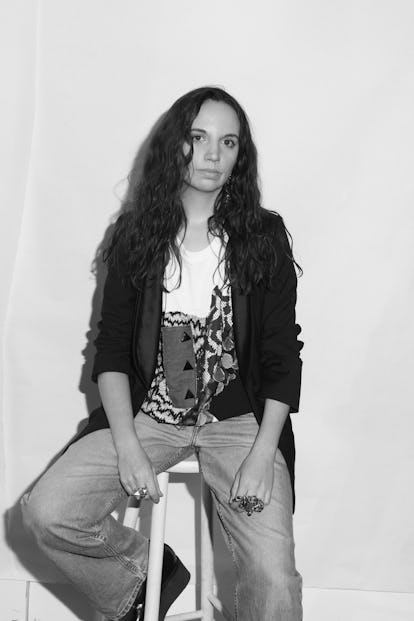 If style today is defined by a carefully curated mix of high and low, it couldn't be a better time to be Christelle Kocher. Her label, Koché, which launched in 2014, is a study in contrasts, combining quotidian silhouettes with elaborate fabrications. Think embellished sports bras, feathered parkas, and a bodysuit meticulously coated in paillettes.
"The idea behind Koché is to mix [the] everyday with French couture and artisanal work," said the designer on the phone from Paris, the day after showing her fall collection. "Like having a really amazing dress, but mixing it with jogging pants."
You don't have to look further than the street style scene surrounding fashion month – where editors are more often seen dashing to shows in sneakers and everyone is wearing patchwork jeans, usually Vetements – to know that streetwear is having a moment. So it's been a fortuitous time for Kocher to launch her line, and her mix of styles has caught the attention of the LVMH prize for emerging designers, for which she's been shortlisted twice. After this interview, Kocher headed to Avenue Montaigne to the offices of Louis Vuitton Moët Hennessy to meet the likes of Karl Lagerfeld and Karlie Kloss at a presentation of the semifinalists' work.
"In one year so many things happened!" she said. "Fashion goes really fast sometimes, and I'm glad I'm getting some attention for Koché. Young brands needs those opportunities for sure."
Koché may only be three seasons old, but the 37-year-old is no neophyte. After graduating from Central Saint Martins in 2002, the French designer began her career working for Emporio Armani, which was followed by stints at Chloé, Dries Van Noten and Bottega Veneta.
Since 2010, she's served as artistic director of Maison Lemarié, an atelier commissioned by Chanel and Dior that specializes in "plumasserie," or making fabric flowers. (Conveniently, she uses her work at Lemarié for her own label's ornamentations.)
Despite her high fashion background and use of artisanal techniques, Kocher isn't all that interested in the elitism of couture. Her first runway show in September took place at the Forum des Halles, a shopping mall in central Paris that's popular among the teeny-bopper set. This season, models – a combination of Kocher's friends and known names such as Soo Joo Kim – stomped through a covered outdoor passageway. Editors had to stand to watch the show.
"We wanted it [to be] open to the public, to the people who were living there and working there, to anyone passing by. That's why the girls were walking outside the passage, in the streets, waiting under this big beautiful Saint-Denis arch," said the designer. "I like the idea of sharing a show with unknown people."
Her democratic attitude has major cities' autocratic shops clamoring. Already, Koché is carried at Selfridges in London, Collette 21 in Singapore, Maxfields in Los Angeles, and Ikram in Chicago.
"Christelle's collection has a street vibe with a couture quality which is being received passionately by our clientele," said Ikram Goldman, the owner of her eponymous store. "And the fit is sensational!"
And Kocher's expanding her offerings, adding a jewelry collaboration with Goossens and a shoe collaboration with the French brand Adieu. She hopes to add menswear soon.
If she wins the LVMH prize, expansion won't be a problem. The winner, to be announced on June 16th, will take home 300,000 euros as well as a year of mentorship from the fashion conglomerate. But for all the attention Koché is getting, Kocher is remaining level-headed.
"I've worked in fashion long enough to be careful and to stay focused on what's most important to me: creation," she said. "I want to last."
Photos: In Paris, Christelle Kocher Capitalizes on Streetwear
Koché designer Christelle Kocher.