Christian Bale Might Play Dick Cheney (And It Almost Makes Sense)
Christian Bale is in talks to play former Vice President Dick Cheney, a man he looks nothing a like. Of course, that hasn't stopped Bale before.
---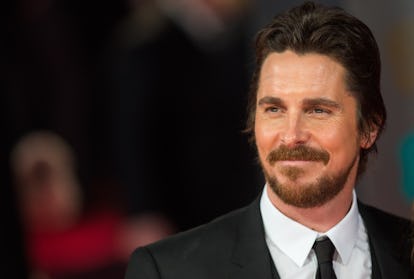 Samir Hussein
Despite the fact that most Dick Cheney impressions could double as a pretty solid take on the Penguin, it's a former Batman himself, Christian Bale, who is in talks to play the former vice president.
Sure, the 43-year-old actor is known for his onscreen physical transformations. He's played emaciated in The Mechanist, enviably ripped in American Psycho, and comfortably stout in American Hustle. Yet, this would surely be his most aggressive transformation yet.
The Dick Cheney biopic is lined up as the next project from Adam McKay. The pair previously teamed up on The Big Short, and another cast member form that movie, Steve Carell, is in talks to play Donald Rumsfeld. Meanwhile, Bale's Hustle costar The Fighter co-star Amy Adams is eyed to play former second lady Lynn Cheney.
Of course, not a single one of these people might be the obvious choice to play any of these characters if you remember them solely from their days solely as George W. Bush henchmen. Though there's no official plot description, McKay has previously talked about researching Cheney's rise to power through all his roles: Gerald Ford's White House chief of staff, Congressman from Wyoming (and eventual minority whip), the 17th Secretary of Defense in George H. W. Bush's administration, chief executive of Halliburton, and eventually the most powerful vice president in American history.
So whoever played Cheney would have to undergo some physical transformation for the role if only to portray the man at different ages.
And while we may all prefer to remember Bale for this:
He's also been this:
As for McKay, the director, he's currently in an interesting inflection point in his career.
For years he was known as one of Hollywood's best director of brotastic comedy thanks to his frequent collaboration with Will Ferrell that began in the writers' room of Saturday Night Live and continued through movies like Anchorman and Step Brothers. Throughout, there was always an undercurrent of subversive social commentary, never more clear than in Talladega Nights: The Ballad of Ricky Bobby.
With 2015's acclaimed The Big Short, McKay proved himself a director able to tackle more serious fare with still commercial ambitions.
The one through line through that career is that he's adored by big name actors.
His Farrell movies were almost always jam packed with a who's who of comedy darlings and more than a few A-list cameos. Meanwhile, The Big Short managed to get Bale, Carell, Ryan Gosling and Brad Pitt all on the same movie poster together (and it even featured a cameo by Selena Gomez). And he also has a movie with Jennifer Lawrence, about real life Silicon Valley villain Elizabeth Holmes, in the works.
In any event, McKay isn't exactly the type of director who is used to combing the West End looking for the next Mark Rylance for a role. He's a go big or go home kind of guy when it comes to casting. So, Bale as Cheney? Eh, why not?
Our real question: Is Ferrell going to revive his George W. Bush impression for this?
Related: Adam McKay: Funny, with a Chance of Politics
Watch What's Trending in W Video: