Chandelier Bids
Christie's and Latest Revival release a striking collection of limited-edition jewelry.
---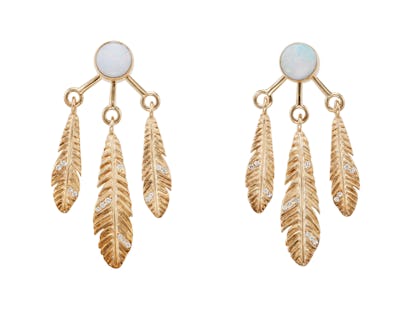 Christie's is known for its prestigious sales of one-of-a-kind and estate jewelry, but its latest online auction shows its knack for the contemporary market as well. Tomorrow, Christie's will launch a new collection of limited-edition fine jewels crafted by contemporary designers and curated by the luxury jewelry e-commerce site Latest Revival. Available exclusively at Christies.com, the seven-piece collection highlights the work of Monique Péan, Deborah Pagani, Pamela Love, COMPLETEDWORKS, and Maiyet, each of whom created a piece specifically for the sale. An intricate recycled white gold necklace by Monique Péan; striking 18k white gold and diamond chandelier earrings by Deborah Pagani; and gold, diamond, and opal earrings by Pamela Love are especially intriguing. With only one of each special piece in existence and prices ranging from $3,000 to $132,680, you don't need an auctioneer's warning to know these gems won't last long.
Deborah Pagani diamond earrings, $19,360.
Pamela Love opal, diamond, and 10K gold "Frida" earrings, $3,000.
Monique Péan diamond necklace, $312,680.