The Cable Gal
With hits like Mad Men, AMC's Christina Wayne is turning the sleepy movie channel into TV's biggest surprise.
---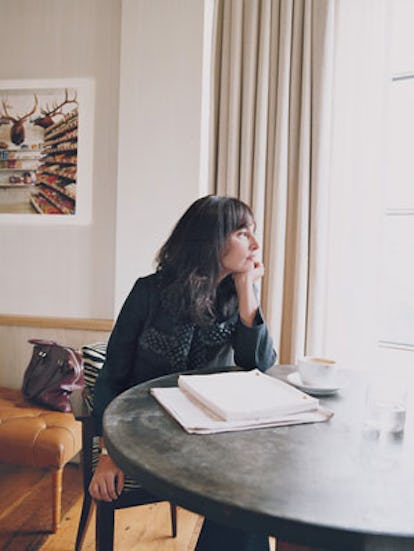 Christina Wayne exhibits none of the telltale signs of corporate entertainment world ambition—no sleek aughties version of the power suit, no intense stare, no steady stream of self-promoting references to her own fabulous accomplishments casually peppered into her conversation. In fact, with her Jennifer Garner cheekbones and dimples, girlish bangs and J. Crew collegiate blazer, she conjures a slightly more mature Gossip Girl rather than one of the fastest-rising execs in television. Sitting in her modest office across from New York's Penn Station reminiscing about the previous day's lunch at Sant Ambroeus in the West Village, Wayne, 40, is overcome with the sort of starstruck awe that doesn't normally emanate from someone whose shows have won 12 Emmys: "Graydon Carter was there, and Billy Joel and his wife, and André Leon Talley and Zac Posen—it was amazing!"
The cast of AMC's Mad Men
Though her title—senior vice president of scripted series and miniseries at AMC—implies gravitas, it is Wayne's starry-eyed idealism that has helped turn a sleepy station that played old movies into cable's newest phenomenon. Under her leadership, the channel has spawned Mad Men, which garnered a whopping 16 Emmy nominations this year and had six wins, including one for best dramatic series; it was the first time a basic cable channel had ever taken the night's top honor. She also helped develop a second cult hit, Breaking Bad—whose lead, Bryan Cranston, scored the Emmy for best actor in a drama this year—and the Robert Duvall miniseries Broken Trail, which drew 9.8 million viewers (a hefty number for basic cable) and won three Emmys in 2007. "This kind of thing doesn't happen very often," Wayne admits about AMC's sudden catapult to success.
It's also not very often that a little-known freelance screenwriter becomes one of the most influential "suits" in the business almost overnight. "Talking to her is like talking to another artist," says Mad Men's creator, Matthew Weiner. "She has great taste, she's not afraid of new things, and it's never about a focus group or second-guessing the market." She is, in effect, the antithesis of the blithe, profits-obsessed executive that Alec Baldwin parodies on 30 Rock. Wayne, who was always infatuated with film, attended the all-girls Hewitt School during her tony Upper East Side childhood before enrolling in Barnard and spending summers studying film at New York University. After a stint as Rolling Stone movie critic Peter Travers's assistant—a job she took mainly "because I got to see tons of movies"—she headed to Los Angeles, where she spent four years doing treatments for, and ultimately directing, music videos. Later, while making the E! channel's True Hollywood Story on the murder of Dominique Dunne, she interviewed legendary Hollywood producer Robert Evans, who inspired her to make her first feature film. An autobiographically tinged Upper East Side–based teen drama she had written called Tart, the movie received little attention when it was released by Lionsgate in 2001 but is a stylistic precursor to films like Tadpole and Igby Goes Down.
"I gave Bob Evans my screenplay, and he invited me over for lunch," she recalls, stifling a laugh at how surreal the experience felt to her 28-year-old self. "And I show up at his house, this legendary house, and we're sitting outside by the pool with the fountains and his butler, Alan, who wears, like, a different-patterned tie every day. And he's like, 'Ya know, kiddo,'"—she mimics Evans's Humphrey Bogart–esque accent—"'I think you can write.'"
In addition to making Tart, Wayne took on an Evans-produced screenwriting project at Paramount, which led to a chain of other writing jobs. Four years ago she moved back to New York, where she intended to continue writing, but the showbiz gods had other plans for her. "I got a call from a friend saying that AMC was looking to start doing scripted programming and would I come in and meet," she recalls, adding that working in programming "was something I never envisioned doing. But they said they didn't want to hire a traditional network executive. I had been a huge fan of a lot of the HBO shows—The Sopranos, Sex and the City, Six Feet Under—and I thought, Wow, this is a way to be like HBO 15 years ago. It was really starting something from the ground up."
By the time Wayne—who lives once again on the Upper East Side, now with her husband of six months, a Swedish advertising executive—saw the script for Mad Men, the show about admen in 1960s New York had already been rejected by HBO and by Showtime. But she claims she immediately knew it was the perfect first series for AMC. "We were launching something new; we had no standards of failure or success," she says. "We were ripe to take risks. Plus, our audience is used to watching 'period' on our channel."
It was similarly a perfect fit for the show's creators, who found in Wayne a creative collaborator, a real writer's editor—not a typical network honcho prone to sending back vague notes of disapproval on a script. "Her experience and her strength as a writer give her the ability to talk to a show's writers and creators in a unique way," says AMC's executive vice president, Charlie Collier.
"She never wants to water it down, never says, 'Regular people won't get this,'" says Weiner. "She has the perspective of the audience in mind—but the ideal audience members, the smartest, most emotionally invested ones."
It's not surprising, then, that the AMC offices are crawling with big-name talent who come to pitch new shows. On the day of our interview, Steve Buscemi and Stanley Tucci mill around the reception area waiting for their meeting. "That's a normal day now at AMC," says Wayne. "Susan Sarandon was here the other week, and Dermot Mulroney…. Initially we had to go through a bit of a song and dance with people, like, 'Yes, really, we do want to make great programming!'" she admits. "But it's shifted. Now people come to us with their passion projects, projects for which they'd be willing to give up much bigger paydays somewhere else."
Of course, now that AMC has become a sensation, the game has changed: There are expectations. "You have to be much more careful in your choices," she says. "But our mandate was never high volume." In fact, AMC's immediate goal is to do only one night of original programming per week, which translates to a lineup of three shows. She is currently overseeing the development of three series, but only one—a present-day New York–based political thriller that Wayne describes as "in the vein of Three Days of the Condor or Enemy of the State"—has been ordered to pilot. "So far we've never done a pilot that didn't go to series. Which is unique because it's now the model for networks to make 10 pilots and pick three. Unfortunately," she continues, "a lot of decisions in the entertainment industry are based on fear rather than the positive feeling of, You know what? I would watch that."
The notion that quality begets success may seem a bit quaint in this age of cheap reality series and formulaic procedural shows that are spun off by the dozen. But if her approach works, Wayne will have cultivated a sort of second HBO, a top player in what she sees as the "golden age for cable TV." There are skeptics, of course—Sue Naegle, HBO's programming president, was quoted recently as saying that the media's comparison of networks like AMC to HBO was an overstatement, that they operate "in two different leagues." But these days Wayne feels entitled to a little swagger. Reminded of Naegle's slight, she smiles serenely and says, "I'll let the Emmys speak for themselves."
Mad Men: AMC/Carin Baer