For a Grieving Christine Ko, Filming Tigertail Was "Like Therapy"
Filming Alan Yang's feature directorial debut Tigertail required huge emotional lift for Christine Ko, but it was all worth it in the end.
---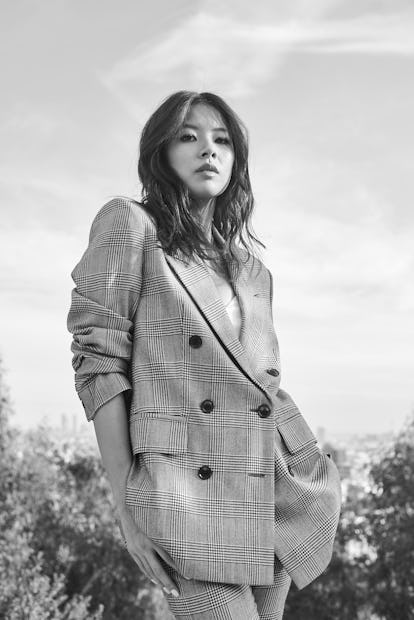 Christine Ko. Photograph courtesy of David Higgs.
Christine Ko had an unexpected personal connection to the character she plays in Alan Yang's feature directorial debut, Tigertail.
Premiering April 10 on Netflix, Tigertail is based on Yang's family's experience. It tells an intergenerational story of Pin-Jui (played by Tzi Ma), who moves from Taiwan to New York to start a better life. Ko plays Grover's daughter, Angela, a 30-year-old woman who has a strained relationship with her father.
The actress grew up outside of Atlanta with her aunt and uncle, whom she calls mom and dad, after they adopted her at three years old. "I basically spent the majority of my life in Georgia, but I had a very brief stint in middle school when I lived in Taiwan for four years with my birth mom," Ko explained, speaking to W over the phone from her home in Los Angeles, at the start of the coronavirus quarantine.
The experience of moving across the world at such a young age shaped the way Ko viewed the entertainment industry as much as it shaped her views on just about everything else in life. "It was a strange transition from Acworth, Georgia, and being the only Taiwanese girl in my school and then moving to Taiwan in sixth grade and barely speaking Mandarin and being in a completely different world. It was an interesting transition and that's why I've had a different view of entertainment in a way," she went on. "As a kid, when I watched movies, I didn't see anyone that looked like me in movies, and then when I lived in Taiwan everybody looked like me. When I came back to the states and after college decided to be an actress, I didn't think it was weird to have Asian leads. The posters on my wall were these handsome Asian guys," she laughed. "It just all made sense, until I came into the industry and I was like, 'Wait a second, what? Oh, we're not…' It was a big learning curve for me."
But when the audition for Tigertail came up, Ko was in the midst of experiencing a personal loss. Her mother called to tell her that her father, who had been diagnosed with cancer years before, was not doing well. She took the next flight out to Georgia. "It was a really, really crazy time," she said. "I'm glad I did it, I got to say goodbye to my dad that evening. He waited for me, which, you know, is the one thing I am so thankful for. Then work was kind of put on hold and I just stayed home in Georgia for two weeks and processed everything."
After Ko returned to Los Angeles, she wasn't exactly ready to try to take on a role about a father-daughter relationship after having just lost her own. "I was like, I don't want to do your movie a disservice by not being able to be fully present because I'm just processing this loss," she told the movie executives. She met with Yang, however, and the two bonded over a similar experience of growing up Taiwanese-Chinese-American and wanting to work in entertainment.
"We connected when he told me the story about his dad and how this was all inspired by going on a trip back to Taiwan with his dad and feeling like there's so much history and culture he never learned about, and then at 30 years old realizing this was a part of him but also he feels so unaware of this side of him," Ko said. "I was like, that's exactly what I went through in middle school and I still go through it now. At that point, I was like, I can't not audition for this. Also, an audition for an Asian American lead for a film comes once a year, maybe, if you're lucky."
Tigertail is a culturally specific story for those who grew up in Mandarin-speaking households or have parents who came to the U.S. from Taiwan or China, but the investigation into a family's dynamic is universal. Still, it's rare to hear Taiwanese, Mandarin, and English all spoken in an American film. "If you never thought you were going to watch a film that's 80% in Mandarin, maybe this is the time," Ko joked.
Once she began preparations for Tigertail, Ko said she "got lost a little bit in the process" and decided to do something a bit out of character: she created a journal for Angela. "That's not really something I do for my characters, but it was something I really needed to do to get a handle on my own personal feelings and Angela as a character," Ko said.
"I think this is the first role for me where I really couldn't tell the difference between the character and myself. The similarities between myself and Angela were that I did grow up in a stricter household and I didn't really talk about feelings and emotions with my parents," she went on. "I would say the difference between myself and Angela was, in the film, we can see this huge disconnect between her and her father. It's like they can't even have a regular conversation in the car. There's so much that's unsaid, and the tension between them makes it so that small talk and talking about the weather or asking how are you for the day is not something that comes up. That was something that was a little bit foreign to me because I was close to my dad. We didn't talk about feelings and emotions, but you know, he always gave me business advice and talked about life, so we were close in that way," she laughed.
Filming Tigertail was a huge emotional lift for Ko, but she what she learned from playing Angela was life-changing, making it all worth it in the end. "While doing this process, I became so thankful for what I had. Instead of focusing on the loss of my dad, it made me appreciate so much of what we had in that relationship," she said. "It indirectly also made me spend more time with my mom, because I just felt so thankful that she's still around now and this movie, a lot of it is about regret and not spending the time that you have with people while they're still here."
Ko can also be seen on the FX on Hulu series Dave, created and inspired by the life of rapper Lil Dicky. She called this project "the perfect transition" after such an emotionally heavy role in Tigertail. "Tigertail felt like a year and a half of therapy, and while I loved it and it was wonderful and I worked through every single thing you could possibly think of, I was ready to be a character. I was ready to do something completely different from who I am as a person, and laugh and be goofy," she said. "My main goal as an actor is to constantly try something different. This was completely different. And it's scary! I feel like I can easily tap into my emotions in a drama, and then in a comedy, I'm like, Oh god I don't know. This isn't something I'm trained in, but I really enjoy watching comedies, I like being around people who love this."
"It's a crazy time to be promoting a movie, but it's on Netflix, so there's an odd silver lining to all of this," she admitted.
"People are receiving Dave well and it's nice right now to have a little bit of laughter," Ko said, referring to the current coronavirus pandemic, and how it's caused many people to go into lockdown in their own homes. "It's a crazy time to be promoting a movie, but it's on Netflix, so there's an odd silver lining to all of this."
"It feels like a wonderful time for Asian American actors. I'm grateful that this is the time I've joined the industry," the actress added. "There's not just one movie that tells the Asian American experience, there's not one movie that tells the Taiwanese-Chinese-American experience. And as we all figure this out in the next couple weeks, I hope both my Netflix movie and my Hulu show bring a little bit of joy to people's living rooms."
Related: The Best Limited Series to Stream When You Can't Commit