W Movie Club: The Best Holiday Films to Watch While Theaters Are Closed
Full disclosure—our picks are not all stereotypical Christmas films. We've given ourselves full license to recommend whatever brings us joy in 2020.
---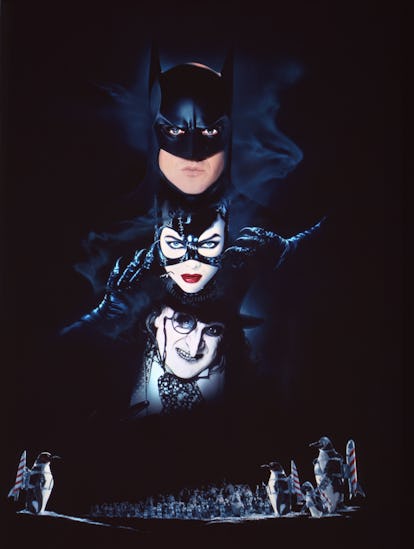 Photo by Warner Bros. Pictures/Sunset Boulevard/Corbis via Getty Images
Welcome to the W Movie Club, a series in which W magazine's editors pick five iconic films to watch while in quarantine. Going to the movies on Christmas Day is an age-old tradition—one that, unfortunately, we won't be able to practice this year. Instead, we're cozying up for the holidays with some favorite films to screen at home, popcorn and all. It may not be the same as watching previews from the cushy seat and quiet darkness of a United Artists theater, but it will provide some comfort (and entertainment) for now. And full disclosure—our picks are not all stereotypical Yuletide films; we've given ourselves full license to recommend whatever brings us joy during such an atypical year. Happy holidays!
The Family Stone
I rewatch The Family Stone every year around Christmas. There's just something about the sheer dysfunction of this one that makes it worth it to me. Plus, the acting is stellar: Sarah Jessica Parker plays the uptight careerist woman so well that when she finally lets loose, it's not embarrassing, but endearing; and despite being the oldest sibling, I relate to Rachel McAdams's baby-of-the-family character the most. Watching a tragedy on Christmas can make you feel like everyone's family is cuckoo, and you're not alone in whatever drama might be happening inside your own home. Also, it took me an embarrassingly long amount of time to realize that this film's title, The Family Stone, is not just a result of some syntactical weirdness. Yes, the title refers to the fact that the family in question has the surname Stone. But it also hints toward the fact that there is major drama around the family stone—specifically, a diamond engagement ring. To atone for not realizing that the title was a double entendre 15 years ago when it came out (even though I was just 12 years old), I think I need to watch it again. —Brooke Marine
The Holiday
Is it really Christmastime if you haven't watched The Holiday at least once? While I would suggest watching this for the cast (Kate Winslet, Cameron Diaz, Jude Law, and Jack Black) alone, there's also something fun about having a change of scenery after being cooped up for all these months. Cue Kate Winslet in London and Cameron Diaz in Los Angeles: After both Winslet and Diaz's characters suffer devastating blows to their love lives, the two switch homes for two weeks after seeing each other's listings on a home swap website. From there, drama ensues as Diaz falls for Winslet's brother, and Winslet develops feelings for someone who's already in a relationship. If you're in the mood to curl up with a hot chocolate and cozy fire for a heart-warming two hours, then this is for you. ––Jenny Oliver
Batman Returns
You could easily imagine someone recutting the trailer for this movie as a Hallmark Channel-style Christmas flick. "She's an overworked, lonely assistant with a boss from hell and only her pet cat as a friend. He's a reclusive billionaire whose devotion to work means he'll be alone for another Christmas. But after a fateful meeting under the mistletoe, could these two drop their professional masks to find love for the Holidays? Michelle Pfeiffer and Michael Keaton star in 9 Lives For Christmas!'" (Seriously, that mistletoe scene is decidedly more romantic than most Hallmark fare, anyway.) Yes, technically, this is one of those films, like Die Hard, that just happens to take place during Christmas (coupled with the director Tim Burton's recurring fascination with the holiday), but that almost makes it more relevant this year. There are existential threats to citizens' lives, some ogre-like villain is convinced there's no way he can lose his run for political office, and, oh right, it happens to be December 25th amidst all this, too. —Kyle Munzenrieder
Ratatouille
The benefit to not being with your family over the holidays is that there won't be any arguments over what to watch. But for those who are getting together this year—or watching something simultaneously—Ratatouille is a completely inoffensive option. It's also one that most will actually enjoy, thanks largely to what you'll watch after the 2007 Pixar movie: the many, many TikToks that make up the unofficial 2020 Ratatouille musical. What began with an ode to Remy the rat posted in August has grown into a full-on theatrical experience, complete with original songs and behind-the-scenes looks at mock Playbills, set design, lighting, and choreography. —Stephanie Eckardt
Talladega Nights: The Ballad of Ricky Bobby
I am neither religious, nor a NASCAR fan. I did, however, grow up in Georgia during Will Ferrell's peak comedy years—meaning this movie was a constant on cable TV. While Elf gets a lot of shine this time of year, Ferrell's Talladega Nights has strong Christmas Carol vibes as Ricky Bobby finds redemption. Although I consider this film more of a backgrounder—as in, put it on while you go about doing other things—the scenes of Bobby praying to an infant Jesus ("Dear Lord baby Jesus, lyin' there in your ghost manger, just lookin' at your Baby Einstein developmental videos, learnin' 'bout shapes and colors,") get me every time. —Katie Connor
The Small Axe Films: Mangrove; Lovers Rock; Alex Wheatle; Education; and Red, White and Blue
I've been putting off watching Steve McQueen's filmic series Small Axe in the same way I eat around my favorite flavor in a bag of M&Ms: like I'm saving the best for last. Mangrove, Lovers Rock, Red, White and Blue, Alex Wheatle, and Education have received critical acclaim since being released in the U.S. over the course of this year, and I want to watch them all in succession, one right after the other. I can't wait to nestle into the couch for hours on Christmas Day and binge.
Related: Moonlight and Best in Show—W Editors Pick Their Favorite Films