Remembering Christo, the Artist Who Transformed Cities and Monuments
The Bulgarian artist known for the monumental, ephemeral works created with his partner Jeanne-Claude, died at home in New York City at the age of 84.
---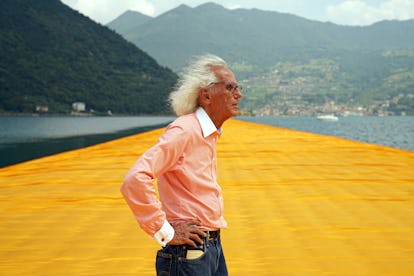 Christo (1935–2020). Christo at The Floating Piers, June 2016. Photograph by Wolfgang Volz.
Driving through Manhattan yesterday evening, I saw the city in the process of being transformed. Usually, change in New York City is so constant that it goes unnoticed. To live here is to witness neighborhoods evolve gradually, then quickly; to watch scaffolding be taken down one day only to be put up halfway down the block the next; to reminisce about the restaurant that used to be there, the good one.
But the drastic, sudden shifts are the ones that get seared into our memories: As I turned onto 3rd Avenue, I watched a crew of masked men working to board up the windows of Bloomingdale's before the sun went down, in anticipation of protests against police brutality and the death of George Floyd turning violent like they had the night before. On Instagram, friends posted photos of the looting destruction in SoHo, smashed windows being replaced with plywood.
Waking up this morning to the news that Christo Vladimirov Javacheff, the Bulgarian-born artist known as Christo, had died at his home in New York, all of the wires in my head got crossed, jumbling themselves into a knotted timeline of Big, Visible Changes. I thought of those 16 days in February, 2005, when Christo and his partner, Jeanne-Claude Denat de Guillebon, adorned Central Park with The Gates, a project that they had originally conceived in 1979.
I remember it being a particularly dreary winter, grey and wet and bone-chillingly cold. Those gates, with their saffron-colored fabric panels floating in the wind, were not just beautiful but surreal, the color jarring against the chiaroscuro of leafless trees and damp stone. There were 7,503 of them, 16 feet tall, spread across 23 miles of paths. My friends and I, just beginning high school and armed with the digital cameras we'd bought to populate our Facebook albums, would run into the park after school, jumping up to try and touch the panels, wrapping our bodies around the metal poles and grinning at each other.
In a city that had been transformed by the tragedy of 9/11 just four years earlier, it felt revelatory, so joyful as to almost be obscene. Some of us thought or hoped they would stay forever, but they were removed shortly after, the materials recycled before the colors could compete with the buds of spring. Like all of Christo and Jeanne-Claude's work, the ephemerality was as important as the monumentality, the process of getting it done as artistically significant as the experience of the millions who came into contact with the work.
Christo was 84 years old when he passed. He was born on June 13, 1935 in Gabrovo, Bulgaria, and studied at the Fine Arts Academy in Sofia. He first met Jeanne-Claude in 1958 in Paris, then moved to New York with her in 1964, where they lived in an illegal building in SoHo that they eventually bought. Jeanne Claude passed in 2009; Christo lived in this city for 56 years.
Together, Christo and Jeanne-Claude created monumental environmental works of art around the world: They covered the coast of Little Bay in Sydney in billowing white fabric, dotted hillsides in Japan and California with colorful umbrellas, hung an orange curtain across a valley in Colorado, wrapped the Reichstag in Berlin, islands in Miami's Biscayne Bay and the Pont Neuf in Paris, and connected two islands in Italy's Lake Iseo with the shore. In every instance, the work lives on only in images and archival materials. Each place returns to its natural state, even if that state is one of constant evolution.
"Christo lived his life to the fullest, not only dreaming up what seemed impossible but realizing it," his studio wrote in a statement this morning. "Christo and Jeanne-Claude's artwork brought people together in shared experiences across the globe, and their work lives on in our hearts and memories."
The pair have made clear that any artworks in progress should continue after their deaths, and "L'Arc de Triomphe, Wrapped" in Paris is still on track for September 18 through October 3 of next year. An exhibition about their work and time in Paris is also planned for later this summer at the Centre Georges Pompidou.
Remembered through the haze of a city—and a world—in the midst of another kind of acute change, Christo and Jeanne-Claude's work is a reminder that in the face of any major adjustment, good or bad, transcendent or destructive, things do continue. The photos of this time will live forever, the feelings and pain probably will, too. But there will be things to look forward to, beautiful ones.