Thanks to Christo, Instagrammers Are Literally Walking on Water
The artist is making waves with a floating silk boardwalk so popular, it needs nightly repairs from all the foot traffic.
---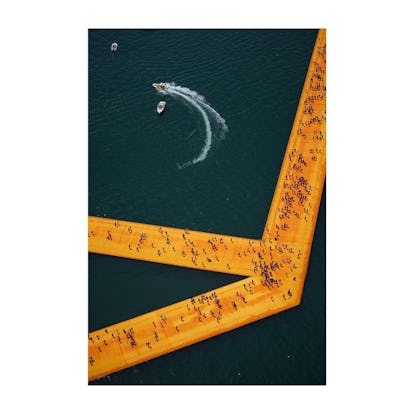 Monte Isola and San Paolo aren't exactly Italy's biggest tourist destinations, but these two small islands on a lake in Brescia have gotten hundreds of thousands of visitors in just the last week. It might have something to do with the artist Christo, who's covered 220,000 floating cubes with a fabric in his signature custom saffron-colored fabric to form a floating boardwalk across Lake Iseo.
Up for just 16 days, the project's been a much longer time in the making: Christo and his former partner Jeanne-Claude, who passed away in 2009, first conceived of it in 1970. Like all of their installations, "The Floating Piers" is meant to be free, open to the public, and accessible 24 hours a day, though this time, the artist's run into a small hurdle: There's been so much foot traffic that the piers are now closed for repairs each night from midnight to 6 a.m.
Luckily, though, it is accessible somewhere else for those hours, though admittedly without the undulations of the current: The installation's been making waves on Instagram, whether from onlookers in the surrounding mountains or the water-walkers themselves.