Christophe de Menil: Blithe Spirit
After a tragic year, Christophe de Menil jumps back into design with two new lines.
---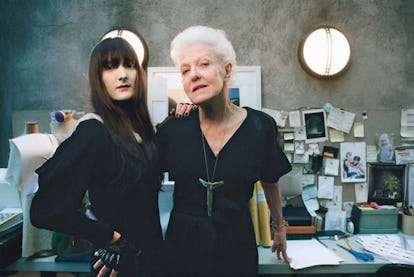 Society grande dame and art-world fixture Christophe de Menil is leaning over the stove in her Upper East Side kitchen as she explains how marine life inspired her new jewelry collection. "We eat lobsters, but we don't really think about the parts," says the 77-year-old, holding up a saucepan in which red bits of a dissected crustacean float in cloudy water. The lobster's tiny heart-shaped sternum—which she re-created in gold and turned into earrings—was an exciting discovery, due to its resemblance to a certain part of the female anatomy. "It was so sexy that when I looked at it, I told my housekeeper, 'Oh, my God, I don't know if we can use this: It really looks like a pussy!' But," she adds cheerfully, "I think we've overcome it by putting a jewel in the slit."
It's fitting that de Menil, who has also launched a line of wool crepe jumpsuits, has an irreverent creative streak. Her parents, after all, were John and Dominique de Menil, art patrons who, thanks to Dominique's family fortune (she was born into the Schlumberger oil dynasty) created the Menil Collection in Houston, a Renzo Piano–designed museum brimming with pieces ranging from antiquities to contemporary works. Christophe passed the art gene on to her offspring, which include a granddaughter, budding writer and actress Caroline Snow, and grandson Max Snow, a photographer (and, incidentally, an ex-boyfriend of Mary-Kate Olsen's). Best known, though, was her eldest grandson, Dash Snow, a high school dropout whose controversial and highly publicized art included newspapers encrusted with semen, Polaroids of raucous parties and "nests" made by trashing hotel rooms. Such heavyweight collectors as Dakis Joannou and Charles Saatchi bought Snow's pieces, and the artist was included in the 2006 Whitney Biennial before dying last July of a drug overdose at age 27.
Sharing a lighthearted moment with her late grandson, Dash Snow, in Los Angeles in 2007.
The loss hit de Menil hard; she and Dash, she says, were "soulmates." Her grandson was hardly the first artist to feel a kinship with de Menil, who has spent a lifetime around luminaries: She counted Merce Cunningham, Andy Warhol and Willem de Kooning among her friends, and proclaims that a discussion with Jasper Johns about the meaning of life was a seminal moment in her own. "I went to a lecture uptown about European mystic Teilhard de Chardin and then hotfooted it back to Lincoln Center to see Merce Cunningham perform," she recalls in a rap session about the "enthralling" nature of New York in the Sixties. "I was sitting in a box next to Jasper, and I said to him: 'Oh, my God. I just heard this rather interesting talk—and I think we are the divine.' And he said, 'Well, you almost got it.' It was so huge!" she adds, her pale green eyes wide with New Age wonder.
De Menil's rapport with the art world started as a child surrounded by masterpieces but began in earnest after her divorce from Buddhist scholar Robert Thurman (father of Uma), with whom she had her only child, daughter Taya. Newly single, de Menil enrolled at Columbia University in 1963 to study religion and organized a series of "happenings" in the Hamptons. The program, called Midsummer, featured such artists as Robert Whitman, Twyla Tharp and La Monte Young. Whitman, known for his performance pieces, remembers doing one in, quite literally, a swamp. "[Christophe] dealt with the baloney—the bureaucrats and permits and people who don't want something that's out of their range of experience," he explains.
"The Hamptons were very different then," says de Menil, who now has a house in Sag Harbor. "It was like a big family of artists." She got to know de Kooning while working as a sound coordinator on Hans Namuth's documentary of him. "I never talked to him about [Midsummer], but he knew of it. He said, 'You think you're hot potatoes? I'm hot potatoes.'" She laughs. "He was very sweet, and we became friends." De Menil later bought his work, although these days she eschews collecting masters, preferring to befriend young artists, some of whom she met through Dash. "I try to place young artists in a gallery," she says, noting that she introduced painter Ry Fyan to New York's Half Gallery, a collaboration that resulted in a sold-out show last October. "People trust me—I have no ulteriors. I'm not trying to make [the galleries] rich or the artists rich or anything."
In 1980 de Menil teamed up with avant-garde theater director Robert Wilson and served as his costume designer for the next 20 years. Four years later she started making clothes for private clients (she also launched a short-lived retail line in 1990). Although de Menil now admits that her collection was overambitious, many admired her work. "She was always around artists but [she was] not necessarily the artist, and then when she launched her line, it was unequivocal that she had great capability," says choreographer Trisha Brown, who recalls a dress de Menil crafted for her. "She asked, 'What color will it be?' I said, 'Dawn,'" Brown says dreamily. "And she did it."
During this time de Menil was living in a spacious carriage house on East 69th Street, which she bought in 1976; she tapped Frank Gehry to start its renovation and hired artist Doug Wheeler to design the lighting. She says she still misses the house (and its lap pool). "My daughter got married and left, and I was divorced, so I was there by myself," says de Menil, who married for a second time in 1971, to Chilean artist Enrique Castro-Cid, before divorcing three years later. "I would walk around with an emergency panic button—it was so stupid. I felt uncomfortable in this huge box with a lot of windows." De Menil moved into an apartment in 1987 and sold the house to power art dealer Larry Gagosian, who redid it. "I'm heartbroken that it was completely destroyed by Gagosian, totally," she says. "There's nothing left of Doug."
De Menil's re-embrace of her artistic side through design (she sells her jewelry and jumpsuits on her Web site, christophedemenil.com) seems to have given her some respite from grieving Dash's death. Her apartment bears reminders of her deceased grandson and their playful relationship: Propped up on a table are five Polaroids of grandmother and grandson, taken in a Los Angeles hotel room, where they stayed while Dash completed community service time that resulted from a graffiti charge. In the photos de Menil sports a chic black T-shirt and Wayfarer-style sunglasses, and, at Dash's request, wields scissors, pretending to cut his long, scraggly hair.
Tobias Meyer, Sotheby's worldwide head of contemporary art, and his partner, private art consultant Mark Fletcher, collect Dash's work and know de Menil. "They took great delight in each other," says Meyer. "[His work] had this beautiful irreverence and, at the same time, an assured, formalistic hand that maneuvered through it very beautifully, like a clairvoyant. Maybe that's also the quality that I see in Christophe a little bit. [She has] an understanding of people that's instinctive. She understands how artists are."
De Menil has stayed close to Dash's partner, Jade Berreau, and their two-and-a-half-year-old flaxen-haired daughter, Secret Midnight Magic Nico Snow. The doting great-grandmother recently began printing out old and new family photographs and taping them to the walls of her kitchen. Sitting at the table, one is surrounded by Dash, Jade and Secret; de Menil as a radiant twenty­something with infant daughter Taya cradled on her lap; family matriarch Dominique. The idea was to give a sense of security to the youn­gest Snow. "I told Secret, 'Papa's gone, but you are safe,'" de Menil says. "'You have a big family. You have a clan.'"