House Proud
Hermès has plenty to celebrate these days: a new women's wear designer, the opening of a Paris flagship, and a furniture line. But, as Alice Rawsthorn discovers, the quintessentially French maison also faces some of the stiffest challenges in its long history.
---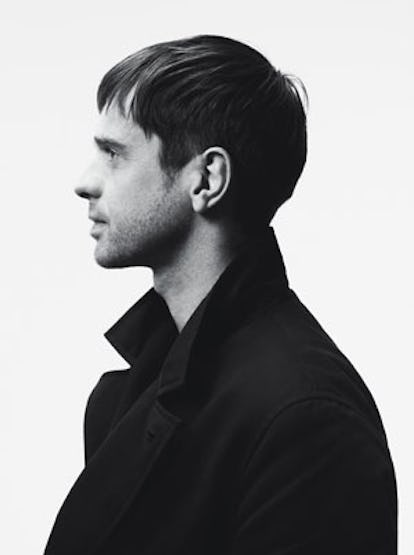 No wonder he felt skeptical. One day a colleague showed up unexpectedly in Christophe Lemaire's studio at Hermès in Paris clutching a swatch of strange-looking felt that had come all the way from Mongolia. She told him excitedly that it should be possible to make a jacket from a single piece of it—no seams, no darts, just felt.
"We made a pattern for a jacket and sent it to Mongolia, but to be honest, I never expected anything to happen," said Lemaire, who was researching new fabrics for his first collection as artistic director of women's wear at Hermès. "But two weeks before the show, this guy flew over with the jacket. The felt had been made using a traditional Mongolian method of rolling cashmere yarn in water, like papier-mâché. Then they sculpted it into a jacket. We made a few corrections. He took it back, and the finished jacket arrived in Paris just in time for the show. It's amazing! A three-dimensional object. It feels extraordinary to wear. Though I still don't understand how they did it."
That jacket was one of the standout pieces in the fall collection, which is now being shipped to Hermès stores. Drawing on the skills of the painstakingly trained artisans in Hermès's workshops—as well as those Mongolian craftsmen—Lemaire's clothes (and that word is important, because he sees himself as a designer of clothes, not fashion) are impeccably made and simple in style. You can spot his love of traditional African and Asian clothing in the softly draped caftans, kurtas, and kimonos, as well as references to his favorite late-Seventies collections by Anne Marie Beretta and Issey Miyake. "I like clothes that suggest, rather than show, the body, and bring attention to a woman's wrists and neck," said Lemaire. "Straight lines. Big sleeves. Big pockets. Pure. Fluid. Quite geometric."
Sitting beside a pyramid of Hermès's signature orange boxes in its Paris press office, Lemaire, a genial 46-year-old Frenchman in a flea-market leather jacket, a khaki cotton shirt and pants, battered Martin Margiela boots, and a 1975 Texas Instruments digital watch, looks more like one of the army of indie designers and DJs hanging out in the Marais than an ­artistic director at one at the world's oldest and grandest luxury houses. Though that's not surprising, because an indie designer (and onetime DJ) is exactly what he has been since launching his own fashion label 20 years ago.
"Christophe is very clever and very cosmopolitan, but down-to-earth and unassuming," said industrial designer Marc Newson, who has been friends with Lemaire since the mid-Nineties. "He has always been passionate about his work, but I've never had a sense that there was anything prima donna–ish about him."
From left: A Mongolian felted cashmere jacket from the fall 2011 ready-to-wear collection; a long, fur-stitched cashmere cape from fall 2011.
Lemaire was not a fashionable choice to join Hermès when he was appointed last summer to succeed Jean Paul Gaultier, the postmodernist prankster and creator of Madonna's conical bras. The fashionisti were rooting for a young hotshot or a suitably cerebral heir to Gaultier's predecessor, the superpurist Martin Margiela. The firm favorite for that slot was Helmut Lang, whom Hermès was known to have courted, but he refused (for the umpteenth time) to forsake his new career as an artist for a return to fashion. Lemaire, who had spent the past decade as creative director of the French sportswear brand Lacoste, was an unexpected and, to some, underwhelming appointee. Unveiling his fall collection at the Hermès show in Paris this past March was his chance to win over his critics.
The verdict was mixed. Some editors were unimpressed. "Perhaps the collection suffered from too-muchness, a heaviness," wrote Cathy Horyn in The New York Times. But others approved, including Suzy Menkes of the International Herald Tribune, who praised it as "a fine effort for a first season." Another admirer is Virginie Mouzat, fashion director of the French daily newspaper Le Figaro. "I loved it!" she said. "The quality is irreproachable. Simple cuts. Wonderful fabrics. Beautiful silks and leathers. Seasonless outfits. It isn't sexy, loud, or in your face, and for some people that can be boring. It's a very slow, discreet, low-key notion of luxury—more style than fashion."
And that is why Hermès hired Lemaire. "Christophe is very Hermès in his thinking," said his new boss, Pierre-Alexis Dumas, 45, Hermès's group artistic director and one of the sixth generation of the founding family. "He shares the values we believe in—quality of craftsmanship, attention to detail, absolute comfort, timeless elegance, and ensuring that everything we make is impeccable. I believe in Christophe and think he will surprise all of us."
The stakes are high. Lemaire's appointment is one of the most important decisions Pierre-Alexis has made since assuming responsibility for design and communications at Hermès from his father, its visionary and charismatic former chairman, Jean-Louis Dumas, who died last year. The latest women's wear collection is one of a raft of new projects—including the opening of a Paris homewares store in an old swimming pool on rue de Sèvres and the launch of a furniture line—that will set the tone for Hermès's future under this generation. The current CEO, Patrick Thomas, is not part of the family, but several of Pierre-Alexis's cousins have been given senior roles, including Axel Dumas and Julie Guerrand, former investment bankers who are now chief operating officer and head of corporate development, respectively.
The new collection of Hermès furniture.
Thrilling though it sounds to have inherited the home of the Kelly, Birkin, and Constance bags, the current heirs face a fiendishly difficult challenge: to repeat their forbears' success in modernizing ­Hermès while preserving its heritage. "Hermès is quite exceptional in never having moved outside of its own zone of expertise and history," said Menkes. "Whenever it has moved forward, it has looked very deeply at those issues, and every new project has always seemed to be impregnated with Hermès and what it stands for."
Many family firms seem to be cursed by the "Buddenbrooks syndrome," named after the 1901 novel in which Thomas Mann described the decline of a once thriving ­mercantile dynasty as each generation became progressively less able, entrepreneurial, and motivated—but not Hermès.
It has been 174 years since Thierry Hermès, the orphaned son of an innkeeper, opened a workshop in Paris to make horse harnesses for ­Europe's poshest and richest families. He was succeeded by his son, Emile-Charles Hermès, who moved the business to rue du Faubourg Saint-Honoré in 1880, and opened a saddlery there. His sons took over from him, and so on. Hermès has become more and more eclectic over the years as each set of heirs has added something new. The third generation applied the company's leatherworking skills to bags in 1900, when Emile-Maurice Hermès realized that horse-drawn carriages would soon be replaced by motorcars. The fourth generation transferred the house's traditional expertise in making racing silks to scarves in 1937. One of Hermès's best-selling scarves of all time is still the gloriously horsey Brides de Gala (the Gala Bridles), introduced in 1957.
More recently, Jean-Louis and the fifth generation turned Hermès into a business-school case study of how to transform a historic family firm into a multibillion-dollar global brand. When he became chairman in 1978, Hermès's annual turnover was roughly $50 million; by the time he retired in 2006 it was almost $2 billion. Textbook-worthy as his management style was, Jean-Louis also followed his instincts by persuading Margiela and later Gaultier to join Hermès, as well as men's wear designer Véronique Nichanian and shoe designer Pierre Hardy, who have been with the company for more than 20 years. And he never lost the family flair for playfulness. Said Nichanian: "One of the things I adore about Hermès is that, as well as being such a classic house—elegant, exact, and moral—it has a fantastical quality, and does things that can seem completely crazy." A new best-seller was born when Jean-Louis found himself sitting beside actress Jane Birkin on a flight from Paris to London in 1984. He asked why she was carrying a scruffy straw bag, and Birkin explained that she'd never seen a handbag she'd wanted to buy. Jean-Louis invited her to come into the workshops to design her dream bag, which he named in her honor. Another success was hatched when Margiela suggested that Hermès might replace the leather band of the Cape Cod watch, which had been introduced to the collection seven years before, with one twice the length. The double-band Cape Cod was introduced in 1998, and it has become the fashion pack's favorite watch.
The HermEs of today is still headquartered in Emile-Charles's building on rue du Faubourg Saint-Honoré, where Emile-Maurice's office is preserved as the Hermès Museum. The apple, pear, and magnolia trees in the rooftop garden are still tended by a family gardener. And a team of six artisans still makes bespoke saddles in a saddlery. So confident is Hermès of their workmanship that it undertakes to repair them anytime, regardless of their age. While I was there, one craftsman was repairing a saddle made in 1929. Hermès sold some $3.4 billion worth of its saddles, bags, watches, and everything else last year. It could have sold much more if only it had been able to produce enough to satisfy everyone on its famously long waiting lists.
It's a remarkable legacy, but the sixth generation's efforts to nurture it have encountered an unexpected, and unwelcome, obstacle: French luxury mogul Bernard Arnault. To make a very long, very complicated financial story short, Arnault—known in the luxury industry as "the wolf in cashmere clothing" because of the ruthlessness with which his LVMH group has acquired a succession of prestigious brands, including Dior, Louis Vuitton, and Bulgari—astonished the family last October by announcing that he owned 14.2 percent of Hermès shares. He had been buying them secretly, though wholly legally, since 2001, and bought more after the announcement. At press time, his shareholding stood at 20.2 percent.
All of Arnault's public statements about his intentions toward Hermès have been courteous and conciliatory, but, as the family is well aware, he has said equally reassuring things before pouncing on other prey. So it has closed ranks against him: Guerrand quit her job at Paris investment bank Rothschild & Cie when her boss, David de Rothschild, told her that he had been advising Arnault. Some 73 percent of Hermès shares are owned by the 52 heirs of Thierry Hermès, eight of whom work for the company. Most, though not all, of the heirs have placed their holdings in a specially created financial structure that makes it extremely difficult—but not impossible—for Arnault or anyone else to secure a majority shareholding, or even a seat on the board.
"Hermès has grown out of a family culture with a set of values that we all believe in," said Pierre-Alexis. "I am convinced it would disappear if the family dimension was taken away or diluted. You know, there have been a lot of very good, small restaurants in Paris that have been bought by big chains over the years, usually in the name of better management. But somehow their clients have stopped going, because they have lost their souls."
Arnault is wealthy and stealthy enough to play a long game, ­hoping that wayward family members will eventually weaken. The same strategy has worked for him in the past, notably at Louis Vuitton, just as it did for media mogul Rupert Murdoch when he wrested control of The Wall Street Journal from the Bancroft family. Imagine if the same thing happened to your family: Wouldn't you worry about a cash-strapped cousin or grouchy uncle selling out?
Not that there would be anything you could do to stop them. "This whole situation has been an incentive to work even harder," said Pierre-Alexis. "I have told everybody, 'Listen, guys—it's time to be more Hermès than ever.'" Still, it must be tough, especially coming so soon after the deaths of both of his parents. His mother, Rena ­Dumas, who designed Hermès's stores, died a year before her husband, in 2009. "She and Jean-Louis Dumas were an amazing team, and she had a tremendous input into the modernization of Hermès," said Menkes. "But that era is over. When Jean-Louis Dumas was still with us, there was very much the sense that he was the life force of the company. Pierre-Alexis has taken over that role of keeping Hermès as a brand of desire, quality, and authenticity. We have yet to see if he has the same ability. When a company as big as Hermès changes direction, you don't see the results for a long time."
Boyish looking and soft-spoken, Pierre-Alexis has been in long-term training for the role. He has worked for Hermès ever since studying visual arts at Brown University, with stints in the Hong Kong and London offices before returning to Paris in 2004 to work under his father as deputy artistic director. While in London, he studied drawing and painting in his spare time. "They are my passions," he explained. "But I also knew that if I was going to work in product development, I needed to be able to read the designers' drawings very quickly." His own taste is classically modernist. He loves Mies van der Rohe's architecture and Josef Albers's paintings, but is also an archaeology buff.
There is no sign of Hermès's famously stringent standards wavering under his watch. The company employs 3,500 artisans, all working at full capacity. Some 1,000 new artisans have been hired in the past five years, and Hermès is building a huge new production center at Pantin, a northern suburb of Paris, near the existing one, a glass palace designed by Rena Dumas that looks more like a research laboratory than a factory. But training new artisans takes years. Typically leather craftsmen study for two years at leather schools before joining Hermès and spending 18 months at its own school. They then do basic tasks while training "on the job." It takes anywhere from six to 10 years before they can make every style of bag in all of the leathers, even ultratricky crocodile. Once they are trained, the leather craftsmen work on up to four bags at once, devoting roughly 20 hours to each one. That's why you can't expect to walk into an Hermès store and buy whichever bag you wish. "Our biggest challenge is to preserve our quality," said Nichanian. "It must never, ever be compromised."
Like so many things about Hermès, such statements may once have seemed quaint—but today they appear prescient, now that Gucci and Louis Vuitton are running advertising campaigns declaring their devotion to craftsmanship. And at a time when the fashion industry is still reeling from John Galliano's scandal-scarred dismissal from Dior, Hermès's insistence on working with several different creative directors, including Nichanian, Hardy, and now Lemaire, rather than one omnipotent figure, as Galliano once appeared to be, seems sage.
So does its refusal to engage with the frenzied, irreverent culture of Facebook, Twitter, and the blogosphere that many of its rivals are struggling—and mostly failing—to tame. "There has always been a feeling of secrecy about Hermès," said Le Figaro's Mouzat. "It comes from the family—low key, low profile, Calvinist. And today that makes it seem almost sacred in the luxury landscape."
Still, Hermès, like the rest of the luxury industry, faces the challenge of a volatile market, where growth is driven increasingly by ­ingenue consumers in Asia, whose tastes in expensive clothes and bags tend to be closer to Kim Kardashian's than Christine Lagarde's. Earlier this summer I spotted a wealthy Chinese tourist looking at bags in the Hermès flagship on rue du Faubourg Saint-Honoré. The sales assistant brought over a pretty, pale blue clutch for her to inspect, only for the woman to ask: "Don't you have anything blingier?" "Perhaps Madame should try another store," purred the assistant.
Madame could have popped into the watch department, where she would have found a couple of surprisingly "un-Hermès" diamond-encrusted watches, such as a Cape Cod in rose gold with an alligatorskin band that sells for $17,200 in the U.S. But these are exceptions. Sixth-generation Hermès has mostly held its nerve and resisted the temptation to bling-ify.
The new furniture line, which was unveiled at the Milan furniture fair this past April, is very old-school Hermès. Each piece is ­exquisitely fabricated and conservative in style—quite bon chic bon genre, as the French call their equivalent of preppies.
An intriguing glimpse of what could become new-school Hermès is Shang Xia, a recent collection of products including eggshell porcelain bowls and lacquered chairs based on Ming dynasty furniture-making techniques. It is cheaper than the main line, and has been developed for sale in China, using the skills of local craftsmen. Another is the stunning rue de Sèvres store, where a series of latticed ashwood "huts," designed by Rena Dumas's collaborator, Denis Montel, perch on the immaculately restored mosaic tiles of an old swimming pool.
The latest women's wear collection sits somewhere between the old and new schools. Commercially, it will not make or break Hermès: Women's wear contributes less than 10 percent of its annual turnover, and the brand has been robust enough to embrace two very different designers in the ascetic Margiela and flamboyant Gaultier. But ­women's wear has huge symbolic significance, given the intense media scrutiny of fashion. And ­Lemaire's first show, held amid the latticed huts of the rue de Sèvres store and accompanied by a Chinese zither player, was seen as a declaration of intent for Pierre-Alexis's vision.
"We all agreed that the show had to be very special and everything had to count—the space, the casting, the music," said Lemaire. "We were looking for a live band, and it wasn't easy to find the right one. Eventually my girlfriend found this great Chinese artist, and of course Pierre-Alexis wanted to hear the music. He sent me a very nice text saying, 'Okay, it's strange, it's interesting, and it's your choice. Let's go for it.' I said, 'Great, but do you think it is Hermès enough?' And he said, 'That's not for me to say. It's your choice.' I really appreciated his openness."
He also appreciates working in a proudly unfashiony house, which shuns such public relations ploys as making red-carpet dresses or Twitter-genic runway pieces that never go into production. "For years I felt like I didn't really belong in fashion, because I'd look at my colleagues and I couldn't share their hysteria about shows, models, and switching from one thing to another every season," said Lemaire. "I'm interested in the practicality of a timeless wardrobe of essentials that women will wear for years. And that's what Hermès is about."
It is certainly what Pierre-Alexis wants him to deliver: "Most companies are finance driven, but Hermès is object driven, and that's very rare," he said. "Objects shouldn't be disposable—they should last, living with you year after year until you give them to your friends or your children. One of Hermès's strengths is that we have always made horses' harnesses, and a harness can never break."
A look into French fashion house, Hermès
Newly appointed designer Christophe Lemaire.

Photographer: Willy Vanderperre Stylist: Panos Yiapanis
From left: Hermès's silk twill and alpaca knit dress; alpaca knit dress; and silk twill and alpaca knit sweater and pants.

Photographer: Willy Vanderperre Stylist: Panos Yiapanis
From left: Hermès's felted wool flannel coat; deerskin and alpaca dress; alpaca knit dress; and lambskin vest, natural silk and perforated leather shirt, and natural silk skirt with leather waist.

Beauty Note: Guerlain Rouge G Lipstick in Gwen amps up an otherwise pale face.

Hair by Anthony Turner at Art Partner; makeup by Lisa Butler at the Collective Shift; manicures by Marian Newman at Streeters using CND. Models: Hanne Gaby at Ford Models; Melissa Tammerijn at New York Models; Kasia Wrobel at Supreme Management; Yulia Lobova at Major Paris. Set design by Max Bellhouse at the Magnet Agency, London; production by Ragi Dholakia Productions; digital technician: Henri Coutant. Photography assistants: Romain Dubus and Christian Bragg. Fashion ­assistants: Matt Carroll and Ai Kamoshita.

Photographer: Willy Vanderperre Stylist: Panos Yiapanis
Runway: Jean-Francois Jose (2); Furniture collection: Tommaso Sartori.