A British Invasion Is Taking Over the Fashion World
Christopher Bailey at Burberry and Pat McGrath break the mold, and T revisits Galliano's legacy, along with the rest of the punks from the 18th century to today.
---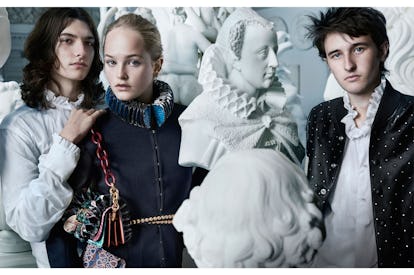 Image Courtesy of Burberry
Burberry Christopher Bailey has unveiled the first stage of the brand's new see now, buy now formula — a campaign previewing the September show starring Lady Jean Campbell.
Depp, Lily-Rose Actress, Chanel muse — and now, officially, Chanel No. 5 campaign star. She announced her new gig earlier this year, and with an Instagram on Tuesday, she made it official, revealing a first look at the new ads shot by French photographer Karim Sadli.
Gawker The saga is over, at least for now — Univision, the TV network that also recently acquired Fusion, has won the auction, purchasing Gawker Media for $135 million.
Heard, Amber Settled her divorce with Johnny Depp for $7 million, while the domestic violence charge she brought against her now-ex-husband was dismissed with prejudice, according to TMZ.
Jenner, Kylie Took her friends on a very extravagant birthday cruise. Get an exclusive look at the blowout party, here.
McGrath, Pat There's a reason she's the most sought-after makeup artist in the business.
Outsiders, Band of Making a comeback. The label plans to return to New York Fashion Week for the Spring 2017 shows in September after just more than a year of silence.
Protest, Fashion as From the French Revolution to today, Alexander Fury (T's newly minted Chief Fashion Correspondent) charts how fashion has emerged as a form of protest.
Thug, Young It's been a big week for the rapper: First, he changed his name to "No, My Name Is Jeffery" (for one week only); then, Puma tapped him as the new tracksuit-wearing face of the brand.