Christopher John Rogers Is Inspired by Horror Films and Trash Bags
At a discussion sponsored by BMW ahead of fashion week, the designer discussed the huge strides he's making with his business and why tenacity is the key to everything.
---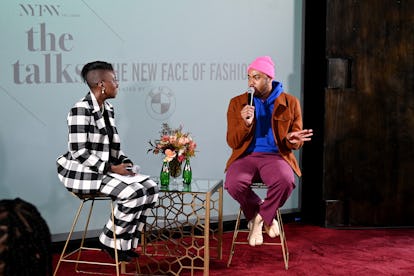 Photo by Bryan Bedder/Getty Images for IMG
For the designer Christopher John Rogers, trusting his own taste is the key to success.
That's a hard-learned lesson for most people—and Rogers graduated from the Savannah College of Art and Design just four years ago. But the designer, who won the CFDA/Vogue Fashion Fund Award last year and has already gained fans in Michelle Obama and Tracee Ellis Ross, is almost prodigiously self-assured. On Thursday, Rogers joined GQ deputy fashion director Nikki Ogunnaike for a conversation held at Spring Studios by partner BMW—which returns for its second season as the official partner of New York Fashion Week with IMG. The talk coincided with the campaign theme of a "road less traveled," which aims to uplift new voices in fashion and culture through events like these (Rogers and Ogunnaike appeared in part one of two—the second panel with Victor Cruz took place Thursday night). The young designer demonstrated his self-assured nature while discussing everything from his upbringing in the South and how Baptist church looks inspired him to his friendships with fellow designers Danielle Frankel (the runner-up for the CVFF Award) and Hillary Taymour (of Collina Strada).
Since his first New York Fashion Week presentation for the Spring 2019 season, Rogers says both his life and his business have changed dramatically. Less than a month ago, he was working alongside three friends out of his apartment in Bushwick, cutting and sewing designs on the floor of his living room. But then his $400,000 CVFF winnings came in and changed everything. He's just moved into a larger studio space, providing a "separation of church and state," as he put it.
"I can go to my house and actually live in my house," he said after the event wrapped and he'd taken a few photos with adoring fans who lined up to say hello. He wore a hot pink beanie, hoodie, and jacket, plus Margiela Tabi boots. "And I can sleep. I can have weekends."
He's been able to hire the three friends who had been helping him out as full-time employees. And his collection will soon be in three brick-and-mortar stores: two boutiques and one "major retailer", the name of which, said Rogers, will be announced on the 10th.
At the moment, he's focused on creating his next collection, drawing inspiration from horror movies like Silence of the Lambs; the work of designer Madame Grès, specifically from the 1960s to the 1980s "after her goddess phase when she was making some really interesting geometric work," and—believe it or not—trash bags.
"If you follow my Instagram stories, you'll know I'm obsessed with trash bags and carry-out bags and colorful debris," he said. "I see them everywhere. And they're actually really pretty. It's like, if this was in a museum, everyone would be gagging. Because this amorphous form in this bright cherry red that's stunning is on the street, we don't pay attention or think it's dirty."
His relationships with Taymour and Frankel (with whom he's kept in contact since the CFVV awards) have helped as he's tried to figure out this new phase of his career. It was Frankel, in fact, who suggested he check out the New York City factory that he's now using for production.
"It's about knowing what concessions you can make to keep your business going. Which doesn't mean having to sacrifice quality if there's intention and taste," he added.
Despite a new audience—including the likes of Cardi B—taking interest in his work, Rogers' dream client is his mother. He's been working on a red suit for her, inspired by the head-to-toe, extravagant looks of Baton Rouge churchgoers. "It's actually what I'm giving her tomorrow," he said. "A tailored red suit in silk wool. It's her favorite color."
During his conversation with Ogunnaike, it was clear that his tenacity and steadfast belief in himself is what kept him going when times were tough. "There have been so many instances where I felt I didn't belong in a space or people weren't receptive to me or my energy or thought that the work that I was doing was quote unquote tacky, or dated, or not really relevant," he said. "You can't pick up that energy. You kind of have to go, 'You actually don't see me. That's fine, because I don't see you,'" he laughed. "Because there will be someone that gets it. Everyone has a different point of view and that's what makes this industry so interesting. For me, it's just kind of like—not ignoring the people who don't get it, because that requires energy—it's more, how do you find people who do get it? Then build a rapport and community with people who understand."