Christopher Kane Releases Capsule Collection of Archive Prints to Celebrate 10 Years in Business
With a range of limited edition sweatshirts featuring reissued Christopher Kane prints, the designer reflects on the past decade at the helm of his eponymous label.
---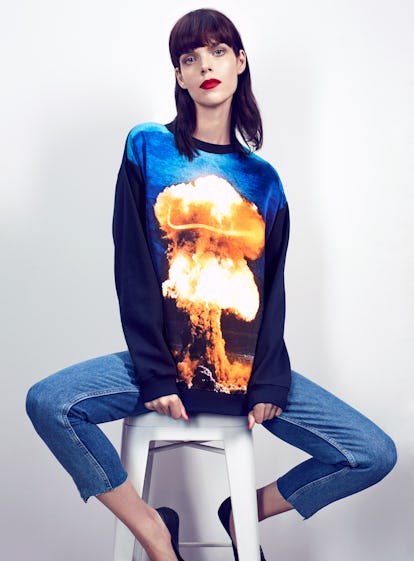 Ed Singleton, styled by Caroline Grosso. Hair by Sabrina Szinay at the Wall Group, makeup by Laura Stiassni at the Wall Group, manicure by Yuko Tsuchihashi at Susan Price NYC. Model: Meghan Collison at New York Models. Produced by Biel Parklee. Casting by Erin Simon. Digital Techinician: Tadaaki Shibuya. Photography Assistant: Ted Gusek.
"I don't want to scream about it," Christopher Kane says, regarding his 10 years at the helm of his eponymous label. "I don't really talk about it, I don't like growing old – I want to be thinking of what's next, the next collection." He was calling me from Paris, where he was presenting his spring collection to buyers, and, undoubtedly, fielding a lot of questions about the now-infamous appearance of Crocs on his runway.
But the designer did wish to celebrate the anniversary in his own way, by launching a capsule collection of sweatshirts featuring reissued Christopher Kane prints. There are ten sweatshirts in total, with favorite graphics like Resort 2010's atomic print, and Spring/Summer 2013's pansy print, which was inspired by cut-outs in a schoolgirls' scrapbook. "There was a lot of debate between myself and Tammy [Kane's behind-the-scenes sister, who is imperative to the label] about which prints to do," he laughed. If forced to choose just one favorite, the designer opts for the chimp motif. "But they are all close to my heart," he emphasized. "They've all got memories."
It seems that Kane recalls many fond moments from the past that continue to inspire him. "You get older, you just change," he allows. "But you always have memories that take you back." Memories of childhood, especially, have come up in his work, and also memories of his late mother, to whom the Spring/Summer 2016 "Crash and Repair" collection is dedicated. That emotional time, and partnering with Kering in the expansion of his brand, were two key milestones he cherishes from his first decade in business.
But as Kane says, one must always look to the next thing and the next collection and move forward. "I still love the mystery of fashion," he says, even though the industry around him has changed so much in the last decade. "I like to live in the present. Hopefully, I will still be here in 10 years. I don't like to tempt fate. What is the saying? 'The smell of perfume is tempting, but don't drink it.' 10 years is great, but 20 years is better."
Watch: Go Behind the Scenes with Irina Shayk, Joan Smalls, and Stella Maxwell As They Bring the Hottest Fall Fashion to Life