Expert Tailor Christy Rilling's New Collection Is an Art Nouveau Fantasy
Rilling collaborated with the artist Laurie Simmons on a look book that ended up resonating more than she ever thought it would.
---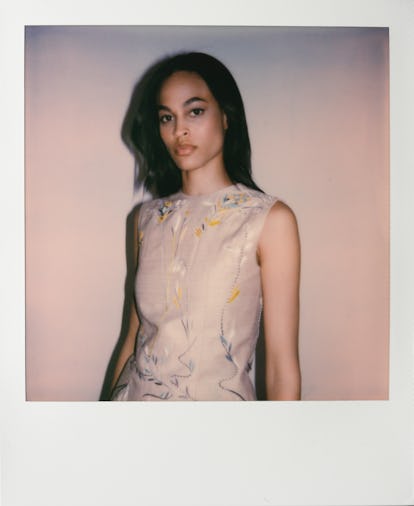 Christy Rilling's SS20 Look Book.
My visit to Christy Rilling's lookbook shoot in a studio in New York's Garment District two months ago feels like a hallucination now. It was a crisp, sunny Wednesday in mid March, a few days after giant jugs of Purell started showing up in the lobby of W's office building, but before the words "non-essential workers" had entered our lexicon. The mood on set was cheerful and energetic, if a little cautious: Camera assistants and makeup artists flitted around, and Rilling adjusted a model's raw silk belt while the artist Laurie Simmons, a longtime client and now a collaborator, set up a shot. In between shutter releases, we greeted each other with elbow bumps.
Simmons and Rilling first met around 2012, when Simmons desperately needed to add a sleeve to a Burberry dress she was wearing to accompany her daughter to the Emmy Awards. "I'd never really had a tailor before and I was hysterical," Simmons remembered, reclining into a leather sofa next to racks of clothes. She called three different people, each of whom referred her to Rilling. They all gave her one condition: "But don't tell anyone."
Rilling, an expert tailor who has altered some of the most iconic Met Gala looks of all time—including Mary Kate and Ashley Olsen's vintage Chanel leather ensembles and Beyoncé's sheer, beaded Givenchy—as well as countless Oscars gowns and hundreds of pieces that made it onto magazine covers, calmly and capably saved the day. She and her team found a matching fabric, dyed it the exact shade of rusty burgundy as her dress, and added a flawless set of sleeves. "I knew nothing about fit, until I met Christy. I knew nothing about tailoring," Simmons said. "And it's kind of changed my life."
Being a tailor gave Rilling a unique perspective into women's closets: By making subtle changes or reinventing pieces altogether, she was effectively gathering data about the kinds of clothes that women really wanted, what they felt was missing from their wardrobes, and what cuts or proportions just weren't working.
She has made custom garments for her clients (bias-cut slip dresses that fit like a glove, pants that sit right, sheer blouses with matching camisoles) for years, but she said it was working with Simmons that inspired her to release a bespoke collection, turning her fourteen-person atelier into a small-scale production studio. "It's almost like an old-school dressmaker mentality," Rilling said. "Back in the day, you would have your amazing dressmaker or tailor that you would work with to create things that you would wear all year round. We're touching on that a little bit."
The clothes being photographed that day in March, which are now available to order from Rilling's website, were inspired by the work of Kay Nielsen, a Danish Art Nouveau illustrator whose dreamy, richly detailed drawings adorned fairy tale books by Hans Christian Andersen and the Grimm brothers. "We've made garments with every type of pleating you can imagine, hand-painted jacquard on textiles, cyanotype textiles, all sorts of embroidery, and even hand-dyed textiles using vegetables for color to mimic Nielsen's complex color palette," Rilling said. "When designing this collection, I really had to keep one foot planted in the practical needs and wants of real women, and the other in Nielsen's fantasy world."
While the original plan was to make each order to measure, Rilling has adapted to the new pandemic reality, studying the measurement chart of her entire bank of customers and clients over the years to develop a size format that allowed her and her team to make a few things available on a click-and-buy basis.
Inspired by the changing needs of those stuck at home, she also started making gorgeous robes out of silk castoffs from past red carpet pieces, the first batch of which sold out in a day and benefitted the New York food pantry. When she's not shuttling materials and in-progress projects between her home and those of her seamstresses, she's been conducting "virtual fittings" over FaceTime and Zoom, and mailing clients selfie sticks and measuring tape in order to put finishing touches on wedding dresses for hopeful brides.
The final look book photographs that Simmons created superimpose barefoot models in draped skirts and sheer organza blazers against backdrops filled with dollhouse furniture, a common motif in her work. Speaking on the phone this week, Rillings reflected on the images' newfound resonance. "When I saw the images before all of this, they just struck me as very ethereal and beautiful," she said. "But now, I feel like it's really about being at home, which is lovely for this moment."
Related: Chloé's Fall Show Was a Rare Example of an Artist Collaboration Done Right