Christy Takes a Turn for Calvin
In case you missed them, here are the top style stories from the week.
---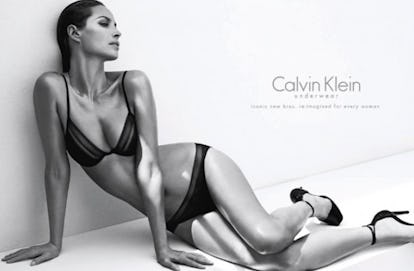 Ambrosio, Alessandra The Brazilian model is now the face of Always Maxi Pads. TMI, much?
Beckham, Victoria Reveals her favorite brand of sunscreen… and that she clearly reads Oprah's favorite things.
Bonham Carter, Helena Becomes Elizabeth Taylor for the upcoming BBC drama; gives Lindsay Lohan a run for her money.
Bottega Veneta Launches a men's fragrance for fall; makes buying your boyfriend a gift just that much easier
Bruni, Carla Looks like a total diva in latest Bulgari campaign. Yes, that was the point.
Cortazar, Esteban Makes a comeback by designing his second collection for Net-a-Porter.
Dolce & Gabbana Closes stores in Milan "for indignation" for several days after the Italian city's commerce councilor called the designers "tax evaders."
Fendi Moving its headquarters into the iconic Palazzo della Civilta Italiana; not too shabby.
McCartney, Stella Styles her fall ad campaign; shows why her oversize plaid coat is dry-clean only.
Moss, Kate Designing cell phone covers; at least it's not a personal hygiene product.
Prinsloo, Behati Announced her engagement to Maroon 5's Adam Levine; has apparently reformed the modelizer.
Rihanna Dyes her hair gray; wears mesh shorts. What else is new?
Turlington, Christy Models in new Calvin Klein underwear campaign; demonstrates that she is immune to aging.
West, Kanye Plans to return to fashion by designing a 100-piece unisex line; is clearly feeling confident since his collaboration with A.P.C. already sold out.