Meet Chrysta Bell: Musician, Longtime David Lynch Collaborator, and Twin Peaks Actress
"With David it's always an adventure and I just know that I'm in good hands."
---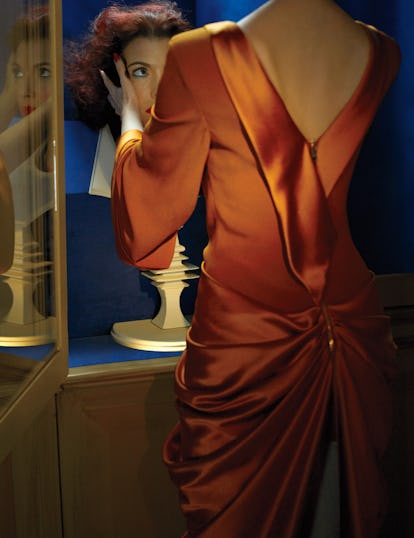 Photographs by Alex Prager, Styled by Patrick Mackie
David Lynch loves women. They are at the center of nearly all his films—from Blue Velvet to Mulholland Drive—and his groundbreaking TV series, Twin Peaks, which premiered in 1990 and is set to return on Showtime on May 21, with 18 new episodes, all directed by Lynch. So does musician Chrysta Bell, who has a part in the series' reboot and has been one of Lynch's regular collaborators since they met in 1999. "David and I met and had this lovely connection and started to make music together that day," she says. "Wrote our first song together on the day that we met. And yeah the rest is history."
Here, the singer and songwriter talks about how she ended up in the new Twin Peaks, her girl crush on Cate Blanchett, and more.
Did you always want to act?
I tried to act when I was a young, and it just never seemed like it was taking off for me or catching fire. It wasn't my destiny, and I joined a band when I was 18-years old. Music was the thing I really, really wanted to do with my life.
What was your first audition?
There were quite a few from ages 13 to 18, but none of them ever really worked out. I did Star Search when I was like 16.
No.
Yes. But as a spokesmodel, not as a singer. This was the pilot for the Spanish Star Search. I'm actually from San Antonio, so I had to pretend that I was Latina in order to get the job. I basically got into a fountain at Sea World and splashed around and I answered some interview questions clumsily in Spanish and called it a day. It was a bit awkward but it was a great experience.
Did you have an outfit you wore when you would audition?
You know that was in the '90s. Those were not the best times for fashion.
Although they're coming back.
They're coming back. I don't understand but I think it was always about spandex for me, quite frankly, because it wasn't until later in life that clothes were being made for '40s figures. And so before then if you had curves you just had a few options. And one of the main ones was spandex. I was wearing tight because I was bigger growing up and I had a lot going on top and a lot going on downstairs and then a little waist, but if you didn't accentuate the waist you didn't quite feel yourself. I definitely was always about the silhouette. I like to make shapes and so spandex helped that.
How did you meet David Lynch?
David and I met in his recording studio, when I was brought there by a dear friend of his who had the intuition that David and I would get along. David and I met and had this lovely connection and started to make music together that day. Wrote our first song together on the day that we met. And yeah the rest is history.
When did he start to talk to you about acting?
You know, with David it's always an adventure and I just know that I'm in good hands in whatever capacity we're creating in together. So when David asks me to be a part of things it's always a bit mysterious. And this latest venture was no exception. The way he approached it was with a little twinkle in his eye, and I couldn't do anything but say yes excitedly.
Had you been a fan of Twin Peaks in the earlier incarnation?
Of course. Of course. When Twin Peaks first was on the air I was pretty. I loved how the music and the visuals came together in a way that was compelling in a new dimension for my little being. I was feeling things I never felt before and I was absolutely addicted. I think so many of the nuances of the show were way over my head, but there was something that I was getting. There was something that was being infused into my little being that was pretty special and singular. Nothing had ever made me feel that way.
And you wanted to know who killed Laura Palmer.
Yeah. Or not. I don't even know that I understood even the concepts but I was just enthralled.
David Lynch's Heroines Like You've Never Seen Them Before
From left: Chrysta Bell wears Tiffany & Co. necklace. Hailey Gates wears Bulgari necklace. Laura Dern. Naomi Watts wears Robert Lee Morris SoHo earrings; Lagos necklace. Patricia Arquette wears Tiffany & Co. necklace.

Photographs by Alex Prager, Styled by Patrick Mackie. Hair by Giannandrea; makeup design by Fiona Connon; makeup by Levi Vieira for MAC Cosmetics. Set design by Thomas Thurnauer. Lighting Designer: Matthew Libatique; Key Gaffer: Jeffrey Ferrero; Key Grip: Tina Dubbe; Production: Josie Heiman; On-Set Production: Linsday Heimer; Retouching: Contact Photo Lab; Photography Assistants: Tyler Parker, Blake Brent; Fashion Assistant: Diana Choi; Hair Assistants: Jessica Mishler, Nancilee Santos; Makeup Assistant: Emily Jade Elliott; Set-Design Assistants: Aaron Wiley, Cliff Collins; Special thanks to Siren Studios
Blue Velvet, Wild At Heart, Inland Empire, and Twin Peaks (2017) "I hadn't read the script, but I knew the film was Blue Velvet. I was sitting on the floor, waiting to audition, and David walked out. I was startled by every aspect of him. He looked at me, and I was waiting for some magical words. He said, 'I have to pee,' and disappeared. When he came back, we talked about life and high school and meditation, and I was ready to audition—but that never happened. He said, 'Thank you very much,' and I left. Soon after, I got a call saying he wanted to meet me at Bob's Big Boy to see if Kyle MacLachlan and I could get along. We ordered malts and french fries, and David was doodling on napkins while Kyle was doodling with a knife in his ketchup. A girl either thinks, These are bizarre men, or, I am in love with both these people and want to spend the rest of my life with them. Needless to say, I fell in love."

Dern wears a Cartier necklace.

Photographs by Alex Prager, Styled by Patrick Mackie
Naomi Watts wears Bottega Veneta dress; Robert Lee Morris SoHo earrings; Lagos necklace.

Photographs by Alex Prager, Styled by Patrick Mackie
Mulholland Drive and Twin Peaks (2017) "I was in New York and my agent called and said, 'You have a meeting with David Lynch.' I didn't believe in traveling or breaking plans for auditions, but this was David Lynch, and it's not every day that you get that call. So I flew to Los Angeles and went straight from the plane to meet him. David had that intense ear-to-ear grin, and he was smoking up a storm. He said, 'How's your day? Tell me everything!' I was at a point where I'd been auditioning for 10 years and people would barely make eye contact, but David was genuinely interested in me. I was there for 40 minutes. When I left that room, I thought, No matter what happens, I had a great meeting with a legend."

Watts wears a Bottega Veneta dress; Robert Lee Morris SoHo earrings; Lagos necklace.

Photographs by Alex Prager, Styled by Patrick Mackie
Lost Highway "During Lost Highway, I would ask David, 'Am I playing two different people? Is one of them a ghost? A hallucination? Are they both real? What am I playing here?' And he'd reply, 'I don't know, Patricia. What do you think?' So I had to come up with a whole concept of what I thought Lost Highway was about. I decided to model these two characters after Salome and Jezebel, in the Bible. At some point, I told David that one should have dark hair and blunt-cut bangs like Bettie Page. David said, 'Who is that?' I turned him on to the famous nude pinup. David was like, 'Wow. Bettie Page. She's the bee's knees.' "

Arquette wears a Tiffany & Co. necklace.

Photographs by Alex Prager, Styled by Patrick Mackie
Twin Peaks (2017) "When he works, David Lynch uses a megaphone. Even if there are only three people in the room. I really like that kind of commitment. He'll have a cigarette hanging out of his mouth, and he'll say, through the megaphone, something like, 'I need a little more danger in her face.' At one point, he felt the table in front of me wasn't quite dirty enough. He was on the megaphone: 'Can I get some Bisquick?' Someone came right over with the Bisquick, and David started rubbing a paste of gunk over the table. The cig was still hanging out of his mouth. That was one of my favorite moments."

Gates wears Theodora Warre earrings; Bulgari necklace.

Photographs by Alex Prager, Styled by Patrick Mackie
Twin Peaks (2017) "For a long time, I felt like I was swimming in a different lake than everybody else. I would look around me and think, Hmm, maybe I'm not from this land; maybe I should try and venture into some other dimension. I think that is one of the reasons that David and I get along. He functions in all these juicy, mystical, esoteric dimensions. When David asks me to be a part of things, it's always a bit mysterious. Twin Peaks was no exception: He approached it with a little twinkle in his eye. I couldn't do anything but say yes excitedly."

Bell wears a Balmain dress.

Photographs by Alex Prager, Styled by Patrick Mackie
From left: Patricia Arquette wears an Akris jacket and skirt; Tiffany & Co. necklace. Hailey Gates wears a Norma Kamali swim dress and skirt; Theodora Warre earrings; Bulgari necklace; Michael Kors Collection belt; Manolo Blahnik shoes. Chrysta Bell wears a Balmain dress; Tiffany & Co. necklace; Rochas shoes. Laura Dern wears a Monse dress; Cartier necklace; Manolo Blahnik shoes; her own ring. Naomi Watts wears a Bottega Veneta dress; Lagos necklace; Paul Andrew shoes.

Photographs by Alex Prager, Styled by Patrick Mackie
Are you generally a David Lynch fan?
I have watched David's films throughout the years like just taking them in and then digesting them and then three years will pass and I'll watch the movie again and I'll have a new layer of experience in my life and new insight in my own reality and then I get all these new aspects of the film that I never saw before. Those are the gifts that keep on giving
Did you ever see Eraser Head?
Okay my mother would never let me see Eraser Head. Not until I was well into adulthood did she say, "At your own risk, Chrysta Bell, you can watch Eraser Head at your own risk. It will change you." And I finally did. And I found it to be so charming and of course unusual but now with this relationship I have with David, I just see David. I just see his personality and his sweetness and his quirks and the way that he sees life through this super unusual, but yet somehow strangely comforting. It was one of those movies where I just feel in love with him a little more after seeing Eraser Head. After all those years I had worked with him for at least 15 years before I actually saw it, and I'm really happy it worked out that way because I got to see it after knowing David.
Do you have any favorite characters?
The women are all so powerful and terrifying. I definitely like Patricia Arquette's character in Lost Highway. That, that was pretty soul opening for me and, of course, anything Laura Dern touches is velvet.
Who is your girl crush?
Tilda Swinton. I just – I don't know what planet she is from but I would like to visit there and then meet more of her. That's probably a very popular answer. Also, Liv Tyler, she's so cute. And then Cate Blanchett, Viola Davis… I'm really into her.
You like tall women.
I like tall. I like unusual beauties with a lot of expression and I am such a fan of women. I love women. I respect women. I'm just way into women, so I could go on and on and on.
Where was your first kiss.
In front of the Galaxy Theater in San Antonio Texas.
How old were you?
Uh, 12. That was my first like official kiss. I mean I think that I was like making out with my friends, you know, at like age six or seven. Those were good times, but we didn't really know what we were doing we were just experimenting and exploring. But around 11 or 12 you were a bit more intentional and it's not just the kiss, it's the lead up and the aftermath and oh what beautiful times. Actually I got to see my first kiss. We reunited in San Antonio and I wondered if he remembered and he wondered if I remembered. And then we were like, "Do you remember?" And he was like, "Yeah." And I was like, "Yeah." And it was a really sweet connection.
Were you expecting it?
I think there was anticipation and hope but I was a little awkward growing up, so I wasn't sure if he was going to be open to the kiss but he was game. He was a trooper. Bless his heart.
Related: Laura Dern and Naomi Watts Open Up About David Lynch, And Tease Twin Peaks
Naomi Watts Takes W's Screen Test: